Synergistic Ultrasound Platform Advances Breast Imaging
By MedImaging International staff writers
Posted on 18 Jan 2021
A new quantitative transmission ultrasound imaging system provides reflection-mode and transmission-mode images of a patient's breasts.
The QT Imaging (Novato, CA, USA) QTscan is a non-invasive breast imaging tool that uses a transmitter/receiver array pair for complementary transmission and reflection ultrasound in order to generate highly accurate three dimensional (3D) volumetric ultrasound images. QTscan consists of a patient support table and a scan tank filled with warm water that holds the ultrasound transducer arrays, and an additional transmitter and receiver array pair to collect ultrasound energy for speed of sound (SOS) values.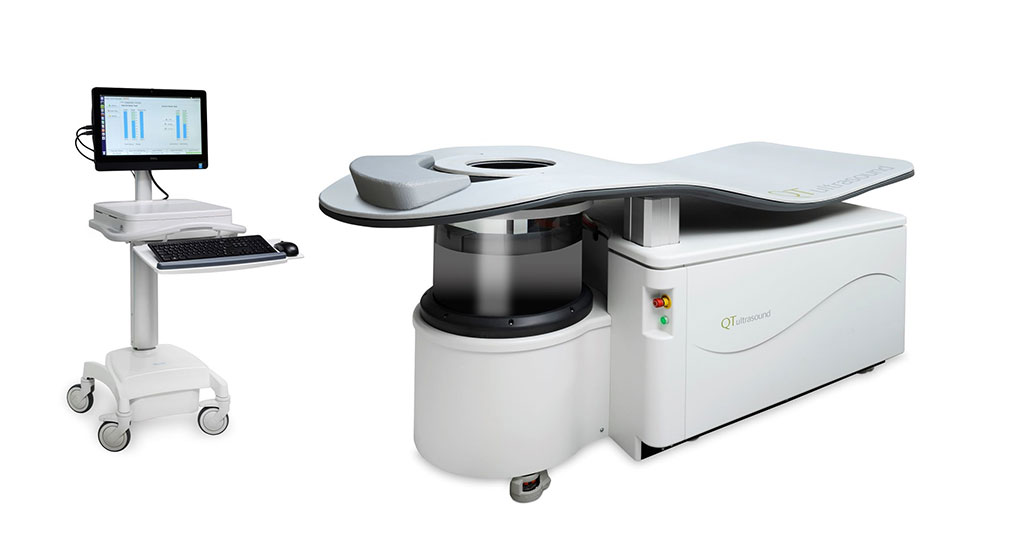 The transducer array includes three reflectors that transmit pulsed ultrasound plane waves into targeted tissues, with the water bath in the scan tank as a coupling medium. During scanning, the patient lies prone face down on the support table with the breast suspended in the scan bath, with the nipple as a point of reference. The transducer arrays rotate about a vertical axis to circle the breast in the coronal plane. The array then translates vertically and the scanning process is repeated until the entire breast is scanned.
The QTscan then outputs the B-scan images to be constructively combined into tomographic, SOS, and reflection ultrasound images, which can be viewed on the proprietary QTviewer in coronal, axial, and sagittal sections. SOS images may be queried by probe and region of interest (ROI) tools provided in the viewer console that provide SOS values in meters/sec to aid in the diagnostic evaluation of the breast.
"The QTscan allows for painless breast imaging, as no compression is required, with no need for x-ray radiation (such as in mammography) and no need for administration of contrast agents, as required for the majority of breast MRI scans," said the company. "It is intended to be used as an initial evaluation method for asymptomatic women identified with above-average risk for developing breast cancer, based on genetic testing or other established criteria. It is not intended to be used as a replacement for standard screening mammography."
Related Links:

QT Imaging