Palm-Sized Ultrasound System Simplifies Scoliosis Screening
By MedImaging International staff writers
Posted on 14 May 2019
A novel compact three-dimensional (3D) ultrasound imaging system provides accurate, radiation-free scoliosis assessment for mass screening in schools and other community settings.
Developed at Hong Kong Polytechnic University (PolyU), the palm-sized Scolioscan Air device (which weighs just five kg), consists of a wireless ultrasound probe with a compact optical marker mounted on it and a depth camera that serve as a spatial sensor, which help to dramatically downsize the device. The optical 3D spatial tracking method provides a high degree of accuracy, comparable to the predictive full-size Scolioscan system, also developed at PolyU. The dramatically reduced material cost, size, and weight allow Scolioscan Air to be carried within a suitcase.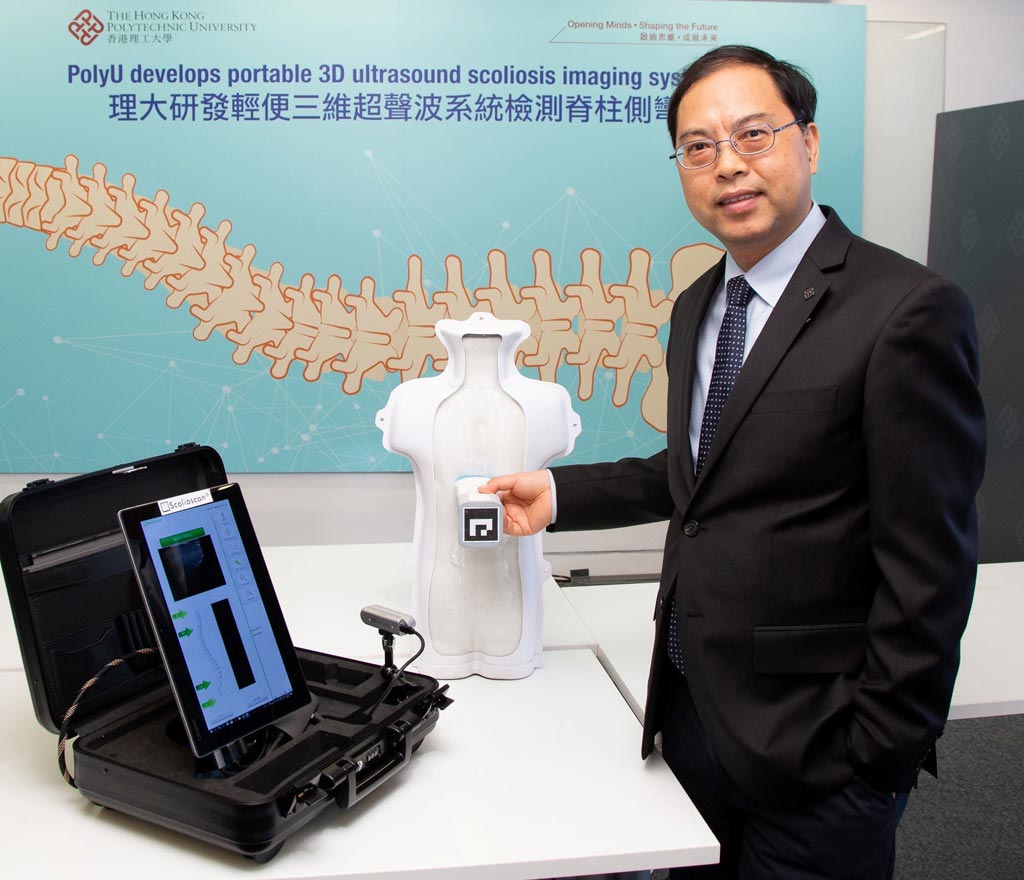 In addition to the hardware technology, a software suite installed on a dedicated laptop or tablet device facilitates 3D ultrasound image reconstruction, visualization, and measurement, including automatic curvature measurement and spinal deformity analysis software. Clinical trials prove the technology as very reliable, with the accuracy of curve measurement comparable to that of X-ray assessment. In addition, Scolioscan Air can obtain image in any postures, provide vertebra rotation and muscle-related information, and form a 3D spinal model for analysis of spinal deformity.
"We can now literally bring the device and mass screening service to the youngsters anywhere, anytime. It would facilitate the implementation of school-based scoliosis screening to detect and treat spinal curvatures before they become severe enough to cause chronic pain or other health issues among adolescents," said Professor of biomedical engineering Zheng Yong-ping, PhD. "When providing non-surgical treatment for scoliosis patients, healthcare personnel can use Scolioscan Air to conduct real-time assessment, so as to optimize the treatment outcome."
Scoliosis is a medical condition in which the spine is curved from side to side. Although it is a complex 3D deformity, on an X-ray, viewed from the rear, the spine of an individual with scoliosis looks more like an "S" or "C" shape than as a straight line. Scoliosis is classified as congenital, idiopathic, or neuromuscular, when it has developed as a secondary symptom of another condition, such as spina bifida, cerebral palsy, spinal muscular atrophy, or physical trauma.
Related Links:
Hong Kong Polytechnic University

Other channels