3D Ultrasound System Guides Gynecologic Brachytherapy
By Medimaging International staff writers
Posted on 22 Apr 2019
A new study describes how a reconstructed three-dimensional (3D) ultrasound image can aid implant placement during interstitial gynecologic brachytherapy procedures.
Developed by researchers at Robarts Research Institute (RRI; London, Canada), Western University (London, Canada), and other institutions, the system is based on a combination of three scanning geometries - 3D transrectal US (TRUS), 360° 3D sidefire transvaginal US (TVUS), and 3D endfire TVUS. The images are generated by rotating a standard endocavity ultrasound transducer through 170 degrees during a 12-20 seconds rotation, which provides a reconstructed 3D image immediately following acquisition.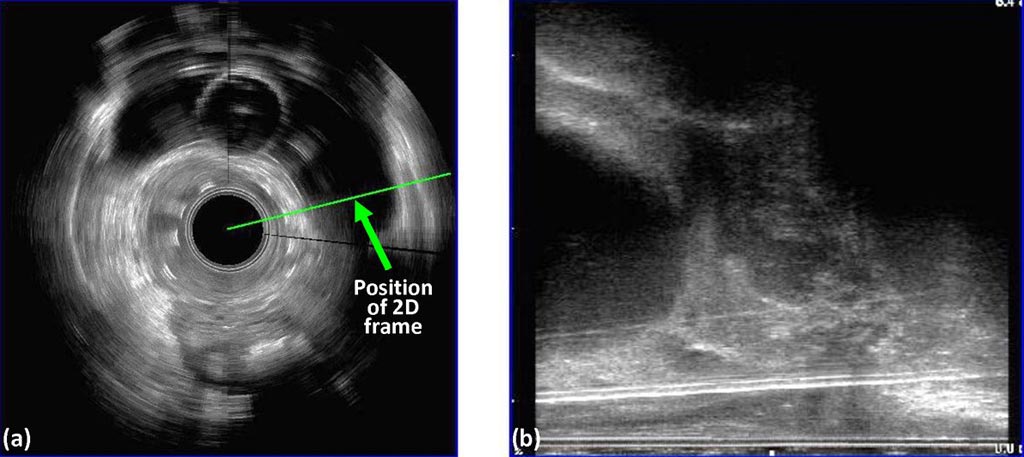 During feasibility studies of needle placement, mean differences in needle positions of 3.82 mm and 2.36 mm for TRUS and sidefire TVUS, respectively, were found, when compared to clinical CT images. A proof-of-concept phantom study of the system in endfire TVUS mode demonstrated a mean positional difference of just 1.91 mm. In addition, an automatic needle segmentation tool was tested on a 360° 3D TVUS patient image, resulting in a mean angular difference of 0.44° and mean positional difference of 0.78 mm, compared to manually segmented needles. The study was presented at the SPIE medical imaging conference, held during February 2019 in San Diego (CA, USA).
"Access to high-end imaging systems like CT and MRI to diagnose and treat diseases is difficult in some places in the world. So for that reason, we've been focusing on ultrasound, which is widely available everywhere in the world and can be used for a variety of applications," said senior author Professor Aaron Fenster, PhD, of RRI. "This technology has potential to be practice-changing. The short-term goal is to reduce complication rates - ensure that the needles don't go into the bladder, or the rectum, which creates complications. In addition, if the needles are placed correctly they will provide an improved dose pattern distribution to the tumor and surrounding tissue."
Brachytherapy is a radiotherapy regimen in which a radioactive source is placed directly into or next to an organ or tissue. During high-dose-rate (HDR) interstitial brachytherapy of gynecologic malignancies, precise placement of multiple needles is necessary to provide optimal dose to the tumor while avoiding overexposing nearby healthy organs, such as the bladder and rectum. Currently, brachytherapy needles are placed based on preoperative imaging and clinical examination, but there is no standard protocol for intraoperative image guidance.
Related Links:
Robarts Research Institute
Western University

Latest Ultrasound News
Other channels