Ultrasound Molecular Imaging Detects Malignant Cancers
By Medimaging International staff writers
Posted on 21 Apr 2017
Ultrasound molecular imaging (USMI) in patients with breast and ovarian lesions could provide a new way to diagnose cancer with far fewer biopsies, according to a new study.
Researchers at Stanford University and Agostino Gemelli University Polyclinic conducted a first-in-human clinical trial of USMI in 24 women (48-79 years of age) with breast and ovarian lesions, and 21 women (34-66 years of age) with focal breast lesions, using contrast microbubbles targeted at the kinase insert domain receptor (KDR), one of the key regulators of neoangiogenesis in cancer. The women were injected intravenously with the microbubbles, and USMI of the lesions was performed starting five minutes after injection up to 29 minutes.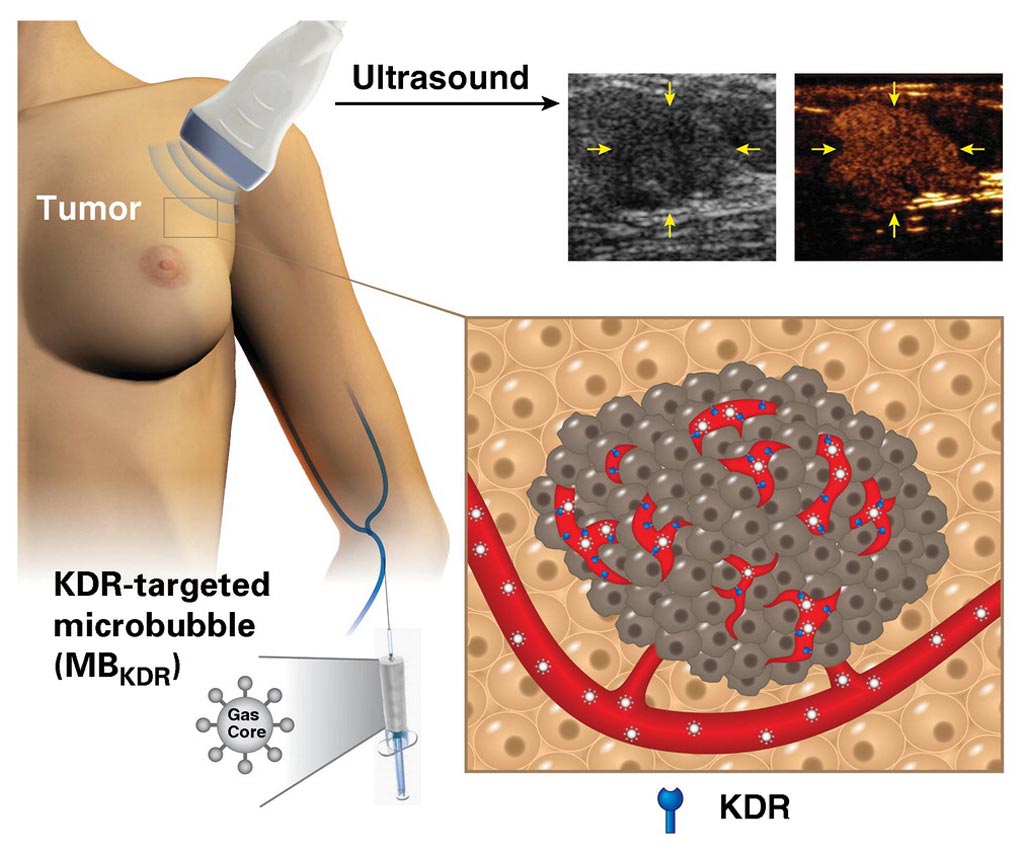 The results revealed that KDR expression on immunohistochemistry matched well with imaging signal on USMI in 93% of breast and 85% of ovarian malignant lesions. A strong KDR-targeted USMI signal was present in 77% of malignant ovarian lesions, with no targeted signal seen in 78% of the benign ovarian lesions. Similarly, a strong, targeted signal was seen in 93% of malignant breast lesions, with no targeted signal present in 67% of the benign breast lesions. The study was published on March 14, 2017, in the Journal of Clinical Oncology.
"The difficulty with ultrasound right now is that it detects a lot of lesions in the breast, but most of them are benign. And that leads to many unnecessary biopsies and surgeries," said lead author professor of radiology Jürgen Willmann, MD, of Stanford University. "Distinguishing benign from malignant tumors with harmless ultrasound imaging could save millions of patients from biopsies they don't need. We could make ultrasound a highly accurate screening technology that is relatively low cost, highly available and with no radiation."
Medical microbubbles are spheres of phospholipids 1-4 microns in diameter filled with a harmless mixture of perfluorobutane and nitrogen gas. The labeled microbubbles used in the study were designed to bind to KDR, a receptor found only on malignant tumor blood vessels. Under ultrasound imaging, the labeled microbubbles show up clearly when they cluster in such a tumor; as benign breast and ovarian tumors usually lack KDR, the labeled microbubbles mostly passed them by.
Latest Ultrasound News
Other channels