Drivable Sinus Endoscope Offers Enhanced Maneuverability
By MedImaging International staff writers
Posted on 01 Sep 2021
An extremely flexible ear, nose & throat (ENT) endoscope allows surgeons to visualize anatomic landmarks and pathologies in the furthest reaches of the sinuses.
The 3NT (Rosh Haain, Israel) Peregrine Drivable ENT Endoscopy System is a single-use flexible endoscope intended to visualize internal cavities of the ear, airways, nose, and sinus cavities during both diagnostic and therapeutic endoscope procedures. The device consists of a distal CMOS imager, an illumination source, and a working channel to enable irrigation and suction. The endoscope itself is provided sterile, and connects to a proprietary, small-footprint video console display for visualization.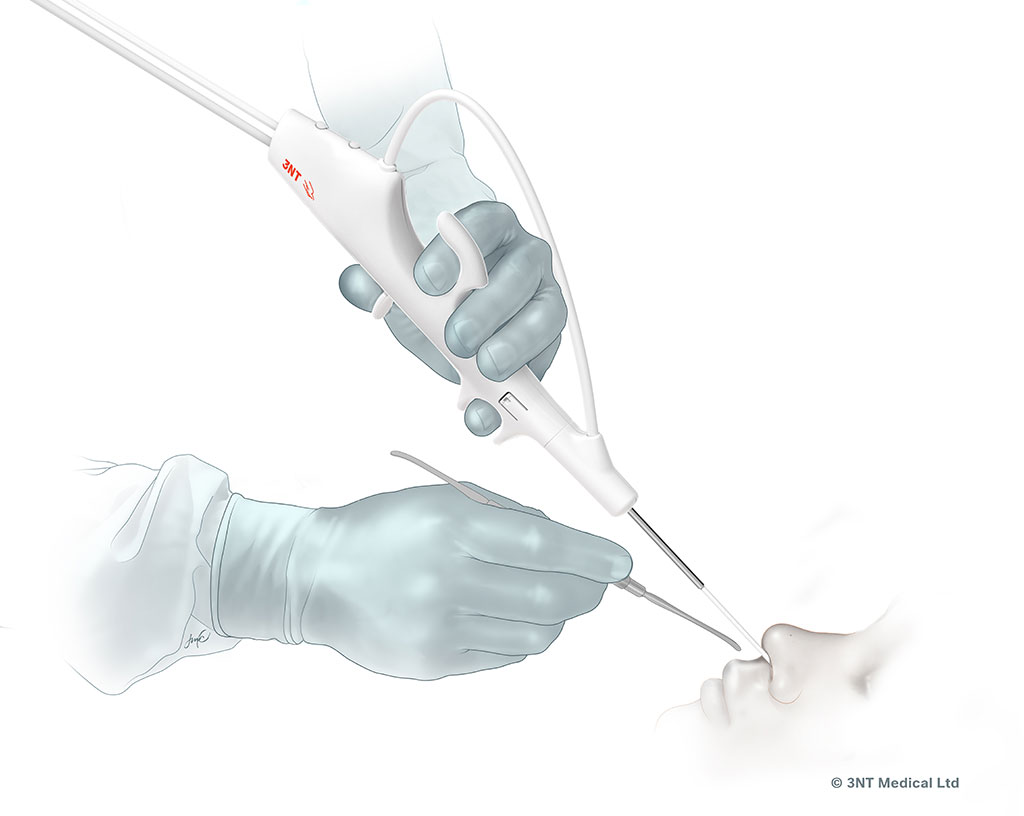 The system boasts novel mechanics which enable the surgeon to angulate the 2.3mm tip sharply; once it is in the correct orientation, the clinician can then advance it further in the direction of the turn, all with single-hand operation. In a study that compared the Peregrine to a rigid endoscope, it was able to view 100% of the frontal and sphenoid sinuses, and 97.1% of the maxillary sinus. The standard 4 mm rigid endoscope, on the other hand, viewed 45.3%, 53.3% and 39.4%, respectively.
"Assessing the sinuses from a distance is now a thing of the past with Peregrine. It demonstrates that 3NT Medical is executing on its vision of creating a portfolio of endoscopes designed specifically for ENT use," said Ehud Bendory, CEO of 3NT Medical. "We designed Peregrine exclusively for ENT surgeons to enable a better surgical experience for them as they strive to provide better outcomes and an enhanced experience for their patients."
Computerized tomography (CT) scans do not differentiate between soft tissue and secretions in the sinuses, which may result in over-interpretation of lesion extent. One solution to this problem is endoscopic visualization; however, the anterior and lateral walls of the maxillary sinus, as well as the superior and lateral aspects of the frontal sinus, are difficult to reach. As a result, pathology, such as inverted papilloma, most frequently recurs in tumors in those difficult to access areas.
Related Links:

3NT
Latest Surgical Techniques News