Treaded Robot Explores the Intestines from Within
By MedImaging International staff writers
Posted on 07 Sep 2020
A novel robotic capsule endoscope (RCE) can remotely examine the gastrointestinal (GI) tract, performing colonoscopies and taking biopsies of intestinal polyps.
Developed at the University of Colorado (UC; Boulder, USA), the Endoculus RCE is a small robot that moves on four motorized treads, and is designed to crawl through a mammalian colon. The tank-like micro-pillared treads are powered by a double-worm drive that removes axial gear forces while reducing radial moments, allowing for two-degrees of freedom (2-DOF) skid-steering at speeds of up to 40 mm/s and the ability to traverse haustral folds, even in a collapsed lumen.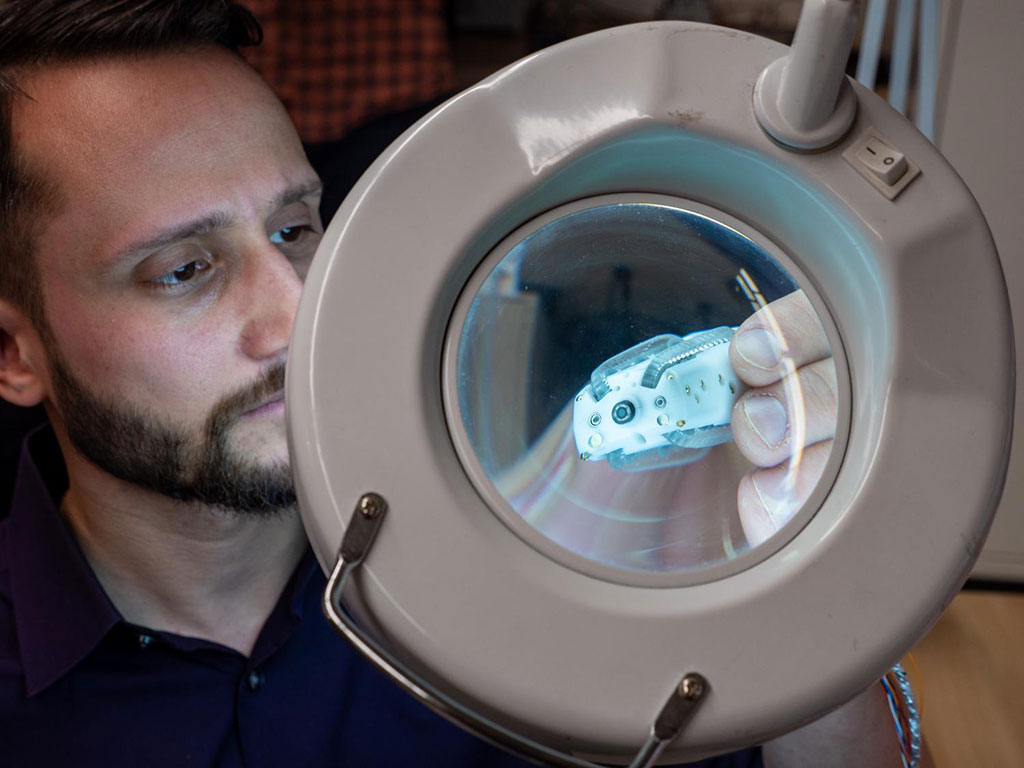 The Endoculus contains all the functionality of a traditional endoscope: a video camera, adjustable light emitting diodes (LEDs), channels for insufflation and irrigation, and a port for endoscopy instruments, such as forceps, snares, etc. In addition, it carries an inertial measurement unit, magnetometer, motor encoders, and motor current sensors to aid in future autonomy strategies. The RCE is controlled via an Xbox gaming controller. The prototype device, which is the size of a C-type battery, has been evaluated in porcine models.
"One of the things I've always wanted to enable is for people to swallow robots to do procedures on them. I think the science is aligning to allow that, whether it's in five years or 50," said biomedical engineer Mark Rentschler, PhD, who leads the development team. "You have to forget about everything you know from a locomotion standpoint, because driving around inside the body is very different than driving around in a car. The environment is highly deformable. It's very slick. There are sharp peaks that you have to go over."
Colonoscopy is the endoscopic examination of the colon and the distal part of the small bowel with a video camera or a fiber optic camera on a flexible tube passed through the anus. It may provide a visual diagnosis (e.g. ulceration, polyps) and grants the opportunity for biopsy or removal of suspected lesions. Virtual colonoscopy, which uses imagery reconstructed from computed tomography (CT) scans or from nuclear magnetic resonance (MR) scans, is also possible, as a totally non-invasive medical test, although it is not standard and still under investigation regarding its diagnostic abilities.
Related Links:

University of Colorado
Latest Surgical Techniques News