Prototype Breast CT System Differentiates Internal Structures
By MedImaging International staff writers
Posted on 17 Nov 2021
A dedicated breast computed tomography (CT) imaging platform powered by deep learning (DL) could provide more accurate detection and diagnosis of breast cancers.
The IzoView, under development by Izotropic (Vancouver, Canada), is a novel breast imaging platform designed to produce true 3D high-resolution images with a single 10-second scan taken in a comfortable, face down position. And since natural breast orientation is maintained during the scan, painful compression and unpleasant technician breast handlings become a thing of the past. Also, as the patient places her own breast in the izoview imaging cup, dignity is preserved, providing a more relaxed experience for the patient.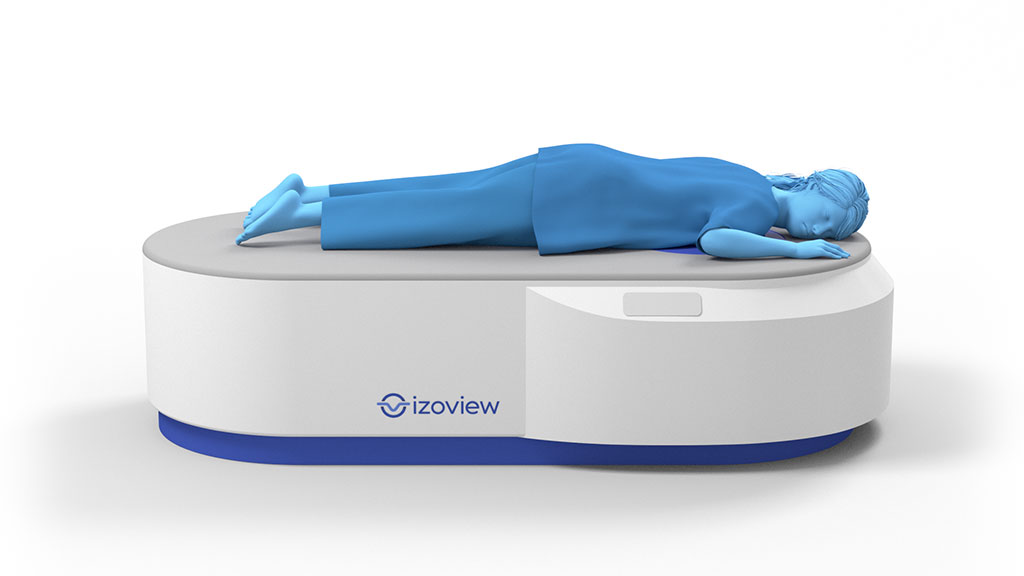 The IzoView imaging hardware beneath the table circles around the patient's breast, producing approximately 500 high-resolution images (depending on breast length) in just 10 seconds, with a radiation dose comparable to two-dimensional mammography. A true 3D reconstructed image is produced within 30 seconds, which a radiologist can then view from any angle like a 3D model, or slide through the 500 cross-sectional images individually to better determine tumor size, shape, location, and relation to internal breast structures.
In ongoing clinical trials, the IzoView found lesions and tumors in the 3-5mm size range (when used with contrast agents). Izotropic has also entered into an agreement with Johns Hopkins University (JHU; Baltimore, MD, USA)) to develop DL image reconstruction algorithms to further improve image processing performance, while minimizing computational burden. The company also anticipates that IzoView's high resolution 3D images could provide more accurate margin analysis, a higher spatial resolution, and improved lesion characterization.
"Izotropic is working to bring breakthrough developments in methods integrating data-based machine learning approaches to reduce noise and image biases with the preservation of the intrinsic spatial resolution of the IzoView system," said John McGraw, MD, CEO of Izotropic. "IzoView will offer an outstanding platform for the development and implementation of a novel set of learning-based approaches for accurate identification and characterization of breast pathologies."
Prone positioning takes advantage of gravity to displace the breast away from the chest wall into an opening in the breast board or table. As a result, significantly less radiation exposure to the heart and lungs is delivered than to patients imaged in the supine position.
Related Links:

Izotropic
Other channels