Overuse of Computed Tomography (CT) on COVID-19 Patients Raises Concerns
By MedImaging International staff writers
Posted on 16 Nov 2020
A new study by the International Atomic Energy Agency (IAEA Vienna, Austria) has found lack of guidance on specific Computed Tomography (CT) protocols for imaging patients with COVID-19 pneumonia.
In order to assess international variations in CT utilization, protocols, and radiation doses in patients with COVID-19 pneumonia, the IAEA performed a retrospective data collection study in which it coordinated a survey between May and July 2020 regarding CT utilization, protocols, and radiation doses from 62 healthcare sites in 34 countries across five continents for CT exams performed in COVID-19 pneumonia.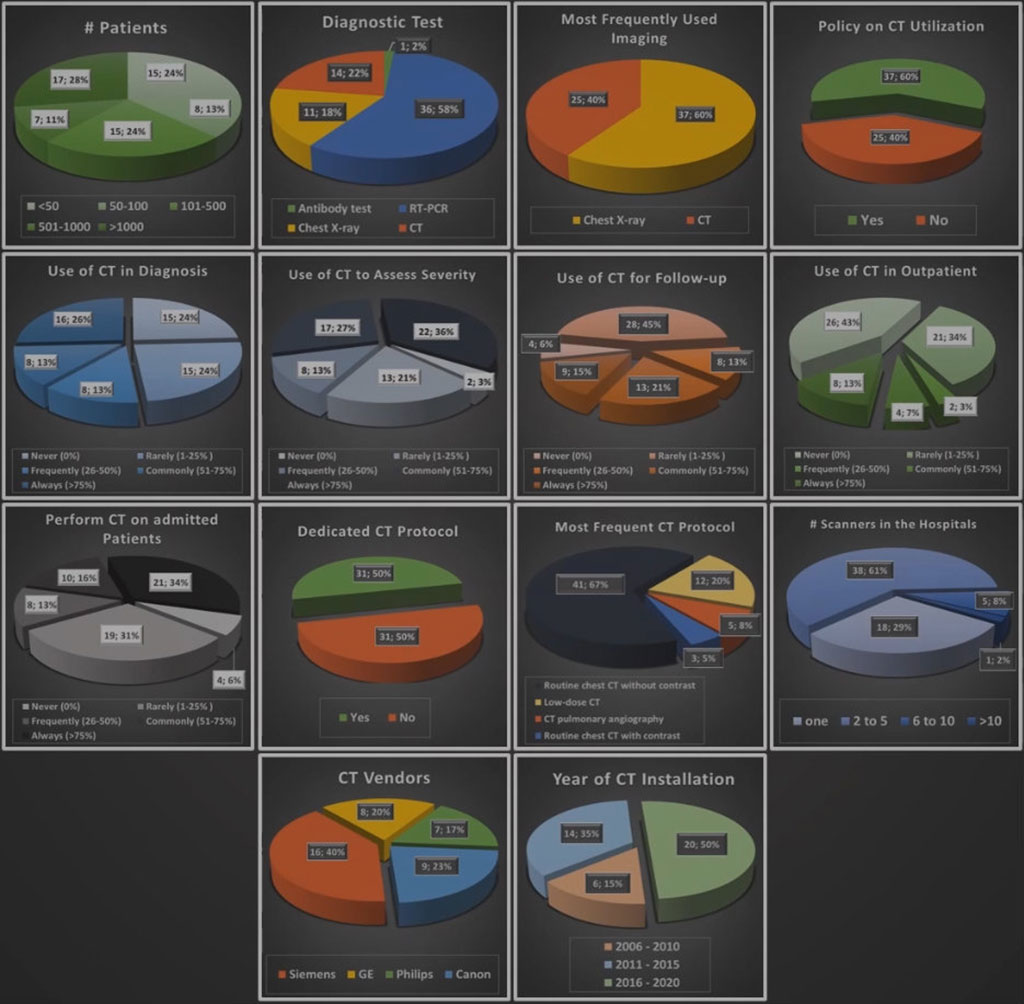 The study revealed that CT was most often used to assess disease severity and less commonly for assessing suspected COVID-19 pneumonia and in outpatient settings. Several sites reported adoption of written policies on use of CT in COVID-19 pneumonia and preferential use of chest radiography over chest CT. About 29% of the patients had 2-8 chest CT exams in less than one month. Multiphase scan protocols and their association with higher radiation dose were concerning in 11 out of 54 healthcare sites from 4 out of 28 countries in the study.
Healthcare sites varied CT protocols: some adopted a single-phase, non-contrast protocol and performed only one chest CT exam, some used reduced-dose chest CT protocol, and, likewise, some reduced radiation dose for follow-up chest CT compared with the baseline exam. The use of CT in most sites participating in the study was compliant with guidance from several notable organizations and societies which discourage use of screening CT in absence of paucity of RT-PCR or serological assays. Conversely, the study identified several areas of concern, including those stemming from frequent report on the use of CT for initial diagnosis of suspected COVID-19 pneumonia. Although CT is justified in high disease prevalence sites with low availability of antigen or antibody assays for the coronavirus, the study found that overuse of CT remains an important concern.
The findings suggest that while the use of contrast-enhanced chest CT is justified in patients with suspected vascular complications and superimposed necrotizing infection, most other pulmonary opacities in COVID-19 pneumonia can be assessed with a single-phase, non-contrast phase chest CT. As opposed to abdomen-pelvis CT, there is little justification for multiphase CT of the chest for most clinical indications in and beyond COVID-19 pneumonia.
Related Links:

International Atomic Energy Agency (IAEA)
Other channels