Portable X-Ray Detector Leverages Dual-Energy at the Bedside
By MedImaging International staff writers
Posted on 24 Sep 2020
A novel X-Ray flat panel detector (FPD) simultaneously provides bone and soft-tissue differentiation images in a single X-ray exposure.
The KA Imaging (Waterloo, Canada) Reveal detector is constructed with a unique triple stacked layer design, which permits spectral decomposition of the X-ray beam, allowing for high quantum efficiency of transmitted photons. The additional energy data enables the removal of motion artifacts and selective removal of the anatomical background, thus enhancing detectability of anatomies of interest and providing radiologists with unobstructed front and lateral views of both soft tissue and bone that are sharp and free of motion artifacts, increasing diagnostic sensitivity.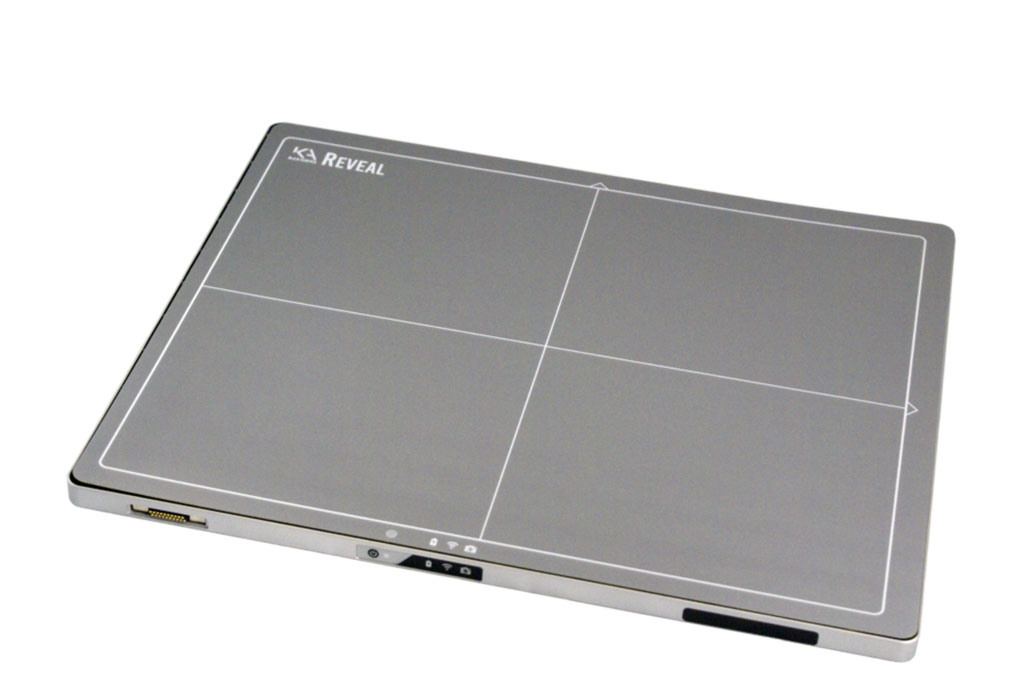 The retrofittable design is also capable of acquiring very high detective quantum efficiency (DQE) digital radiography images. When combined with dual energy capabilities, high quality images of the lungs and bones can be captured, which aids clinicians in visualization of masses with high sensitivity, fractures, pneumonia, and medical device such as catheters and PICC lines. Soft tissue and bone images are sharp and free of motion artifacts. Reveal is also portable, and can be taken to the bedside of patients, which is critical during these pandemic times.
"Reveal is the ideal retrofit solution as it will fit into any ISO standard size tray. Thanks to this feature, the cost of implementation can be reduced to a fraction of the price; whereas conventional dual exposure dual-energy systems can cost as high as half a million dollars, KA Imaging's Reveal can be obtained at a quarter of this price," said Amol Karnick, president and CEO of KA Imaging. "You can simply replace your old detector with Reveal, as it will work with any conventional portable or fixed x-ray source."
"Recent experiences have shown that testing for viral RNA may not suffice as the only test to confirm or rule out the infection," said Karim S. Karim, CTO of KA Imaging, on the Reveal's application for COVID-19 detection. "This is where we can help, as radiological imaging, in some cases, has indicated presence of pulmonary disease even days earlier than PCR testing. Moreover, radiological imaging can follow the progress of COVID induced pneumonia over time, enabling timely decision making about treatment efficacy or need for ventilators."
Related Links:

KA Imaging
Other channels