Miniature Dosimeters Autonomously Monitor EMR Exposure
By MedImaging International staff writers
Posted on 16 Jan 2020
A millimeter-scale, ultra-low-power wireless digital platform provides continuous electromagnetic radiation (EMR) dosimetry for time-managed, wireless consumer devices.
Developed at Northwestern University (NU; Evanston, IL, USA) and the Korea Advanced Institute of Science and Technology (KAIST; Daejeon, Republic of Korea), the miniaturized digital dosimeter provides continuous EMR monitoring in an autonomous mode at one or multiple wavelengths simultaneously, transmitting the data over long-range wireless protocols to standard consumer devices. A single button cell battery powers the unit over a multiyear life span, enabled by the combined use of a light-powered, accumulation mode of detection and a light-adaptive, ultralow-power circuit design.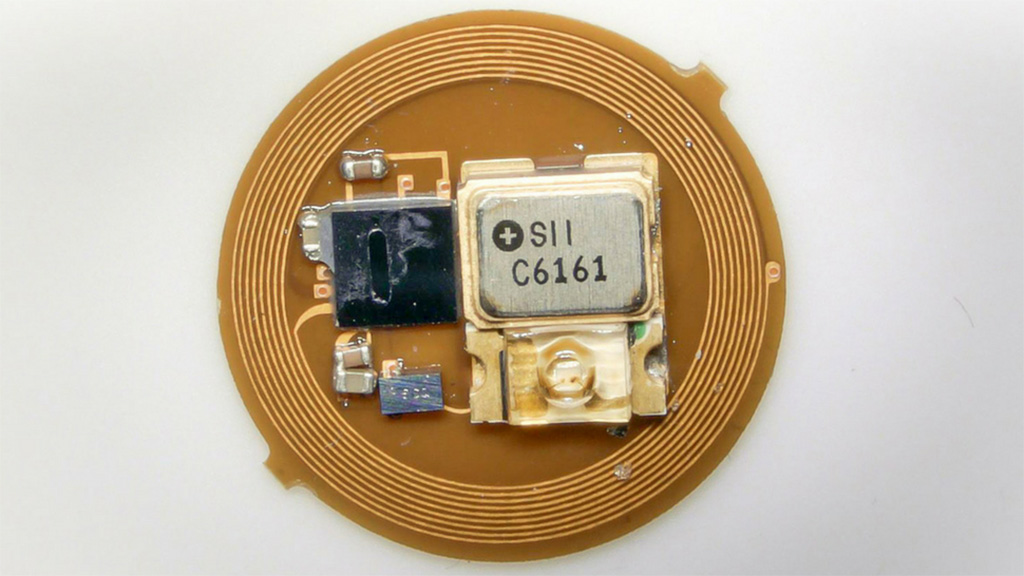 The dosimeter includes an accumulation detection module (ADM) for dosimetry and a Bluetooth low energy (BLE) system on a chip for wireless communication. A key feature is that the built-in ADM can directly measure continuous dose exposure without power consumption. As a result, it remains in an ultra-low sleep mode in the absence of light while continuously monitoring dosage via the ADM. When the dose exceeded a threshold, the device briefly wakes up to wirelessly transmit exposure data using BLE protocols to a smartphone, and resets the ADM and quickly return to sleep mode.
The ADM also includes a photodiode, supercapacitor, and a metal oxide semiconductor field-effect transistor (MOSFET). The miniaturized forms of the device have already been tested on sunglass clips, earrings, and wristbands for personalized EMR exposure detection. Field studies have shown that the dosimeter is extremely efficient in monitoring short-wavelength blue light from indoor lighting and display systems, as well as ultraviolet (UV), visible, and infrared (IR) radiation from the sun. The study was published on December 13, 2109, in
Science Advances.
"The key feature of the ADM is that it directly measures exposure dose in a continuous fashion, without any power consumption. By contrast, conventional digital approaches approximate dose through computational time integration across a series of brief measurements of intensity, each performed using active, battery-powered electronics," concluded lead author Kyeongha Kwon, PhD, of NU and KAIST, and colleagues. "Lack of interface ports and mechanical switches and the absence of need for battery replacement allow hermetic sealing of device for waterproof, sweat-resistant, and wear-resistant capabilities."
Overexposure or underexposure to EMR can accumulate with latent consequences; where excessive exposure to UV and blue light from the sun or emissions of tanning beds and cellphones, can have associated health risks. For instance, repetitive keratinocyte damage from chronic exposure to UV is fundamental to cause skin cancer. The shorter wavelengths of the visible spectrum can generate reactive oxygen species (ROS) in the skin to cause DNA damage, hyperpigmentation and inflammation, alongside collagen and elastin degradation. Blue light can cause photochemical damage in retinal tissue to accelerate age-related maculopathy and modulate retinal control of the human circadian rhythm to suppress melatonin secretion.
Related Links:

Northwestern University
Korea Advanced Institute of Science and Technology
Other channels