PET Tracer Identifies and Tracks Bacterial Infections
By Medimaging International staff writers
Posted on 07 Feb 2018
A new positron emission tomography/computed tomography (PET/CT) radiotracer can identify and track the degree of bacterial infection in lungs.
Developed at the University of Louisville (UL; KY, USA), 2-18F-fluorodeoxysorbitol (18F-FDS) is a promising radiotracer with high selectivity and sensitivity for bacterial infection. In a study designed to validate 18F-FDS as a potential radiopharmaceutical for imaging bacterial lung infection longitudinally, albino C57 female mice were inoculated with either live Klebsiella pneumoniae to induce lung infection, or the dead form of the bacteria to induce inflammation. Half of the mice inoculated with the live bacteria were imaged with PET/CT using 18F-FDS.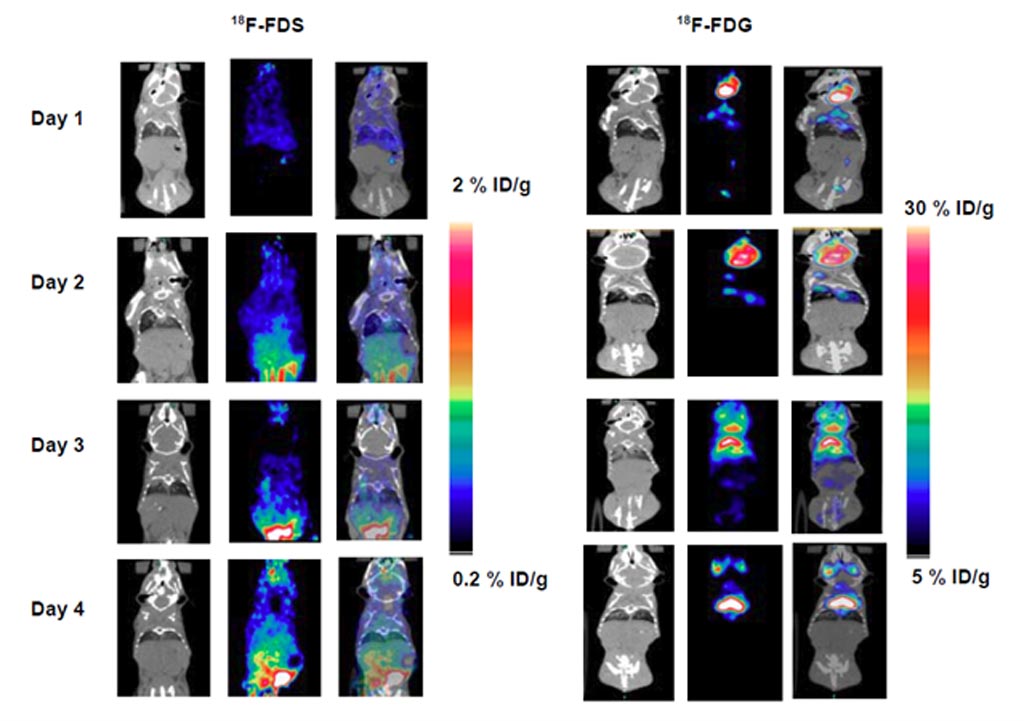 The other half were screened by bioluminescent imaging (BLI), and mice with visible infection were also selected for follow-up PET/CT scans with 18F-FDS. For the inflammation group, half the mice were imaged with PET/CT using 18F-FDS, and the other half with 18F-FDG, from days 1-4 post-inoculation. The results revealed that on the second day after inoculation, an area of lung consolidation was identified on CT, with a corresponding 2.5-fold increase over baseline for both PET radiotracers.
On day three, widespread areas of patchy lung consolidation were found on CT, with a drastic increase in uptake for both 18F-FDS and 18F-FDG. Both PET and BLI studies showed a marginal correlation between 18F-FDG uptake and colony-forming units, but a much better correlation for 18F-FDS. And while both 18F-FDS and 18F-FDG effectively tracked the degree of bacterial infection measured by BLI, only 18F-FDS was able to differentiate lung infection from lung inflammation. The study was published in the January 2018 issue of The Journal of Nuclear Medicine.
"Currently, bacterial infections can be diagnosed only after they have become systemic or have caused significant anatomical tissue damage, a stage at which they are challenging to treat owing to the high bacterial burden," said senior author Chin Ng, PhD. "18F-FDS whole-body PET/CT imaging in mice has shown to be a unique imaging technique that could differentiate infection from inflammation. This same technique could potentially be used in patients to identify infection sites and determine the bacterial infection class, so that patients could avoid taking antibiotics that are known to have no effect against specific bacteria."
Related Links:
University of Louisville

Latest Radiography News
Other channels