World's First Total-Body PET/CT Enables Entire Body to Be Scanned in One Bed Position
By MedImaging International staff writers
Posted on 25 Oct 2022
United Imaging Healthcare (UIH, Shanghai, China) has unveiled the world's first total-body PET/CT, uEXPLORER, with a 194cm axial PET field of view (FOV) that enables the entire body to be scanned in one bed position. The ultra-high-resolution digital PET/CT system offers total-body dynamic scanning, allows ultra-low patient dose, and produces ultra-high image resolution, changing how whole-body PET/CT imaging has traditionally been performed.
The core of the groundbreaking PET/CT, uEXPLORER, is the integrated light-guide digital detectors that consist of silicon photomultipliers (SiPMs) and fine 2.76 mm lutetium-yttrium oxyorthosilicate (LYSO) crystals, with over 564,480 crystal elements. This provides exceptional image quality, with 2.9 mm NEMA resolution to improve quantitative accuracy and small lesion detectability. The uEXPLORER employs a 160-slice CT that is equipped with the Z-Detector to allow for low dose data acquisition with ultra-low electronic noise. The fast rotation speed enables advanced applications such as cardiac imaging, while the 0.5 mm individual element size allows visualization of very fine structures with every scan. The uEXPLORER provides true clinical versatility without having to choose between fast scans or low dose.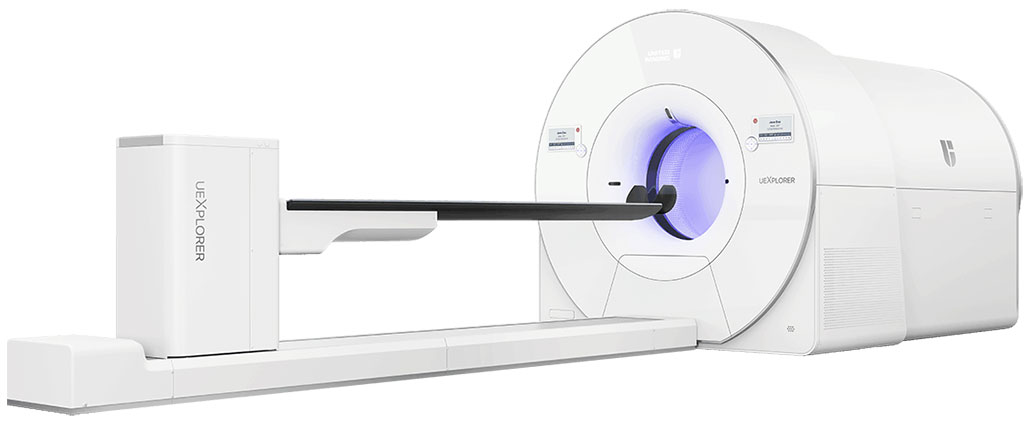 The 194 cm axial PET FOV enables the whole human body to be scanned in one bed position, and powerful computing hardware gives the ability to complete total body reconstruction within eight minutes. The uEXPLORER also touts an extremely high sensitivity of 176 cps/kBq, allowing for clinical flexibility with the potential to scan at sub-millicurie tracer dose or in as little time as 30 seconds at standard dose. Together, these core components enable maximum system efficiency, a more effective workflow, and an increase in patient throughput. The uEXPLORER comes standard with advanced technologies such as time-of-flight, point spread function, and metal artifact correction.
"This disruptive technology is co-developed by UC Davis and UIH. As nuclear medicine and molecular imaging equipment is becoming more and more complex, we believe it is time to collaborate between industry and academia to quickly find tailored, precise solutions and bring the value of molecular imaging to oncology, cardiology and neuroscience for high quality patient care," said Prof. Li Hongdi, CTO of UIH and CEO of UIH America.
Related Links:
UIH
Other channels