Novel Sonic Beam Therapy Liquefies Tumor Tissues
By MedImaging International staff writers
Posted on 01 Nov 2021
An automated external beam system uses acoustic energy to mechanically destroy tissue in the liver without incisions, ionizing radiation, or heat.
The HistoSonics (Minneapolis, MN, USA) Edison is a sophisticated histotripsy sonic beam platform designed to deliver pulsed sound energy into the body, without any incisions or needles, that destroys tissue at the sub-cellular level. Physicians first contour and plan treatment according to shape and size of their target; once the energy required to initiate cellular destruction is determined, the acoustic pulses are delivered. Treatment is monitored in real-time, while the system automatically moves through the target area.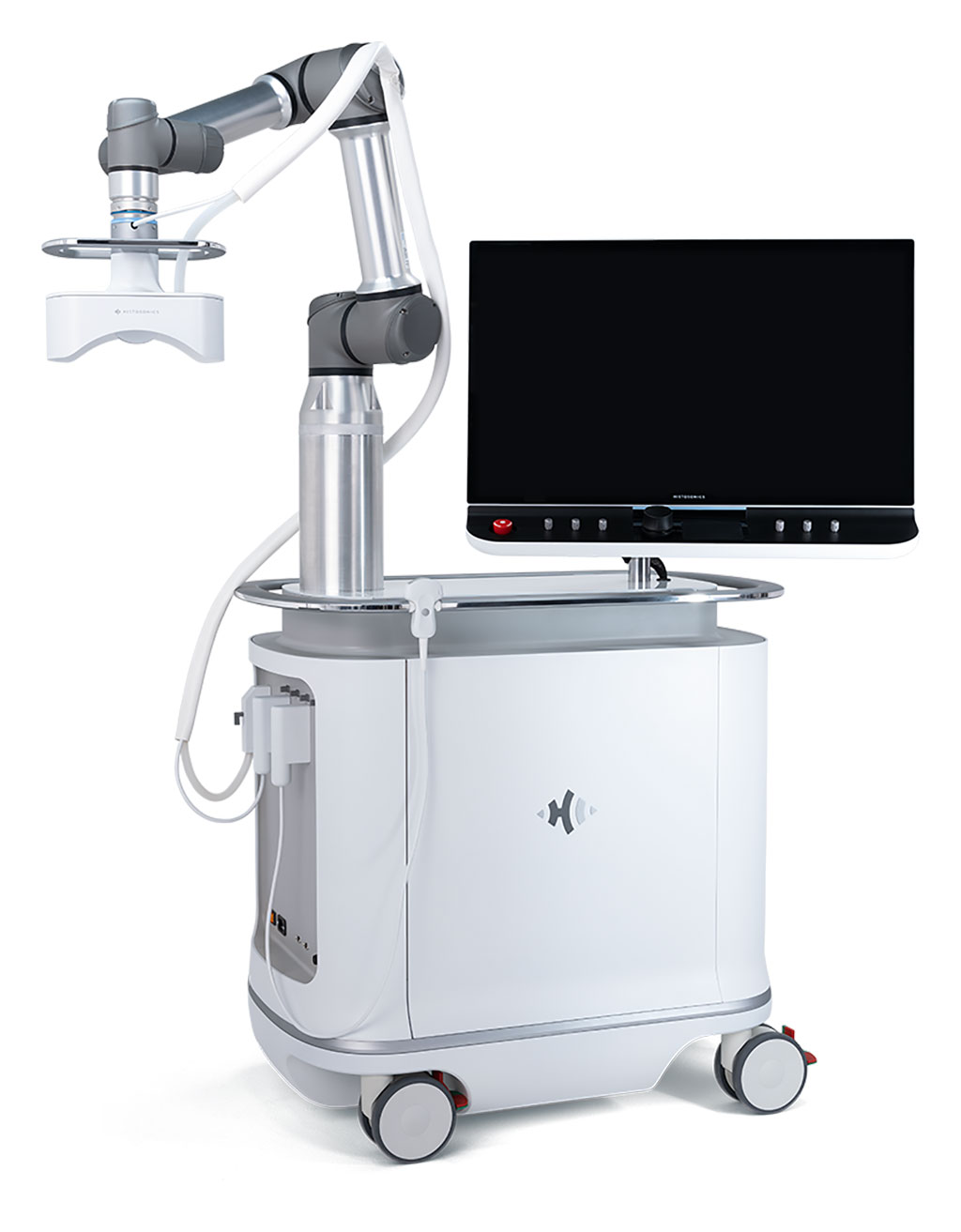 Histotripsy uses pulsed sound waves to induce microbubbles from gases that are naturally present in tissues. These "bubble clouds" form and collapse in microseconds, creating mechanical forces that are strong enough to destroy tissue in a non-invasive and non-thermal method. As only 20%-30% of patients with liver tumors are eligible for surgical resection, due to the presence of multiple tumors, underlying poor liver function, or general health issues, histotripsy may provide a solution. Edison has received breakthrough device designation from the U.S. Food and Drug Administration (FDA).
"The Breakthrough Device Designation is a significant milestone for our company and validates our belief that our platform offers significant advantages over existing approved or cleared alternatives," said Mike Blue, President and CEO of HistoSonics. "Early and ongoing clinical results are promising and suggest that our ability to precisely destroy targeted liver tissue, completely non-invasively, and without the challenges associated with ionizing radiation or other locoregional therapies, provides advantages to patients and physicians that don't exist today."
Primary liver tumors were the third leading cause of tumor related death worldwide in 2020, with approximately 906,000 new cases and 830,000 deaths globally, and 5-year survival rates less than 18%. Additionally, the liver is second only to lymph nodes as the most common site of metastatic tumors, and estimated to be present in up to 70% of patients with advanced disease from another site.
Related Links:

HistoSonics