New CyberKnife System Launched Globally
By MedImaging International staff writers
Posted on 09 Jul 2020
The next-generation of the CyberKnife platform, a robotic, non-invasive radiation therapy (RT) device, can treat cancerous and benign tumors throughout the body.
The Accuray (Sunnyvale, CA) CyberKnife S7 System combines speed, advanced precision, and real-time artificial intelligence (AI)-driven motion tracking and synchronization treatment for the delivery of all stereotactic radiosurgery (SRS) and stereotactic body radiation therapy (SBRT) treatments in as little as 15 minutes, Thanks advanced techniques that deliver sub-milimetric, hypo-fractionated RT, patients can receive very high doses of targeted radiation that is administered in a few days, versus conventional fractionation where treatments often require up to 35 visits.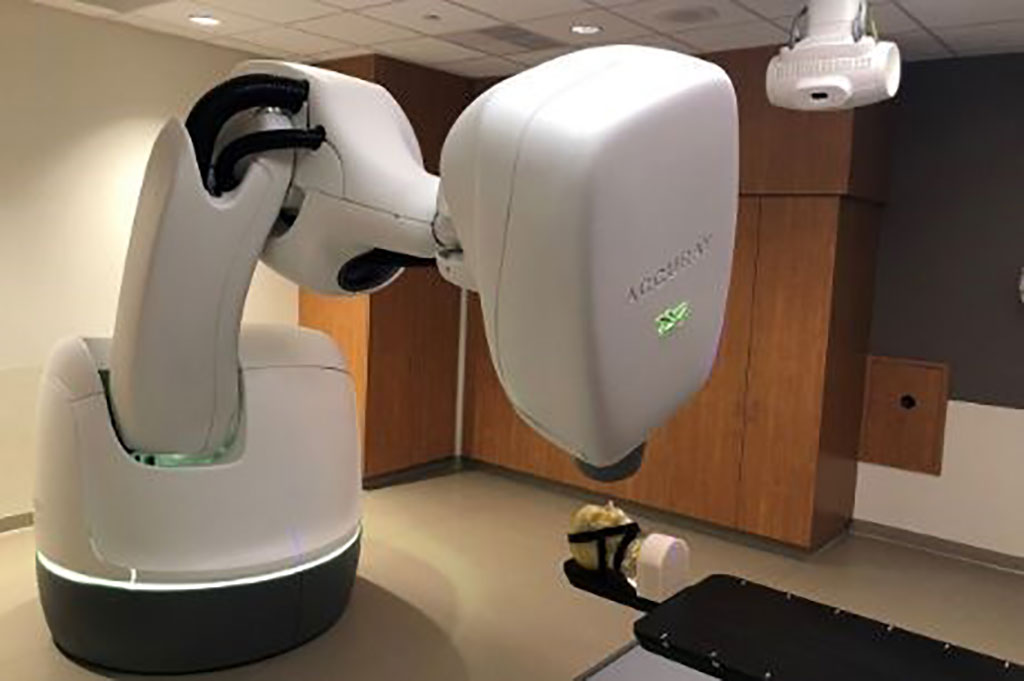 Patient benefits include a shorter overall course of treatment and a major reduction in the risk of side effects due to patients shifting position, breathes or coughs, muscles that tense and relax, and fluids and gasses that displace internal organs. Since such movements can impact the location of the tumor target, The CyberKnife uses Synchrony motion synchronization technology that adapts radiation delivery in real-time to patient and/or tumor movement by using thousands of unique angles, expanding the possible positions from which radiation beams can be delivered.
"We are proud to be the first center in the world to treat patients with the CyberKnife S7 System, an advanced device that will expand the scope of tumors we can treat," said Anand Mahadevan, MD, chairman of radiation oncology at the Geisinger Cancer Institute (Danville, PA, USA). "Knowing that the system will automatically adapt treatment delivery for patient or tumor movement gives us the confidence to use SRS and SBRT for intra- and extra-cranial disease sites throughout the body, providing meaningful benefits to our patients during and after treatment."
"The CyberKnife system has continued to evolve since the first patient was treated more than 25 years ago, and it remains the 'go to' device for clinicians who want to confidently deliver precise and accurate stereotactic treatments on a day-in, day-out basis," said Joshua Levine, president and CEO of Accuray. "With the introduction of the CyberKnife S7 System, Accuray is continuing its legacy of innovation. We believe this new system will make it easier for Geisinger clinicians to successfully deliver SRS and SBRT and achieve their patient-first treatment objectives, a priority for their team and ours."
SBRT is emerging as an attractive option for treating cancers in the lung, head and neck, prostate, liver and other disease sites, with the objective of increasing local control of the target lesion while limiting dose to nearby critical structures and normal tissue. Requirements include precise localization of the target lesion in the treatment planning process; accounting for tumor motion due to respiration or other changes in the body; highly conformal dose distribution to the target volume, including a steep dose gradient to minimize radiation to surrounding healthy tissue; and image-guidance at the time of dose delivery for verification and adjustment of the target localization.
Other channels