Innovative RT System Could Treat Multiple Solid Tumors
By MedImaging International staff writers
Posted on 20 Apr 2020
A groundbreaking radiotherapy (RT) device rotates up to 60 times faster than other linear accelerators and modulates dose delivery from 100 points per beam station.
The RefleXion Medical (Hayward, CA, USA) X1 machine is intended for image-guided RT, including stereotactic body radiotherapy (SBRT), stereotactic radiosurgery (SRS), intensity modulated radiotherapy (IMRT), and in the future, biology-guided radiotherapy (BgRT). The multiple indications are achieved by combining high quality fan-beam computed tomography (CT) imaging with a linear accelerator (LINAC) in order to reduce motion artifacts that can inhibit accurate targeting of the radiation dose to a patient's tumor.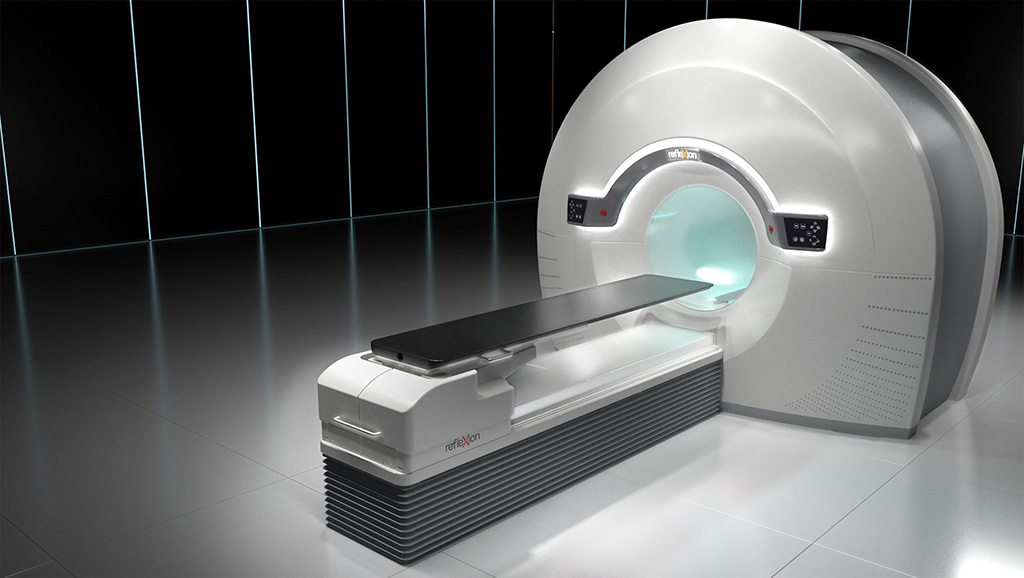 The hybrid imaging-therapy system can define field sizes based on jaws that are 40 cm wide, with slice width choices of either one or two cm to optimize patient treatment. A binary multileaf collimator (MLC) is used to create intensity modulated radiation fields at a source-axis distance of 85 cm. Clinical sub-systems include 6 MV photon RT delivery, Kilovoltage level X-ray CT imaging, MV X-ray detection, and treatment planning. The incorporated LINAC, along with a fixed primary collimator, several adjustable collimators, and the MLC are mounted in the therapy plane.
The system is also designed for inclusion of positron emission tomography (PET) imaging components to enable BgRT, which uses the biological signature of each tumor to characterize its movement and to track tumors more precisely. The RefleXion X1 machine with BgRT intends to overcome the technical limitations that currently restrict RT to one or two tumors. Once developed, RefleXion will scale BgRT on the X1 machine to treat all visible tumors, even those that move rapidly due to bodily functions such as breathing or digestion, in the same treatment session.
"The idea was to use individual emissions that make up a partially formed PET image, and are generated by the tumor, as a homing signal or biological marker to quickly guide radiotherapy to that location," said Sam Mazin, PhD, co-founder and chief technology officer of RefleXion. "In essence, [it is] turning cancer on itself to destroy it. It has been a rewarding journey from thinking of the idea years ago to co-founding RefleXion."
SRS is a non-surgical radiation therapy used to treat functional abnormalities and small tumors of the brain. When SRS is used to treat body tumors, it is called stereotactic body radiotherapy (SBRT). Both SRS and SBRT are an image-guided radiation therapy (IGRT), relying on 3D imaging and localization techniques, immobilization systems for precise patient position during therapy, and highly focused gamma-ray or x-ray beams that converge on the tumor.
Related Links:

RefleXion Medical
Latest Nuclear Medicine News
Other channels