Hyperbaric Oxygen Therapy Relieves RT Side Effects
By Medimaging International staff writers
Posted on 30 Oct 2019
Hyperbaric oxygen therapy (HBOT) reduces the self-reported symptoms and side effects of cancer radiotherapy (RT) in the pelvic region, according to a new study.
Researchers at Angereds Hospital (Sweden), Sahlgrenska Academy (SA; Göteborg, Sweden), Haukeland University Hospital (Bergen, Norway), and other institutions conducted a randomized, controlled trial at five Nordic hospitals involving 87 patients (18–80 years of age) with pelvic RT who were referred to a HBOT clinic due to symptoms of late radiation cystitis. Patients were randomly assigned to either HBOT (42 patients) or to standard care with no restrictions for other medications or interventions (45 patients).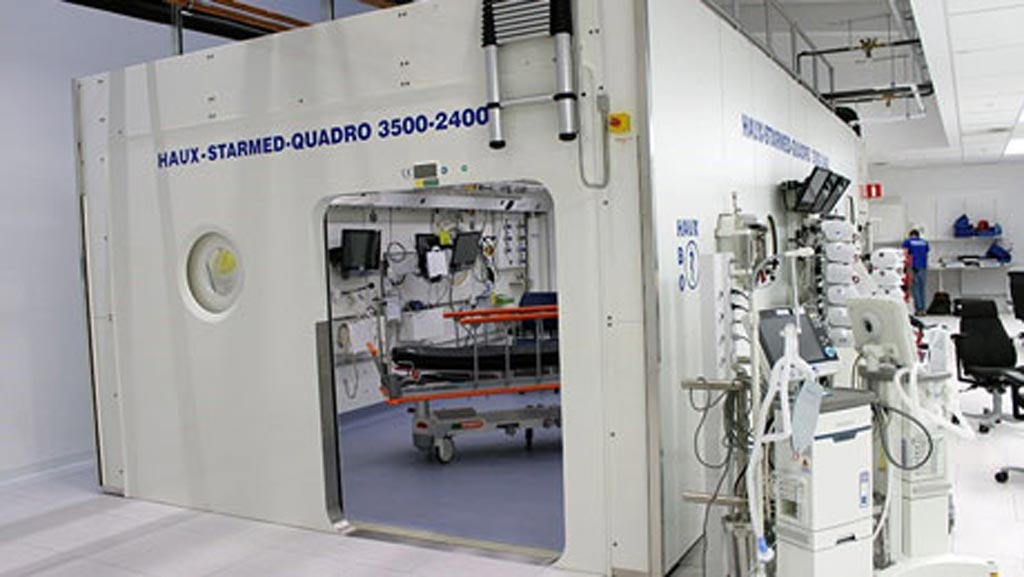 The HBOT patients received 30–40 sessions of 100% oxygen breathed at a pressure of 240–250 kPa, for 80–90 min daily. The primary outcome was change in patient-perceived urinary symptoms assessed with the expanded prostate index composite score (EPIC), from inclusion to follow-up at visit four, held six to eight months later. The results revealed a change in EPIC urinary total score at visit 4 of 10.1 points in the HBOT group, compared to 7.7 points in the standard care group. In all, 41% of the HBOT patients experienced transient adverse events related to sight and hearing during the treatment period. The study was published on September 17, 2019, in The Lancet Oncology.
"In the patients in the study, general health was greatly impaired before treatment, sometimes after long periods of discomfort," said lead author Nicklas Oscarsson, MD, of Angered Hospital, and a doctoral student in anesthesiology and intensive care at Sahlgrenska Academy. "If a patient no longer needed morphine for pain, or was able to go to the toilet once a night instead of five times, it was a clear improvement. It's a great pleasure to hear patients tell us how they feel they're returning to a normal human life. This also applies to those who get better, but perhaps aren't entirely well."
RT is part of many treatment protocols of cancer in organs such as the prostate, cervix, ovaries, and colon. One side effect of RT in the lower abdomen is damage of nearby, healthy tissue such as the urinary tract, bladder, vagina or rectum. Symptoms such as a frequent urge to urinate, incontinence, bleeding, and severe abdominal pain may arise immediately following or even several years after RT, causing chronic and often increasing discomfort.
Related Links:
Angereds Hospital
Sahlgrenska Academy
Haukeland University Hospital

Latest Nuclear medicine News
Other channels