Two New CT Systems Aid Dedicated RT Planning
By MedImaging International staff writers
Posted on 27 Sep 2019
Two new computerized tomography (CT) scanners from Siemens Healthineers (Erlangen, Germany) are designed specifically to address challenges in radiotherapy (RT) treatment planning.
The new scanners include the 64-slice Somatom go.Sim and the 128-slice Somatom go.Open Pro. Both systems feature an 85 cm bore to accommodate patient positioning accessories and increase patient comfort, and the New GO with Green mobile workflow, designed to bring ease of use to RT technicians by walking them through each step of the patient setup process. This enables the therapist to remain at the patient's side, improving communication and comfort and reducing anxiety. Optional DirectLaser patient markers, mounted directly onto the gantry and controlled via a mobile tablet, are also available.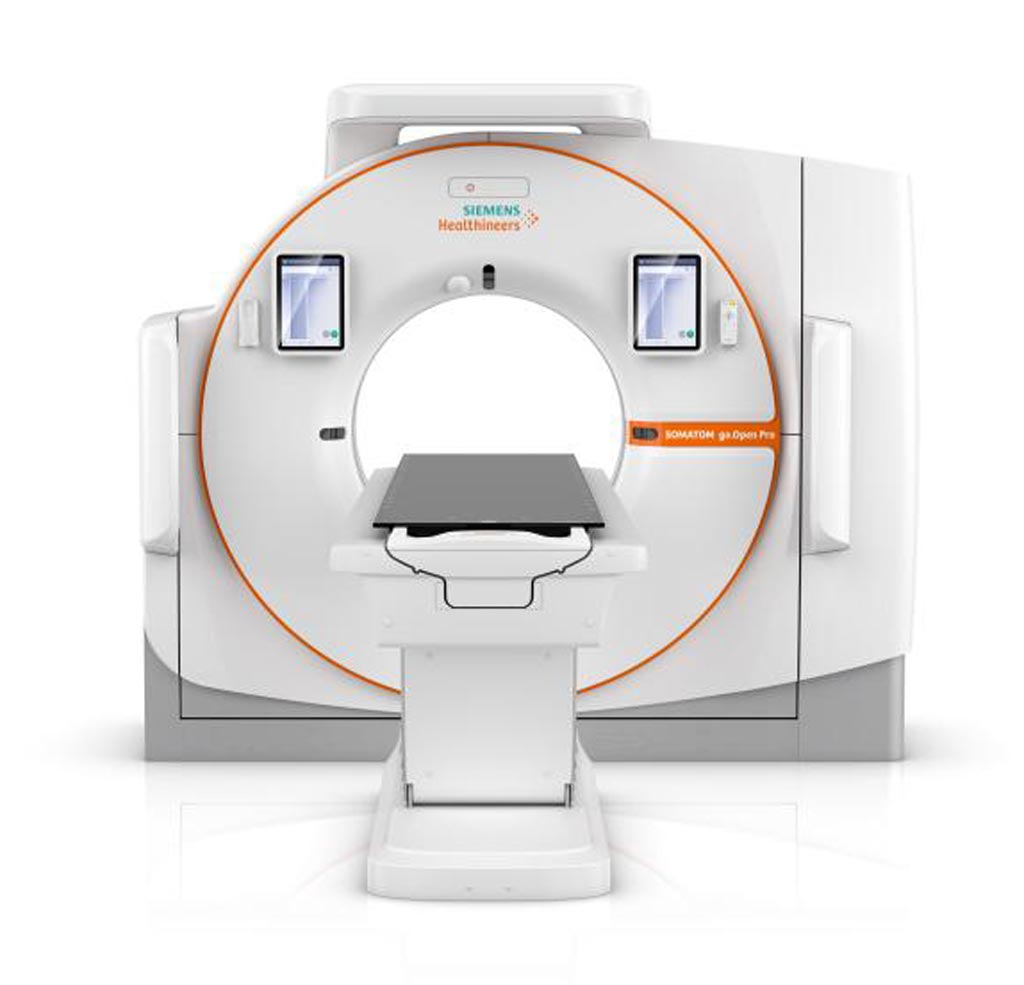 Additional common features include DirectOrgans software for organs at risk (OAR) contouring, which automatically addresses the dependency between image quality and the consistency of autocontouring results. DirectOrgans uses a specialized image reconstruction algorithm that optimizes the CT images for autocontouring, which can help reduce unwarranted variations with high-quality contours that approach the level of consensus-based contours.
The Somatom go.Open Pro CT system also features Direct Intelligent 4D (Direct i4D) technology, which adapts the image acquisition to a patient's breathing in real time during the scan. Direct i4D is designed to help optimize image quality for each patient, reducing motion artifacts common to 4D image sets, and often prompt rescans. In this manner, it can help healthcare providers treat more patients with advanced techniques such as stereotactic body radiation therapy (SBRT), which require a high degree of precision to avoid damaging healthy tissue.
"Siemens Healthineers is proud to unveil the SOMATOM go.Sim and SOMATOM go.Open Pro, which are the result of an intensive co-creation process involving over 300 radiotherapy experts," said Hanno Dotzel, vice president of surgery and oncology in the Advanced Therapies unit of Siemens Healthineers North America. "These systems will help address the challenges inherent in CT radiation therapy planning and enable precision medicine in the fight against cancer."
Other channels