Integrated MPI/CT Platform Offers Anatomical Context
By MedImaging International staff writers
Posted on 17 Sep 2019
Innovative magnetic particle imaging (MPI) technology, unrelated to magnetic resonance imaging (MRI), quantitatively detects magnetic nanoparticles anywhere in the body with exceptional sensitivity.
The Magnetic Insight (Alameda, CA, USA) Momentum CT system is a fully integrated, self-shielded, pre-clinical MPI solution that uses high-field gradient main magnet geometry and the proprietary x-space reconstruction process to produce highly sensitive and high-resolution MPI images. The system's intuitive workflow and robust reconstruction reliably produce high quality images, without the need for a dedicated operator. The Momentum CT system is currently approved for pre-clinical, non-human studies.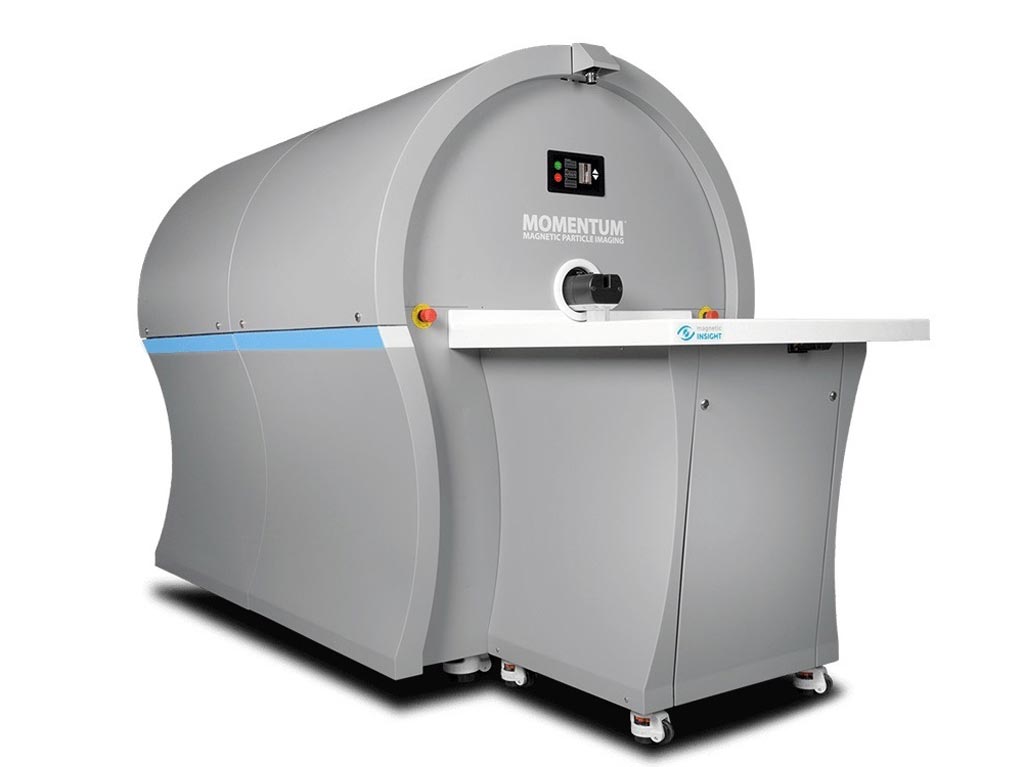 With its unique technical capabilities, MPI enables novel applications, such as the systemic tracking of therapeutic cells during the course of therapy, inflammation, and vascular function. Furthermore, the technology can leverage nanoparticles to both image functional events and administer localized hyperthermic tumor ablation treatments and heat-sensitive drug delivery. Other Magnetic Insight products include HYPER, a localized hyperthermia module; VIVOTRAX, a clinically approved MPI tracer; and RELAX, a particle relaxometry module, and co-registration software to support multimodal imaging.
"MPI lies at the intersection of nanotechnology and medical imaging, producing potentially life-saving diagnostic capabilities complimentary to other current medical imaging technologies. Co-registration in an all-in-one format of CT and MPI simplifies and accelerates the MPI workflow offering full context in diagnostic imaging," said Anna Christensen, CEO of Magnetic Insight. "Magnetic Insight's CT platform is purposely designed for safe, low dose, high-quality images which complements MPI's groundbreaking enablement in the medical imaging field."
MPI is currently used to investigate new cell therapy treatments, immunology, and cancer in preclinical research models. The technology quantitatively detects magnetic nanoparticles tracers anywhere in the body with exceptional contrast, sensitivity, and resolution to image functional events in the body. But while MPI offers high contrast detection of functional events in the body--such as cell trafficking to disease sites and inflammation--it does not image anatomical structures. By integrating CT, researchers will have the ability to identify precise locations of these events based on tissue and bone structures.
Related Links:
Magnetic Insight
Other channels