Proton Therapy Lowers Risk of Radiation Therapy Side Effects
By MedImaging International staff writers
Posted on 05 Jun 2019
A new study suggests that cancer patients undergoing proton radiation therapy (RT), instead of conventional photon treatment, are at a significantly lower risk of experiencing side effects.
Researchers at the University of Pennsylvania (Penn; Philadelphia, USA), Washington University School of Medicine (WUSTL; St. Louis, MO, USA), and other institutions conducted a study involving 1,483 cancer patients, 391 of whom received proton therapy and 1,092 who underwent photon treatment. The patients suffered from non-metastatic brain cancer, head and neck cancer, lung cancer, gastrointestinal cancer, and gynecologic cancer, and were treated with concurrent chemotherapy and radiation. The primary outcome was grade-three or higher radiation side effects within 90 days of treatment.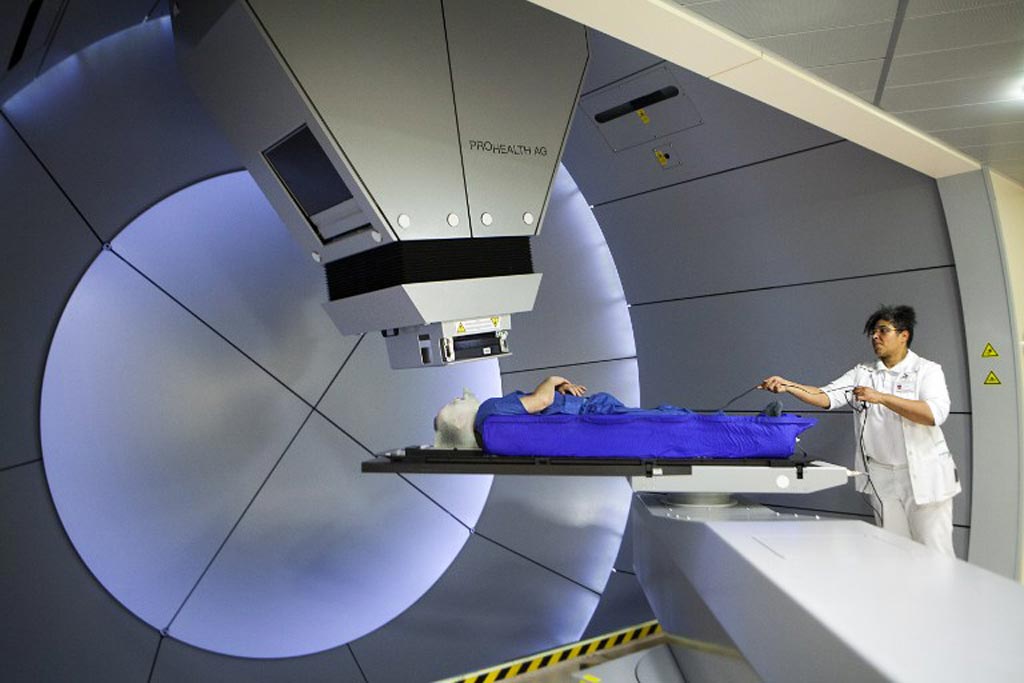 The results revealed that 11.5% of proton patients experienced a grade three or higher side effect, compared to 27.6% experienced a grade three or higher side effect in the conventional photon group. A weighted analysis found that the relative risk of a severe toxicity was two-thirds lower for proton RT patients, compared to photon patients. Overall survival and disease-free survival were similar between the two groups, suggesting that the reduction in toxicity seen with proton RT did not come at the cost of effectiveness. The study was presented at the American Society of Clinical Oncology (ASCO) annual meeting, held during May-June 2019 in Chicago (IL, USA).
"We looked at grade-three side effects, including pain or difficulty swallowing, difficulty breathing, nausea or diarrhea, among others, often severe enough for patients to be hospitalized," said lead author Brian Baumann, MD, of Penn and WUSTL. "Our clinical experience is that concurrent chemoradiation therapy patients treated with protons, rather than photons, tend to have fewer side effects. While there is some literature supporting that finding for several disease sites, we did not expect the magnitude of the benefit to be this large."
Photon radiation typically uses multiple X-ray beams to attack a tumor target but unavoidably deposits radiation in the normal tissues beyond the target, potentially damaging those tissues as the beam exits the body. Proton therapy, an alternative radiation, works differently, by directing positively charged protons at the tumor target, where they deposit the bulk of the radiation dose, with minimal residual radiation delivered beyond the target, potentially reducing side effects and damage to surrounding tissue.
Related Links:
University of Pennsylvania
Washington University School of Medicine

Other channels