Radioactive Teletherapy System Destroys Breast Cancer
By Medimaging International staff writers
Posted on 08 May 2019
An innovative cobalt (Co60) stereotactic radiotherapy system (SRS) immobilizes the breast in order to provide high levels of accuracy during treatment planning and delivery.
At the core of the Xcision Medical Systems (Columbia, MD, USA) GammaPod is a two-layer, vacuum-assisted positioning cup that immobilizes the breast during treatment, which is designed to reproducibly hold the breast in place and provide an accurate reference frame to match the tumor with the coordinate system of the irradiation unit. The cup consists of a rigid reusable outer cup with an imbedded stereotactic frame and a thin inner cup joined together by a silicone flange at the chest side. A mild negative pressure is applied between the inner and outer cups, causing the skin of the breast to press against the inner cup, securing it in place.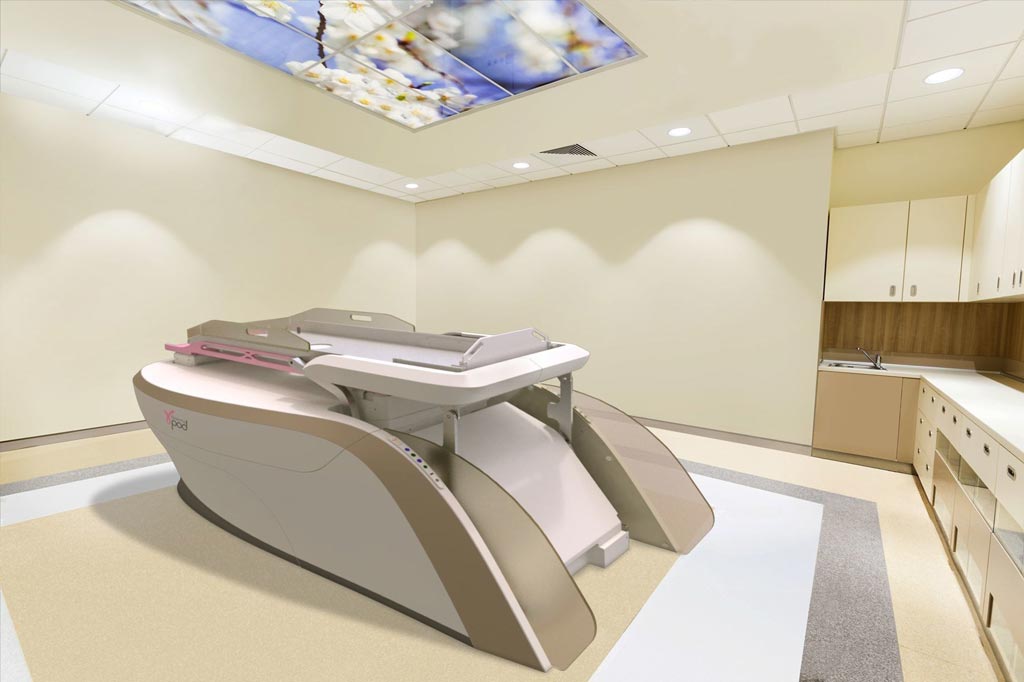 A patient loader then lifts and rotates the patient, positioned on a treatment couch, from a standing to a prone position, towards a portal within which the breast immobilization cup is affixed. Once in position, the hemispherical irradiation unit, which holds 36 rotating radioactive Co60 sources, a dynamic collimator system, and a hemi-elliptical-sphere treatment space, delivers thousands of focused beams of radiation towards the tumor, thus minimizing the dose to the surrounding healthy tissues in the breast, heart, and lungs. The irradiation unit is controlled by a computerized treatment control system.
A treatment planning system designed specifically for breast SRS using the GammaPod places imaging studies and scans within the stereotactic localization frame coordinate system through a proprietary registration process. The pre-procedural planning optimizes the dynamic trajectory of the RT foci using different spot sizes to realize the prescribed doses to the target volume while minimizing radiation exposure to the surrounding tissues and structures, ensuring accurate dose calculation of the optimized plan and providing dosimetric indices for review.
"The ability of GammaPod to noninvasively deliver conformal radiation doses to only the affected area of the breast with the precision of stereotactic radiotherapy could certainly de-escalate care and reduce the burden of today's protracted treatments on patients," said Professor Cedric Yu, DSc, founder and CEO of Xcision. "One day we'll be able to neutralize a tumor with a high dose of focused radiation instead of removing it with a scalpel. This approach would spare patients the negative side effects of surgery and prolonged radiation treatments, significantly improving their quality of life."
Co60 radioactive decay releases two gamma rays with an average energy of approximately 1.25 MeV, and is essentially identical to an x-ray emission. Examples of other SRS units containing multiple Co60 sources include the Elekta Gamma Knife (with 192 sources), and the American Radiosurgery Rotating Gamma System.
Related Links:
Xcision Medical Systems

Other channels