Gyroscopic Radiosurgery Platform Ablates Brain Tumors
By Medimaging International staff writers
Posted on 11 Feb 2019
A novel radiotherapy (RT) platform delivers high-dose stereotactic radiosurgery (SRS) to non-invasively ablate brain tumors and other select intracranial conditions.
The ZAP Surgical Systems (San Carlos, CA, USA) ZAP-X Gyroscopic Radiosurgery system is a self-contained, self-shielded therapeutic RT device dedicated to the treatment of benign and malignant intracranial and cervical spine lesions, in some cases as inferior as C7. ZAP-X is powered by a 2.7 megavolt S-band linear accelerator (LINAC) which serves as the source of the therapeutic radiation, mounted within a combination of yoked gimbals, each of which accurately rotates around the common isocenter, much like a large gyroscope.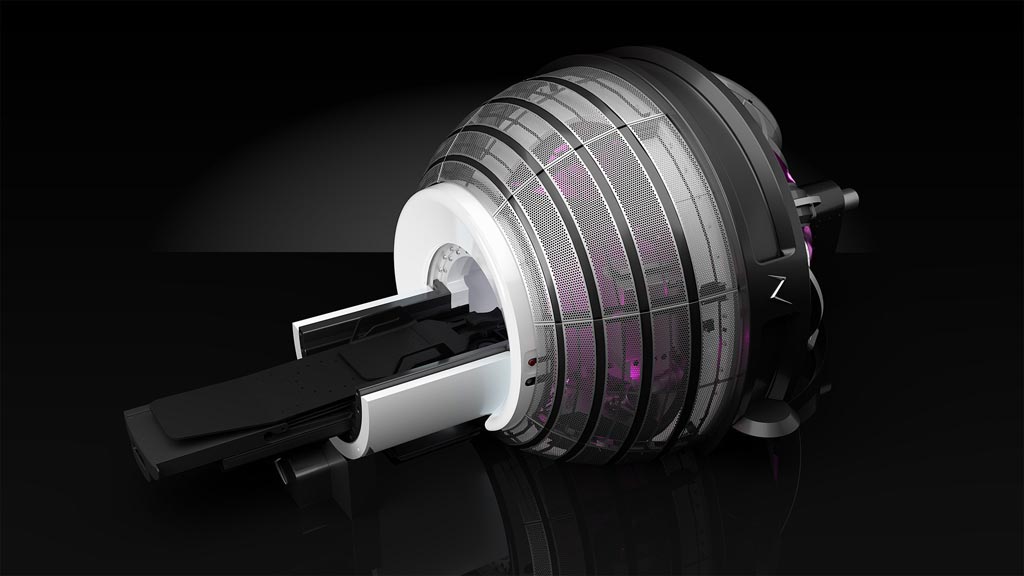 Accurate beam positioning is accomplished by the LINAC beam crossfiring from 2π steradians of solid angle, and precise movements of the robotic patient table. Most components needed to produce the beam, such as the radiofrequency power source, waveguide system, and beam triggering electronics, as well as significant radiation shielding, are mounted on or integrated into the rotating patient treatment chamber sphere. The patient is supported on the moveable treatment table, which extends outside the treatment sphere, but which itself is also enclosed by additional radiation shielding during SRS.
The Zap-X accomplishes precise three-dimensional (3D) patient registration by means of an integrated planar kilovolt (kV) imaging system that also rotates around the patient's head. Pairs of non-coaxial x-ray images and image-to-image correlations are used to determine the location of the patient's anatomy in relation to the machine isocenter, both prior to and during SRS treatment. A fully integrated dosimetry validation system monitors and verifies delivered RT dosage in real-time. Finally, ZAP-X incorporates a unique self-shielded design that typically eliminates the need for costly radiation vaults.
"After almost a decade of effort, we're incredibly proud of what the ZAP-X can mean to cancer patients," said professor of neurosurgery John Adler, MD, CEO of ZAP Surgical Systems. "Using leading-edge technology, we've removed many historical limitations to the wider availability of SRS, and in doing so, seek to establish a new standard in precision radiation medicine."
SRS is a non-surgical radiation therapy used to treat functional abnormalities and small tumors of the brain. When SRS is used to treat body tumors, it is called stereotactic body radiotherapy (SBRT). Both SRS and SBRT are an image-guided radiation therapy (IGRT), relying on 3D imaging and localization techniques, immobilization systems for precise patient position during therapy, and highly focused gamma ray or x-ray beams that converge on the tumor.
Related Links:
ZAP Surgical Systems

Latest Nuclear medicine News
Other channels