Patient-Tailored Software Helps Plan Radiosurgery Treatment
By Medimaging International staff writers
Posted on 11 Oct 2017
Two new stereotactic radiosurgery (SRS) software applications facilitate quick planning, spare organs at risk, and create highly conformal radiation doses in the brain and spine.
The Brainlab (Munich, Germany) Elements Spine SRS offers a streamlined workflow solution that automatically produces highly conformal dose planning metrics in order to avoid critical spinal cord structures. Users need only define organs at risk (OAR) constraints once using protocols for specific fractionation schemes. Plans created include traffic-light display of clinical constraints; a specialized gradient approach for target-cord interface; and selective vertebral exposure for enhanced spinal blocking.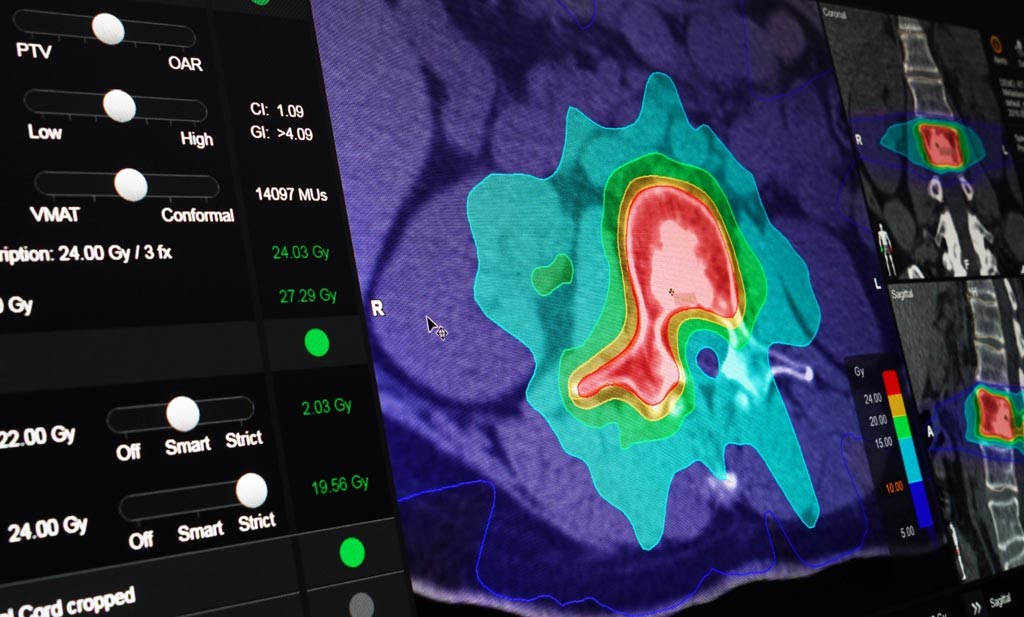 Intuitive optimization tools enable the user to make subtle plan modifications, including spine-specific volumetric modulated arc therapy (VMAT) to create a sharp dose gradient at spinal cord interface, support for flattened and unflattened beams, pencil beam dose calculation during optimization, and Monte Carlo for the final dose calculation for fast planning. A hybrid integration method uses both pencil beam and Monte Carlo at different stages of the optimization and Monte Carlo for the dose calculation in the final optimization step.
The Brainlab Elements Cranial SRS application optimizes the planning process based on a specific cranial indication, including arteriovenous malformation (AVM), pituitary adenoma, vestibular schwannoma, meningioma, and large metastases. Automatic detection of cranial OARs saves user time and enables consistency by angulating the surgical table angles is for optimal placement, based on the most critical OARs. VMAT optimization takes trajectory optimization into account to create an optimized deliverable plan.
Elements Cranial SRS also includes a patented integrated 4π algorithm that optimizes beam trajectories, automatically sparing surrounding healthy tissue and OARs with monitor unit-efficient delivery, which can create radiosurgery plans in less than 15 minutes from start to finish. Both applications offer control over planning parameters using straightforward views and multiple dataset display of dose distribution, three-dimensional (3D) views for optimal dose analysis, and a volumetric visualization of dose interface.
"It became clear to us many years ago that radiosurgery plans must become more tailored to both the indication and the specific patient being treated," said Stefan Vilsmeier, President and CEO of Brainlab. "With the positive reception of our Elements Multiple Brain Mets SRS software, which has already been used to create plans for hundreds of patients around the globe, Elements Cranial SRS and Spine SRS were a natural progression toward that goal."
Latest Nuclear medicine News
Other channels