Compact MRI Addresses Neonatal ICU Imaging Challenges
By MedImaging International staff writers
Posted on 24 Dec 2020
An advanced magnetic resonance imaging (MRI) system performs scans in the neonatal intensive care unit (nICU) itself, eliminating transportation of the fragile patients to radiology departments.
The Aspect Imaging (Shoham, Israel) Embrace Neonatal MRI System is a fully enclosed system for babies weighing between one and 4.5 kilograms and a head circumference of up to 38 centimeters. Based on the proprietary magnetic technology, which does not require cooling, the self-shielded system eliminates the need for a safety zone or radiofrequency (RF)-shielded room, enabling installation inside a nICU. Medical teams can thus assure the quality care for babies before, during, and after the procedure.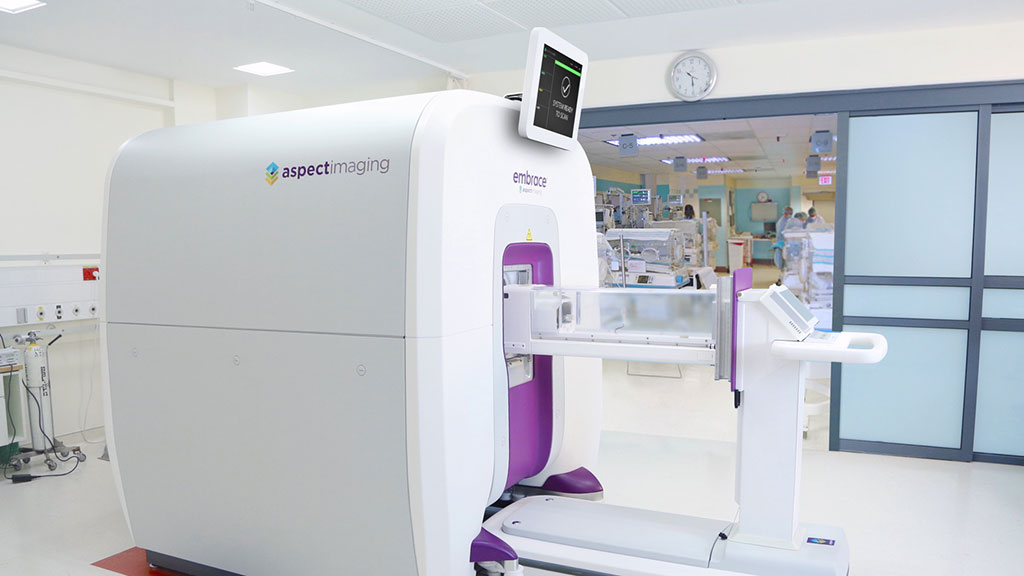 Neonates are placed inside a self-contained incubator bed which minimizes movement while providing a temperature-controlled (36.5o Celsius) environment and continuous monitoring of vital signs. System features include a workflow that allows prep and scan in less than one hour; a dedicated head coil for diagnostic quality brain imaging; three different swaddles for restricting movement and routing of tubing and monitoring leads; and PACS/HIS/RIS connectivity with DICOM compatibility. Embrace also reduces parental emotional anxiety by allowing them to view their baby on the full-color video display during the scanning procedure.
"Aspect Imaging supports neonatologists and neuroradiologists in making accurate diagnostic decisions by delivering clinical information to them easily via connected picture archiving and communication system servers, without the disruption of transporting babies out of the NICU," said Ashish Kaul, a senior research analyst at Frost and Sullivan (Mountain View, CA, USA). "The company aims to disrupt and redefine the entire neonatal medical imaging space and has shown strong growth potential across geographic regions."