GE HealthCare Acquires AI Ultrasound Image Guidance Company Caption Health
By MedImaging International staff writers
Posted on 13 Feb 2023
Heart failure contributes to millions of deaths across the world every year, although early symptoms such as fatigue or shortness of breath are usually confused as normal signs of aging. According to doctors, heart failure is "the silent killer" because it is easy to ignore the symptoms until it is too late even as cases are on the rise after the COVID pandemic. Heart ultrasound examinations are used as the primary tool to identify heart failure. Now, a new acquisition that adds artificial intelligence (AI)-enabled image guidance to ultrasound devices will enable affordable, convenient access to point of care ultrasound imaging for a variety of clinical uses, including heart examinations.
GE HealthCare (Chicago, IL, USA) has entered into an agreement to acquire Caption Health (San Francisco, CA, USA), a privately owned AI healthcare company that creates clinical applications to aid in early disease detection, using AI to assist in conducting ultrasound scans. Caption AI applications make ultrasound examinations easier and faster, allowing a broader set of healthcare professionals to perform basic echocardiogram exams. The technology can help detect signs of diseases such as heart failure in at-risk patients across doctors' offices, the home, and alternate sites of care, potentially preventing hospitalizations and aiding improved clinical outcomes.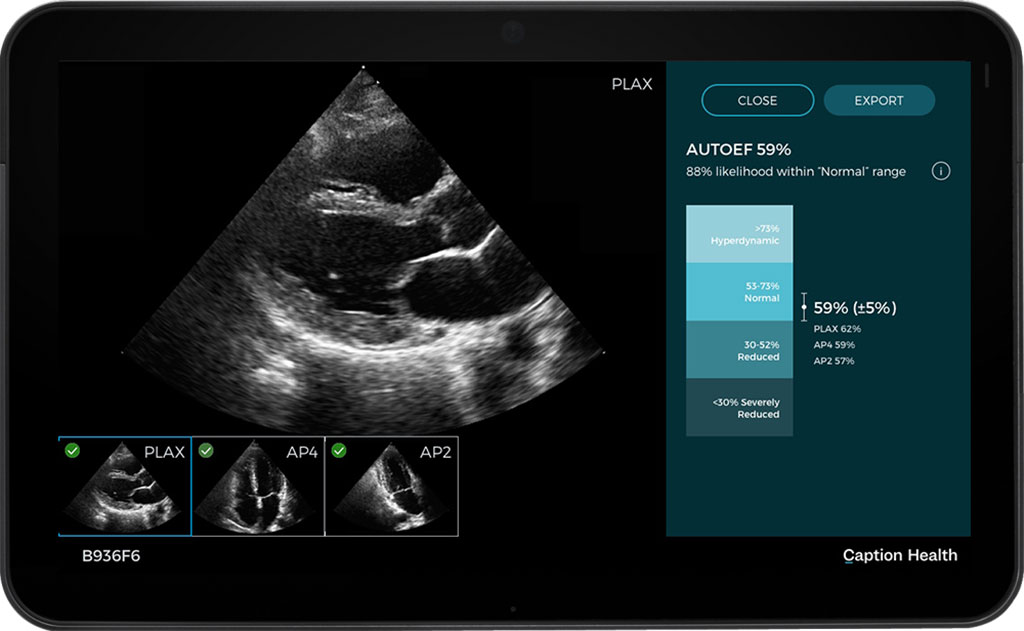 As part of the deal, Caption Health will continue to provide management and administrative services to affiliated medical services providers (collectively referred to as "Caption Care"). By providing trained technicians across the U.S. equipped with the Caption Health AI technology to perform cardiac ultrasounds in alternate sites of care and, in the future, in the comfort of patient's homes, Caption Care service is intended to support early diagnosis and detection before diseases like heart failure become more difficult to treat. Caption Health also has a strong development pipeline of AI software, including innovative technology for the use of ultrasound in pulmonary applications.
"Guiding ultrasound users during examinations with the help of AI is of growing importance, especially as we reach a broader set of healthcare professionals," said Roland Rott, GE HealthCare Ultrasound President and CEO. "Caption Health's AI applications help enable reliable, consistent ultrasound examinations to deliver more precise diagnoses, improved treatment decision-making, and ultimately improved patient outcomes. This tuck-in acquisition will help expand affordable access to ultrasound imaging to novice users and is aligned with a broader shift to precision care globally."
"We are incredibly proud of the technology we have built and together with GE HealthCare, look forward to bringing this technology to more patients across the globe," said Steve Cashman, Caption Health CEO. "Combining our AI applications with GE HealthCare's ultrasound devices will help accelerate our mission to detect disease earlier, when an easily obtained diagnostic image can be a great equalizer to health quality and outcomes. This will ultimately help us reduce costs and enhance care."
"We couldn't be more excited to partner with the Caption Health team to increase access and accelerate growth of ultrasound," said Karley Yoder, Chief Digital Officer, Ultrasound at GE HealthCare, who will integrate Caption Health into the broader digital ecosystem of GE HealthCare. "Caption Health will first be integrated in the Point of Care and Handheld business portfolio to advance ultrasound adoption, with expanded future use cases as well."
Related Links:
GE HealthCare
Caption Health 
Other channels