AI-Powered MRI Image Enhancement Software Receives FDA Clearance
By Medimaging International staff writers
Posted on 07 Nov 2019
A new image processing software that utilizes proprietary deep learning algorithms to bring the latest imaging enhancement technology to existing scanners has received 510(k) clearance from the US Food and Drug Administration (FDA). The software named SubtleMR uses denoising and resolution enhancement to improve image quality and has been developed by Subtle Medical (Menlo Park, CA, USA; www.subtlemedical.com), a healthcare technology company focused on improving the quality, efficiency, and accessibility of medical imaging.
Subtle Medical has developed a suite of deep learning solutions that improve workflow efficiency and patient experience. The company focuses on applying the latest deep learning algorithms to image acquisition, an area of considerable importance in healthcare due to the millions of scans conducted at busy radiology departments and imaging centers. In 2018, the company had received FDA Clearance for SubtlePET, which enhances images from up to 4x faster PET scans.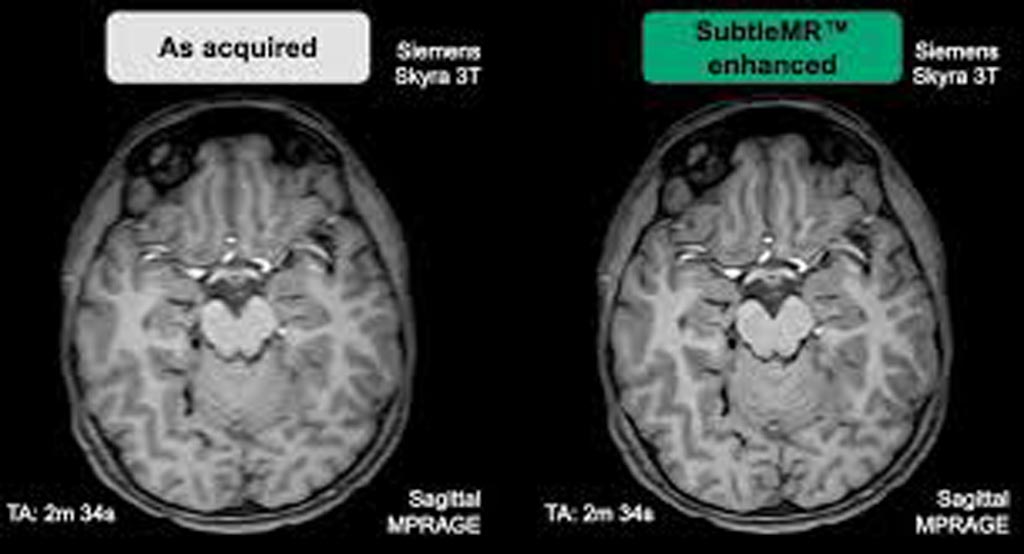 SubtleMR, the company's latest product to receive FDA clearance, delivers a significant improvement in the quality of noisy images, which is particularly beneficial for patients who have difficulty holding still for long periods of time. Artifact-ridden images and the need for re-scans are a challenge for both patients and physicians. SubtleMR integrates seamlessly into the radiology workflow and is compatible with any brand of MRI scanner and PACS.
"One of the most exciting things about deep learning reconstruction is how it redefines the usual negotiation between exam time and image quality. This could lead to significant downstream value for imaging operations and for patient experience," said Christopher Hess, MD, Chair of the Department of Radiology and Biomedical Imaging at UCSF.
"We are pleased to receive FDA clearance for SubtleMR, and we look forward to helping radiology departments and imaging centers get the most out of their existing MRI scanners," said Enhao Gong, PhD, Founder and CEO of Subtle Medical. "This is an important milestone for the company as it broadens our portfolio of technologies developed for radiologists and their patients."
Related Links:

Subtle Medical
Other channels