Growing Inclination Towards Handheld Ultrasound Scanners for POC Diagnostics
By MedImaging International staff writers
Posted on 10 Sep 2019
The global handheld ultrasound scanners market was valued at USD 62.2 million in 2017 and is projected to grow at a CAGR of 17% during the forecast period 2018-2026, driven primarily by their increasingly popularity among clinicians across the world for point-of-care diagnosis.
These are the latest findings of Research and Markets, (Dublin, Ireland), a global market research company.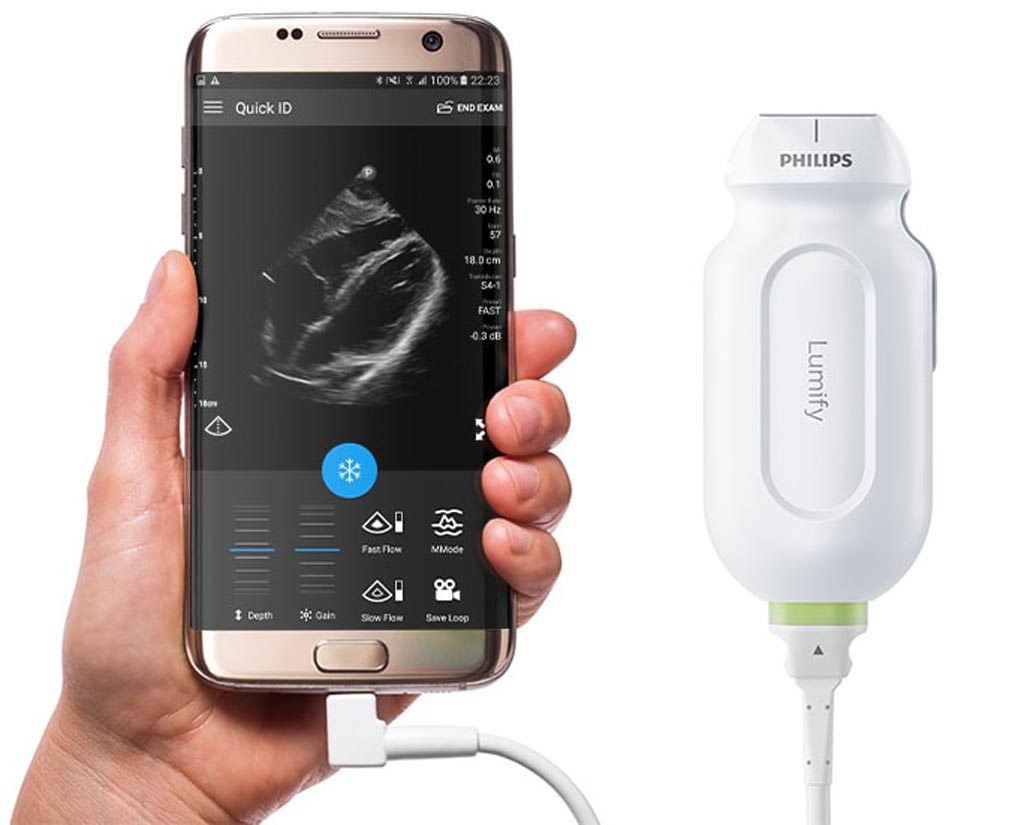 Over the last decade, the handheld ultrasound scanners market has flourished due to several major medical devices companies coming up with portable and handheld ultrasound devices. The uptake of handheld ultrasound units is increasing rapidly due to low market entry barriers as the regulatory scenario for portable ultrasound is not defined in many regions and advances in consumer electronics have made it inexpensive to design and manufacture handheld ultrasound devices. As compared to conventional ultrasound devices, handheld ultrasound scanners offer some major advantages such as portability, ease of use and inexpensiveness. Additionally, handheld ultrasound scanners are equipped with minimum wires, cloud sharing facility, advanced imaging quality and adequate battery life, thus making ultrasound more portable and less infrastructure-dependent.
Based on technology, 2D ultrasound scanners held the largest share of the handheld scanners market in 2018 due to the growing demand for efficient and better imaging quality, rapid introduction of handheld 2D ultrasound products by the majority of manufacturers and higher demand for these devices from physicians. Handheld 3D ultrasound scanners are comparatively less inexpensive than conventional cart-based ultrasound scanners and provide similar image quality, thus driving the increased preference for handheld 3D ultrasound scanners among healthcare practitioners. Hence, 3D handheld ultrasound scanners are expected to grow at steady rate during the forecast period due to their increased application in point-of-care diagnostics.
Geographically, North America held the largest share of the global handheld ultrasound scanners market and is expected to grow at a steady rate during the forecast period, led by higher adoption of novel technology and increased approvals for a number of handheld ultrasound scanners in the region. Additionally, the increasing number ambulatory care centers in the US will generate demand for portable ultrasound devices. The European handheld ultrasound scanners market also holds high growth potential due to the growing clinical applications of high intensity focused ultrasound, commercialization of a number of portable ultrasound devices and increased minimally invasive practices in the region.
On the other hand, the handheld ultrasound scanners market in Asia Pacific is expected to grow rapidly owing to the increase in the number of standalone clinics and diagnostics centers across the region. Lower prices, easy availability and the requirement for less skilled personnel to operate these products will trigger market growth in price sensitive regions, such as Asia Pacific.
Related Links:
Research and Markets

Other channels