First Deep Learning-Based Image Reconstruction Technology Receives FDA Clearance
By Medimaging International staff writers
Posted on 03 May 2019
GE Healthcare (Chicago, IL, USA) has received 510(k) clearance from the U.S. FDA for its Deep Learning Image Reconstruction (DLIR) engine on its new Revolution Apex CT device, and as an upgrade to its Revolution CT system in the U.S. DLIR is a next generation image reconstruction option that uses a dedicated deep neural network (DNN) to generate TrueFidelity CT Images. These TrueFidelity CT Images have the potential to improve reading confidence in a wide range of clinical applications such as head, whole body and cardiovascular, for patients of all ages.
The FDA has also granted 510(k) clearance to three additional CT applications introduced recently by GE Healthcare at RSNA 2018. They include Bone VCAR, Thoracic VCAR with GSI Pulmonary Perfusion, and SnapShot Freeze 2. Both Bone VCAR and SnapShot Freeze 2 are based on the Edison platform that helps accelerate the development and adoption of Artificial Intelligence (AI) technology and empower providers to deliver faster, more precise care.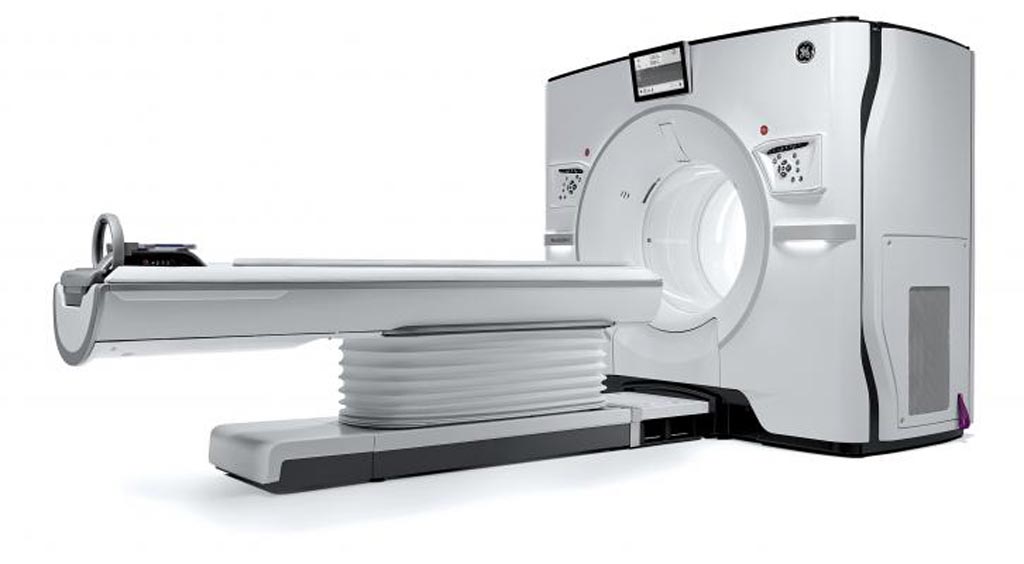 Bone VCAR uses a deep-learning algorithm to automatically identify and label the vertebrae for faster spine assessment and improve reporting efficiency. SnapShot Freeze 2 is an intelligent motion correction algorithm that takes cardiac imaging to the next level by expanding the breadth of intelligent motion correction applications, further enhancing clinical performance and introducing whole heart motion correction. Thoracic VCAR with GSI pulmonary perfusion provides automated segmentation and measurements for assessment and follow-up of thoracic diseases. It now also includes dedicated GSI Pulmonary Perfusion, a one-click protocol to assist in the identification of variations of relative perfusion distribution in the lungs. Thoracic diseases that may be associated with changes in perfusion include pulmonary embolism or chronic obstructive pulmonary disease (COPD).
"We are proud to usher in the next generation of image reconstruction," said Mike Barber, president and CEO of MICT, GE Healthcare. "Our Deep Learning Image Reconstruction engine combines the ground truth image quality of filtered back projection (FBP) with the low dose capabilities of iterative reconstruction to produce TrueFidelity CT Images. These images offer outstanding image quality and restore noise texture to improve radiologists' confidence in diagnosing a wide range of clinical cases."
"Physicians that have reviewed our new TrueFidelity CT Images consistently say they are among the best CT images they have ever seen, and our 510(k)-reader study also demonstrated this improvement," said Scott Schubert, general manager of global premium CT, GE Healthcare. "Revolution Apex delivers CT technology innovations including the Quantix 160 x-ray tube and Deep Learning Image Reconstruction, and we are pleased to bring these innovations as optional upgrades to our Revolution CT users as well."
Other channels