AI-Based Technology for Ultrasound Image Analysis Receives FDA Approval
By MedImaging International staff writers
Posted on 17 Jul 2019
Koios Medical, Inc (Chicago, IL, USA), a developer of ultrasound diagnosis decision support software, has received 510(k) clearance from the US Food and Drug Administration for Koios DS (Decision Support) Breast 2.0, a new version of its machine learning based platform that assists physicians in the classification and diagnosis of breast cancer. The software offers a proprietary alignment to BI-RADS for any lesion analyzed and is available connected to PACS and/or directly on GE Healthcare's LOGIQ E10 ultrasound system.
Koios DS (Decision Support) Breast 2.0 is intended for use to assist physicians analyzing breast ultrasound images and aligns a machine learning generated probability of malignancy with the appropriate BI-RADS category. The patented software uses an ensemble of algorithms to aid the early detection of disease while also reducing biopsies of benign tissue. Koios DS Breast 2.0 can be used in conjunction with most major PACS platforms and is directly available on the LOGIQ E10, GE Healthcare's next generation digital ultrasound system that integrates artificial intelligence, cloud connectivity, and advanced algorithms to acquire and reconstruct data. Machine generated results can be exported directly into a patient's record.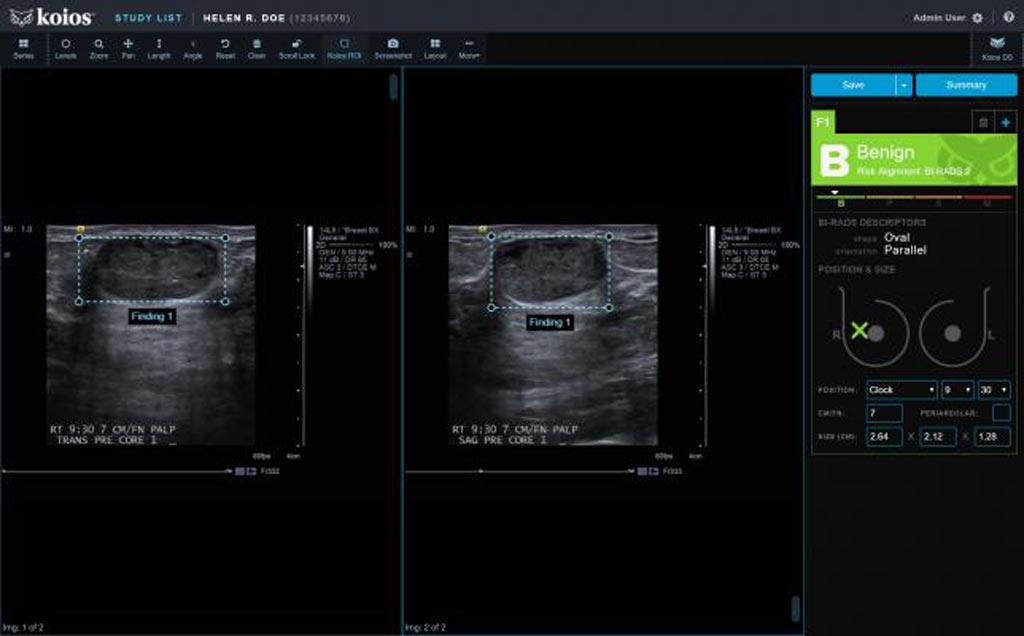 In a recent reader study involving 15 physicians with relevant experience up to 39 years, each randomly analyzed 900 cases twice, separated by a one-month "washout period." Physicians utilizing the Koios DS 2.0 AI software experienced a statistically significant improvement in accuracy as measured by area under the ROC (receiver operating characteristic) curve (AUC), while simultaneously reducing both inter and intra-operator variability.
"We are seeing the promise of machine learning as a physician's assistant coming to fruition. This will undoubtedly improve quality, outcomes, and patient experiences—and ultimately save lives," said Koios Medical CEO Chad McClennan. "Koios DS Breast 2.0 is proving that a system trained by hundreds of thousands of images linked to their ground truth can catch many more cancers earlier, while simultaneously reducing benign biopsies and all the anxiety, complications, and associated expense. Smart ultrasound is a second set of eyes that achieves what was previously unthinkable."
Related Links:
Koios Medical
Other channels