Telemedicine Solution Simplifies Ultrasound Consultations
By MedImaging International staff writers
Posted on 28 May 2019
A novel live broadcast feature allows medical professionals to cast their ultrasound scan in real-time to any standard web browser on desktop and mobile devices.
Developed by Clarius Mobile Health (Clarius; Burnaby, BC, Canada), Clarius Live is a new, simple-to-use feature that allows any user of Clarius Ultrasound scanners to easily request real-time assistance from a colleague via an app while actually performing an ultrasound exam. The feature is already fully integrated into the current version of the Clarius app and is activated with a single tap on the screen, which opens a prompt to enter an email address or phone number to connect with anyone around the world.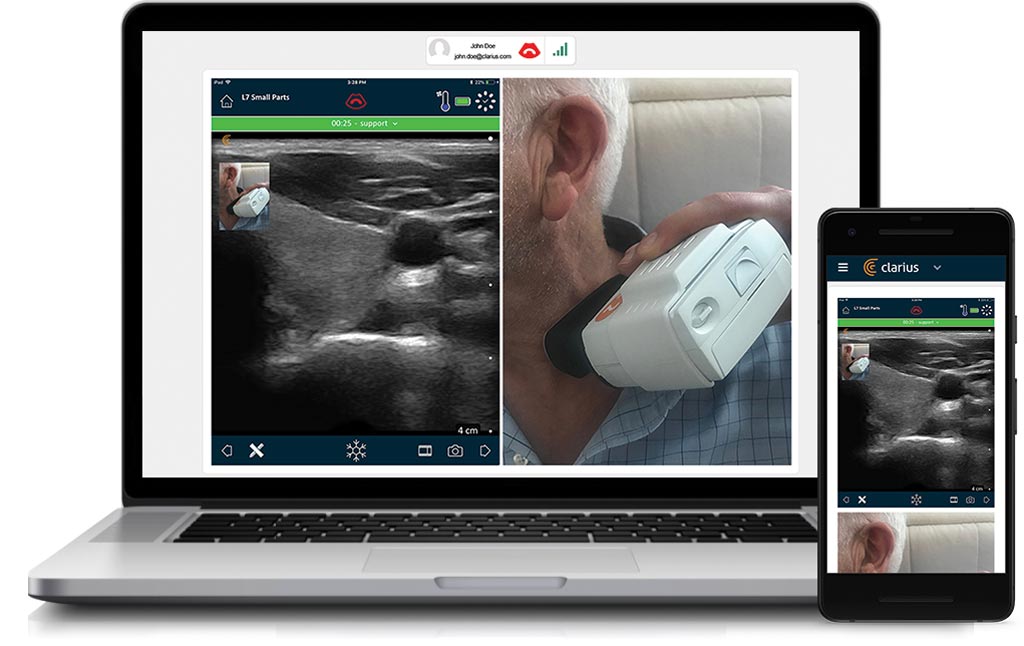 The receiver is notified with a secure link from Clarius by SMS or email. The call is then accessible from any smart device or desktop computer with an internet connection. Recipients can point to areas of interest with their cursor, and the pointer will be highlighted on the scanning screen. A two-way audio communication is also available during live evaluation of ultrasound image. The receiver does not need any additional apps, accounts, or hardware. Clarius Live is currently available on Apple (Cupertino, Ca, USA) iOS for all Clarius users, for up to 60 minutes a month.
"What I think is really good about it is that it's really simple. It's like sending a text through the phone," said Oriana Tolo, director of education at ZEDU Ultrasound Training (Melbourne, Australia), upon experiencing Clarius Live on her own device for the first time.
"There is so much excitement behind this feature because, it opens up many opportunities for remote education and rural medicine, facilitating collaboration between colleagues thousands of miles apart," said Dave Willis, co-founder and chief strategic officer of Clarius Mobile Health.
The Clarius C3 and L7 wireless ultrasound handheld ultrasound scanners use secure point-to-point wireless networking to connect to the Clarius app. The Clarius C3 is a multipurpose ultrasound scanner for imaging the abdomen and lungs; it also incorporates a virtual phased array for quick scans of the heart. The Clarius L7 is intended for guiding interventional procedures, such as nerve blocks and targeted injections, and for imaging superficial structures.
Related Links:
Clarius Mobile Health

Other channels