Artificial Intelligence Accelerates Chest X-Ray Analysis
By Medimaging International staff writers
Posted on 05 Feb 2019
A novel artificial Intelligence (AI) system can dramatically reduce the time needed to receive an expert radiologist opinion on abnormal chest X-rays with critical findings, claims a new study.
Developed by researchers at King's College London (KCL; United Kingdom), the University of Warwick (Coventry, United Kingdom), and other institutions, the AI system was developed using 470,388 fully anonymized institutional adult chest radiographs acquired from 2007 to 2017. The accompanying radiology reports were pre-processed using an in-house natural language processing (NLP) system modeling radiologic language, which analyzed the free-text reports to prioritize each radiograph as critical, urgent, non-urgent, or normal.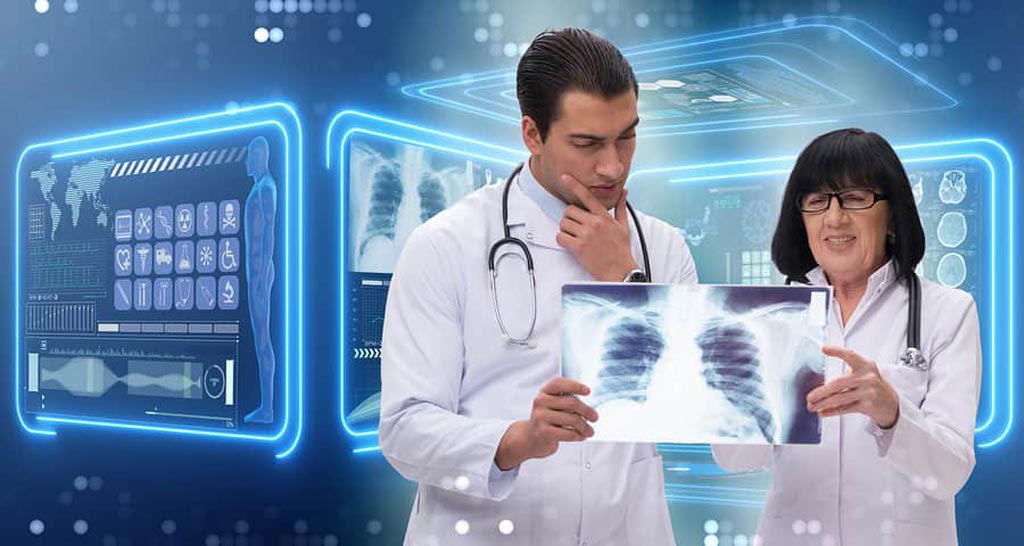 An ensemble of two deep convolutional neural networks (CNNs) was then trained to predict the clinical priority from radiologic appearances alone. The system's performance in radiograph prioritization was tested in a simulation by using an independent set of 15,887 radiographs. Prediction performance was assessed with the area under the receiver operating characteristic curve, with sensitivity, specificity, positive predictive value (PPV), and negative predictive value (NPV) also determined, with the intention of automating real-time adult chest radiographs reporting based on image appearance.
The results revealed that normal chest radiographs (used to diagnose and monitor a wide range of conditions affecting the lungs, heart, bones, and soft tissues) were detected by the AI system with a sensitivity of 71%, specificity of 95%, PPV of 73%, and NPV of 94%. The average reporting delay using the algorithms was reduced from 11.2 to just 2.7 days for critical imaging findings, and from 7.6 to 4.1 days for urgent imaging findings, when compared with historical data. The study was published on January 19, 2019, in Radiology.
"The increasing clinical demands on radiology departments worldwide have challenged current service delivery models. It is no longer feasible for many Radiology departments with their current staffing level to report all acquired plain radiographs in a timely manner, leading to large backlogs of unreported studies," said senior author Professor Giovanni Montana, MD, of the University of Warwick. "In the UK, it is estimated that at any time there are over 300,000 radiographs waiting over 30 days for reporting. Alternative models of care, such as computer vision algorithms, could be used to greatly reduce delays in the process of identifying and acting on abnormal X-rays -- particularly for chest radiographs."
CNN's use a cascade of many layers of nonlinear processing units for images or other data feature extraction and transformation, with each successive layer using the output from the previous layer as input in order to form a hierarchical representation.
Related Links:
King's College London
University of Warwick

Other channels