AI Tool Accurately Assesses Ischemic Stroke Damage
By Medimaging International staff writers
Posted on 04 Feb 2019
An artificial intelligence (AI) imaging tool supports fast and consistent interpretation of non-contrast computerized tomography (CT) scan.
The Brainomix (Oxford, United Kingdom) e-ASPECTS tool is intended to assist clinicians in brain CT scan interpretation following an ischemic stroke by quantifying the volume of ischemia and grading it with the Alberta Stroke Program Early CT Score (ASPECTS) 10-point quantitative score. By reducing inter-reader variability in interpretation, e-ASPECTS enables a more standardized stroke diagnosis and facilitates fast, consistent treatment decisions, irrespective of physician experience or expertise.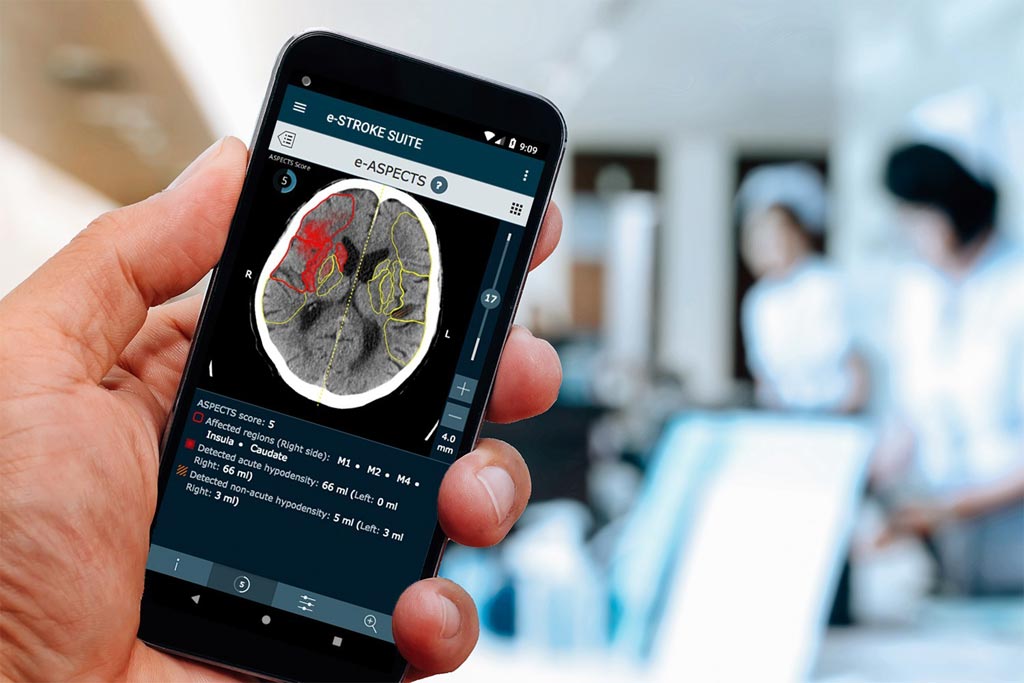 Physicians can review e-ASPECTS results anywhere via picture archiving and communication systems (PACS), through the e-ASPECTS web browser user interface, or by viewing images sent to a clinician's smartphone via email. The wide availability ensures rapid sharing throughout the stroke team and allows faster, more informed decision-making. For users carrying out clinical research, the unique ischemia volume measurement feature in e-ASPECTS provides a fully automated estimate of the ischemic core size on non-contrast CT, even for hyper-acute cases.
A new study, published on October 27, 2018, in the Journal of NeuroInterventional Surgery, suggests that it may be reasonable to select patients for reperfusion therapy in hospitals without access to advanced imaging using the e-ASPECTS tool in combination with clinical criteria, and that e-ASPECTS is a reliable and valuable tool that can save valuable time by providing objective identification of ischemic injury, thus empowering clinicians in selecting patients suitable for mechanical thrombectomy, thrombolysis, endovascular treatment, or for decompressive craniotomy.
"This important study highlights the potential of the Brainomix e-ASPECTS support tool to simplify the selection of stroke patients for thrombectomy presenting in the late time window," said George Harston, MD, chief medical and innovation officer of Brainomix and a consultant physician at Oxford University Hospitals. "The findings suggest that access to thrombectomy may be broadened to a wider population of patients, and without need for time consuming advanced imaging, which is often not readily available even in larger centers."
Timely restoration of cerebral blood flow using reperfusion therapy is the most effective maneuver for salvaging ischemic brain tissue that is not already infarcted. For eligible patients with acute ischemic stroke, intravenous alteplase is first-line therapy, provided that treatment is initiated within 4.5 hours of onset. Mechanical thrombectomy is indicated for patients with acute ischemic stroke due to a large artery occlusion in the anterior circulation who can be treated within 24 hours of the time last known to be well, regardless of whether they receive intravenous alteplase for the same ischemic stroke event.
Related Links:
Brainomix

Other channels