AI Could Help Doctors Diagnose Lung Cancer Earlier From CT Scans
By MedImaging International staff writers
Posted on 30 May 2023
Lung cancer is the predominant cause of cancer-related deaths worldwide. While early-stage diagnoses facilitate more effective treatments, the majority of lung cancers are discovered at stage three or four, highlighting a crucial need for quicker detection measures. Lung nodules, although typically harmless, are abnormal growths that can occasionally become cancerous. Particularly large nodules (15-30mm in size) carry the highest risk. A new study suggests that artificial intelligence (AI) could aid doctors in diagnosing lung cancer earlier by precisely identifying cancerous large lung nodules in CT scans. This technology could potentially speed up lung cancer detection by prioritizing high-risk patients for treatment and enhancing the efficiency of patient scan analysis.
The LIBRA study led by researchers from The Royal Marsden NHS Foundation Trust (London, UK) used data from the CT scans of nearly 500 patients with large lung nodules. The team utilized a technique called radiomics to analyze CT scan data, which extracts disease-related information from medical images that might not be easily perceptible to the human eye. The AI model was subsequently tested for its accuracy in identifying cancerous nodules. The model's performance was evaluated using an "Area under the curve" (AUC) measure, where 1 represents a flawless model and 0.5 equates to a model merely guessing. The results suggested that the AI model could identify the risk of cancer for each nodule with an AUC of 0.87, surpassing the performance of the clinic's current Brock score test, which scored 0.672.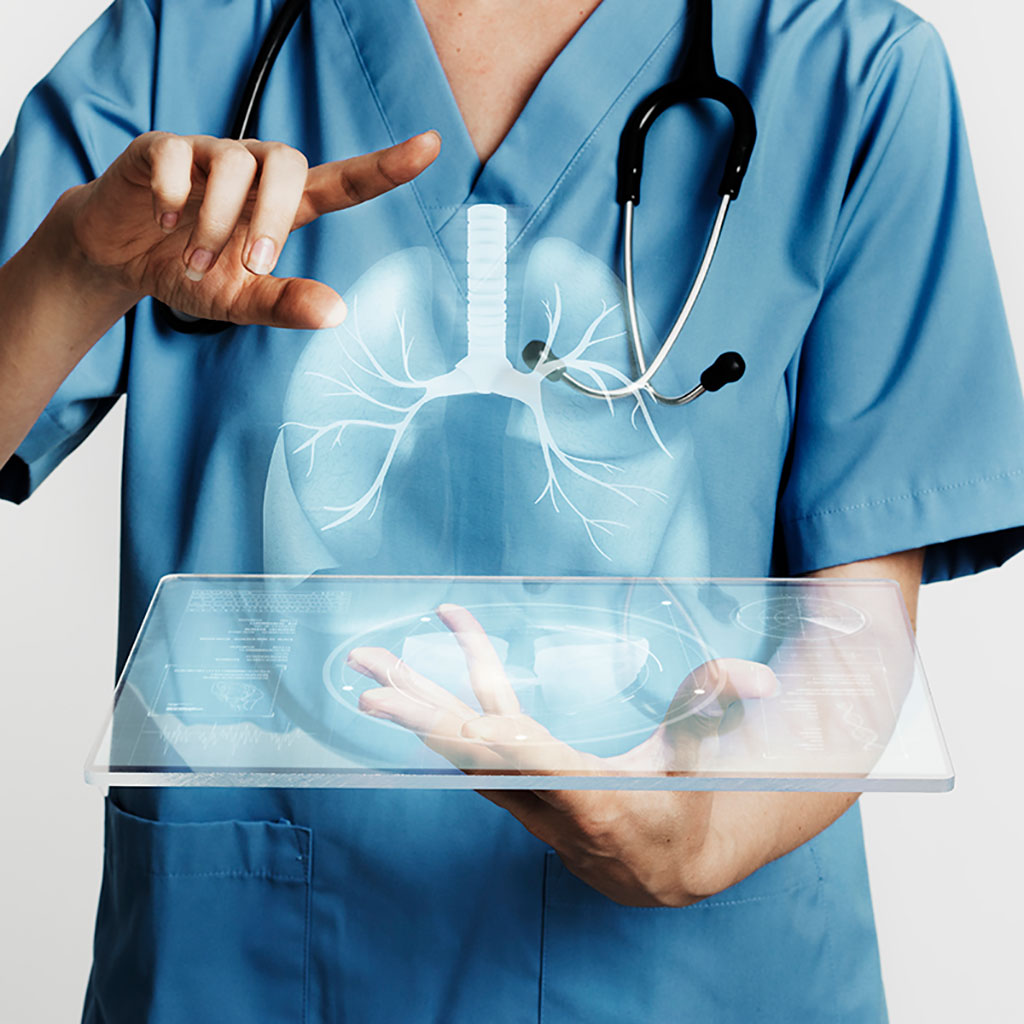 The AI model's performance was also comparable to another existing clinical test, the Herder score, which achieved an AUC of 0.83. However, given that the AI model only uses two variables, compared to 7 for the Herder score and 9 for the Brock score, it has the potential to simplify and accelerate nodule risk calculations in the future. The new model could also assist clinicians in making decisions about patients who currently lack a clear referral path. Under the Herder scoring system, patients with scores less than 10% are deemed low risk, while those with scores over 70% are considered high risk and require intervention. For patients in the intermediate risk group (10-70%), a variety of tests or treatment options might be considered. When paired with the Herder score, the researchers' model was capable of identifying high-risk patients within this group, suggesting early intervention for 18 out of 22 (82%) of the nodules that were later confirmed to be cancerous.
"According to these initial results, our model appears to identify cancerous large lung nodules accurately," said Dr. Benjamin Hunter, Clinical Oncology Registrar at The Royal Marsden NHS Foundation Trust. "In the future, we hope it will improve early detection and potentially make cancer treatment more successful by highlighting high-risk patients and fast-tracking them to earlier intervention. Next, we plan to test the technology on patients with large lung nodules in clinic to see if it can accurately predict their risk of lung cancer."
"People diagnosed with lung cancer at the earliest stage are much more likely to survive for five years, when compared with those whose cancer is caught late," added Dr. Richard Lee, Chief investigator for the LIBRA study. "This means it is a priority we find ways to speed up the detection of the disease, and this study – which is the first to develop a radiomics model specifically focused on large lung nodules – could one day support clinicians in identifying high-risk patients."
Related Links:
The Royal Marsden NHS Foundation Trust 
Other channels