AI-Driven Intraoperative CT Imaging System Sets New Standard in Lung Cancer Diagnostics
By MedImaging International staff writers
Posted on 15 Dec 2022
Lung cancer is the second most common cancer and the deadliest cancer in the U.S. The best approach to reduce mortality from lung cancer is prevention. Short of that, the goal is early diagnosis. Detecting lung cancer earlier means there is a greater chance that it can be cured. Increased early detection through low-dose CT scans is an important step to diagnosing more lung cancer patients at an earlier stage where it is more likely for their cancer to be cured. A CT scan is more effective at showing lesions on the lung than routine chest X-rays which is why it is the gold standard for lung cancer diagnostics.
Once a suspicious pulmonary lesion is seen on a CT scan, a typical next step is to take a biopsy of the lesion to determine whether it is cancerous. Bronchoscopic biopsy has emerged as the most common modality used for the diagnosis of suspicious pulmonary lesions. Pulmonologists, who perform this minimally-invasive procedure, navigate a bronchoscope to the lesion to obtain tissue samples for diagnosis. Historically, this has proven difficult because pulmonologists lacked any real-time, intraoperative imaging technology to help them accurately navigate to the lesion and visually confirm that they were obtaining tissue samples from within the lesion. In these cases, they were forced to rely on pre-operative images to guide them and randomized blind sampling strategies in an attempt to overcome this deficit. An AI-driven, intraoperative CT imaging system addresses this by enabling pulmonologists to visualize the actual lesion and lesion location intraoperatively using only a standard C-arm.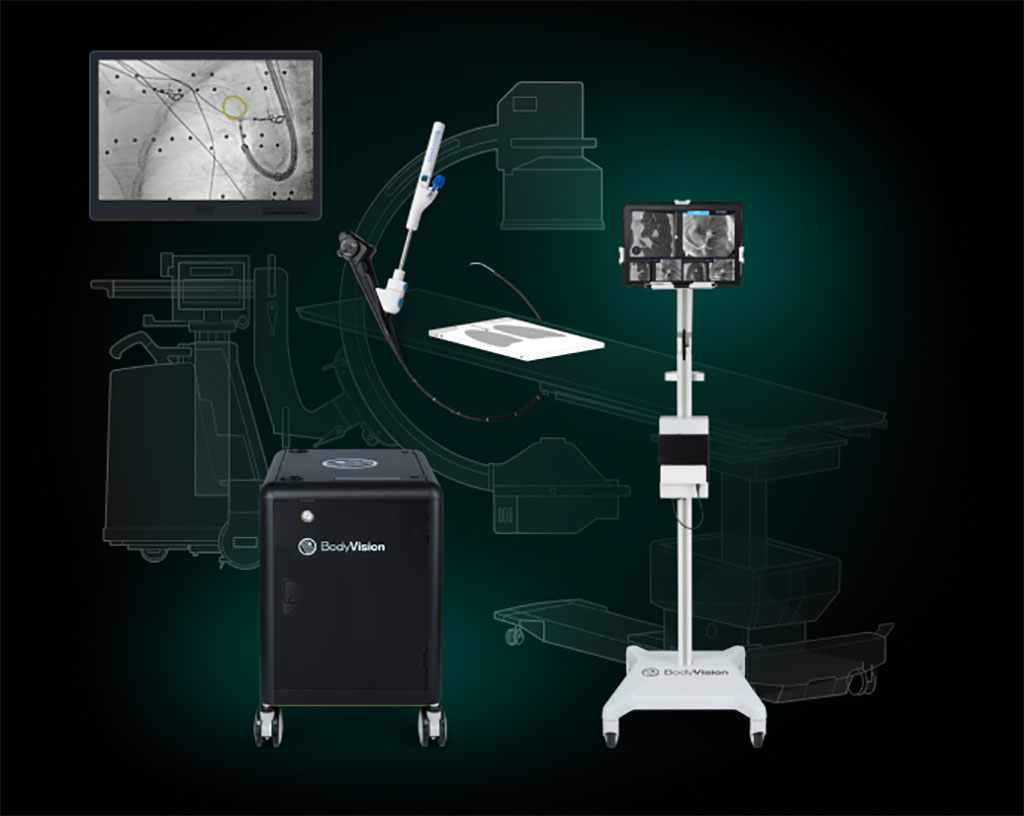 Body Vision Medical's (Campbell, CA, USA) LungVision System uses artificial intelligence (AI) to transform X-ray images from any C-arm into real-time, intraoperative CT scans. This empowers bronchoscopists to biopsy from smaller, more difficult-to-access lung lesions at an earlier stage, thus maximizing the likelihood of an early diagnosis for lung cancer patients and improving odds for survival. Using the LungVision System, pulmonologists can navigate to the lesion with unerring accuracy and biopsy with confidence because they can see that they are sampling from within the lesion. This dramatically increases the likelihood of a definitive diagnosis for potential lung cancer patients and is revolutionizing the way pulmonologists diagnose lung cancer. The LungVision AI-driven, intraoperative CT imaging system has now been used in 2,000 diagnostic bronchoscopy procedures worldwide.
"2,000 cases is a significant achievement for us at Body Vision Medical," said David Webster, CEO of Body Vision Medical. "Body Vision was founded with the vision of transforming how diagnostic bronchoscopy is performed and the fact that LungVision is now routinely used by interventional pulmonologists and thoracic surgeons in multiple markets is real-world evidence that we are accomplishing what we had set out to do."
Related Links:
Body Vision Medical
Other channels