AI Technology Uses Noise Reduction to Significantly Increase CT Image Clarity
By MedImaging International staff writers
Posted on 24 Aug 2022
CT scans are vital for screening, diagnosing, monitoring and treating different conditions, although radiation concerns raise doubts among patients and clinicians over the medical necessity of this kind of imaging. Now, an FDA-cleared and CE-marked CT denoising solution is addressing the unmet need for higher quality imaging on low-dose CT scans, which means patients and clinicians no longer have to choose between quality CT imaging and radiation safety.
ClariCT.AI from ClariPi Inc. (Seoul, South Korea) is an AI-powered low-dose CT denoising solution that offers superb clarity of CT images scanned with substantially reduced radiation dose. Using deep learning to remove thousands of different noise patterns, ClariCT.AI produces images with the diagnostic clarity comparable to that of high-dose CT images. The vendor-agnostic software solution has been trained with world's largest image dataset over one million, and its deep-learned Clarity Engine clears image noise safely while enhancing underlying structures to a level of regular dose images from the noisy ultra-low-dose CTs.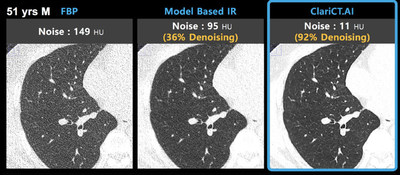 ClariPi's ClariCT.AI utilizes its Clarity Engine to perform CT image denoising for ultra-low-dose CT images. Trained with over one million patient images containing varying degrees of noise for different body parts, its Clarity Engine separates image noise selectively while enhancing underlying structures; thus, providing clarity restored images. The patented Deep Learning Clarity Engine preserves natural image texture while clearing quantum noises, thereby providing comfort observation with enhanced image clarity.
User definable and scalable-clarity settings allow users to maintain image clarity at reduced-dose settings, helping users to achieve a consistent decision in quantitative and qualitative analyses. Done in real-time, the clinical workflow of the ClariCT.AI is simple and comprehensive. Enhanced image clarity allows users to optimize the trade-offs between image quality and radiation dose, and helps users achieve the best practice in low-dose CT imaging. It can be a standalone solution running from a desktop PC or be built into different modalities such as CT machines and PACS system. The technology also supports cloud-based distribution and deployment. ClariCT.AI is both FDA-cleared and CE marked, and is available through the Nuance AI Marketplace, which connects more than 9,000+ facilities in the US.
Related Links:
Other channels