Transportable Exam Backpack Expands Remote Imaging Options
By MedImaging International staff writers
Posted on 11 Nov 2021
A novel medical imaging backpack serves remote or rural settings, bringing mobile telehealth care to patients, wherever they are.
The GlobalMed (Scottsdale, AZ, USA) Transportable Exam Backpack is a virtual health solution that is designed to be easy to carry anywhere, enabling practitioners to quickly and accurately assess a patient's condition. The lightweight, organized backpack includes the TotalVitals Health Monitor, the USB Stethoscope, and a suite of exam accessories. In addition, clinicians and medical professionals can choose either the TotalExam Lite Camera and Otoscope or the TotalExam 3.2 Camera with an otoscope attachment.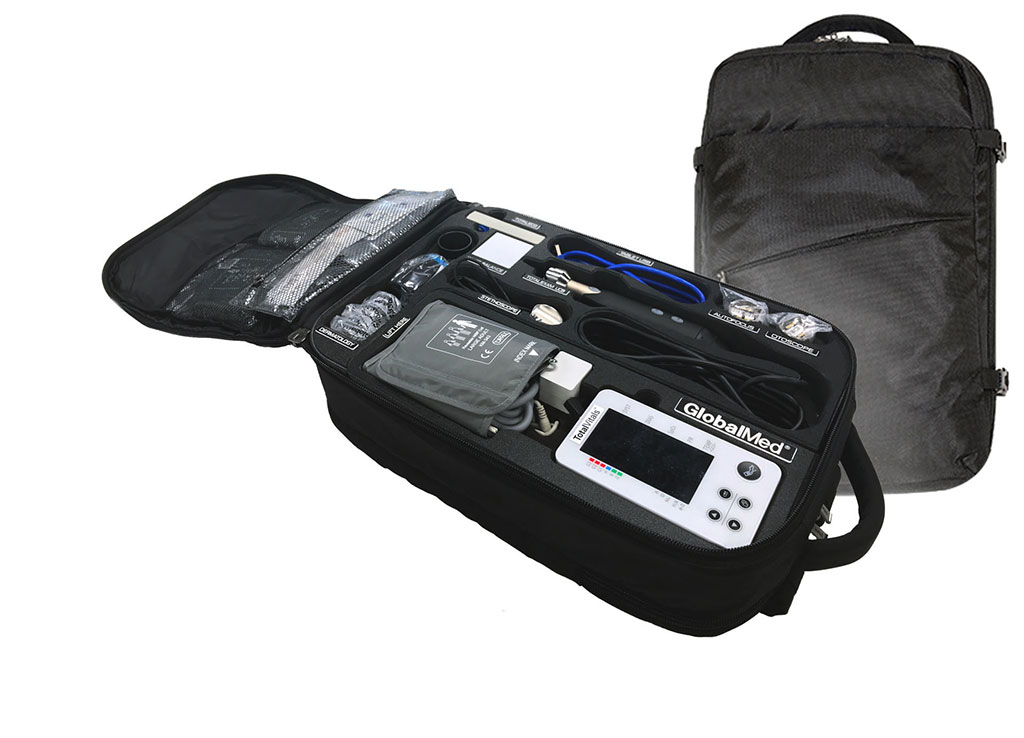 The new TotalExam 3.2 Camera delivers crisp, clear HD images utilizing an eight light emitting diode (LED) carousel, white balance, and adjustable brightness, providing smooth 60 frame-per-second (FPS) video and clear still images using count back freeze frame analysis. A range of interchangeable attachments and accessories such as an otoscope, a dermatology hood, a variable polarizing hood, and a tongue depressor allow a wide variety of applications in teledermatology, ophthalmology, and family medicine.
Optional devices include TotalECG, a wireless 12-Lead electrocardiograph (ECG) system that consists of Windows-based CardioVu software a compact ECG acquisition device; TotalECG streams ECG data wirelessly to a remote computer such as a PC, laptop or Windows tablet. For ultrasound, ClearProbe offers surface and endocavity scanners for a wide variety of medical fields. And to streamline healthcare, the company offers eNcounter, a software platform with secure diagnostic and clinical workflow telemedicine capabilities such as scheduling, video consultation, and data integration.
"Telemedicine is about removing obstacles to care, and our Transportable Exam Backpack helps achieve that by providing a lightweight, complete exam solution that you can take with you to your patient wherever they are located," said Joel Barthelemy, founder and CEO of GlobalMed. "By offering the TotalExam 3.2 camera as an alternate option, we hope to allow practitioners a portable solution that meets their needs and supports a higher quality of care to more people."
According to the U.S. National Rural Health Association (NRHA), rural areas have 39.8 physicians per 100,000 people, as opposed to 53.3 physicians per 100,000 in urban areas. Access to specialists is even lower, with only 30 specialists per 100,000 residents, compared to urban areas that count 263 specialists per 100,000 residents. The situation is worse in other countries. In addition, rural patients typically have less income than those in urban areas, limiting their ability to afford care even if they can manage the travel to an urban location.
Related Links:

GlobalMed
Other channels