AI Tool Improves PET Imaging Capabilities
By MedImaging International staff writers
Posted on 21 Jun 2021
Novel image enhancement technology improves positron emission tomography (PET) radiotracer performance.
The Subtle Medical (Menlo Park, CA, USA) SubtlePET 2.0 is a ready-to-deploy artificial intelligence (AI) algorithm designed to improve PET imaging efficiency and patient care during scans with 18F-FDG, 18F-Amyloid, 18F-Fluciclovine, 18F-DOPA, 18F-Choline, 18F-DCFPyL, Ga-68 Dotatate, and Ga-68 PSMA radiotracers. The image enhancement software applies denoising, based on deep learning (DL) algorithms that improve image quality during the acquisition phase of low count PET scans, enabling providers to expedite patient care and improve comfort during PET exams.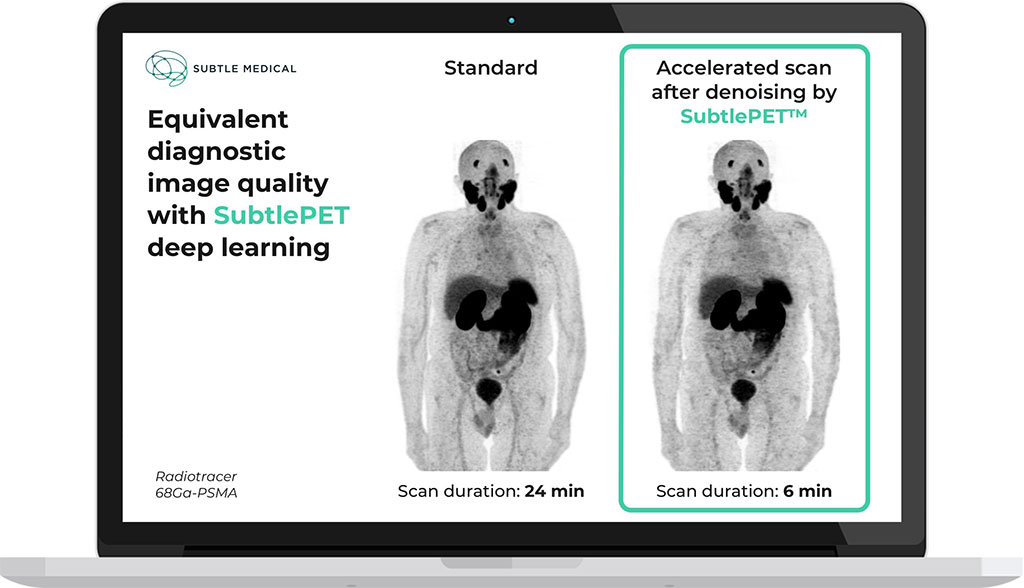 The technology enhances PET images without any interruption or alteration to the imaging workflow. A significant improvement in image quality of noisy images resulting from shorter scans (up to 25% of the original scan time) is provided, which is particularly beneficial for children and those undergoing repeat PET exams. The vendor-neutral software integrates seamlessly with any scanner and picture archiving and communication systems (PACS) system, boosting exam throughput via accelerated protocols and image quality.
"We are dedicated to pushing the boundaries of new AI based products as well as continuously improving our existing product line with new features and capabilities. These continuous advancements will provide patients a significantly better patient experience," said Josh Gurewitz, chief commercial officer of Subtle Medical. "Our products directly support our mission to improve access to faster, safer, and smarter diagnostic imaging."
"By adding SubtlePET to our AI toolkit, we are dramatically increasing the efficiency of our nuclear medicine program and directly impacting the patient experience. We can scan a patient four times faster than normal, yet maintain excellent diagnostic image quality with SubtlePET, not otherwise impacting workflow," said Ravi Jain, MD, PhD, of Middlesex Health (Middletown, CT, USA). "Subtle's technology helps support our commitment to patient care."
PET is a nuclear medicine imaging technique that produces a 3D image of functional processes in the body. The system detects pairs of gamma rays emitted indirectly by a positron-emitting radionuclide tracer. Tracer concentrations within the body are then constructed in 3D by computer analysis. In modern PET-CT scanners, 3D imaging is often accomplished with the aid of a CT X-ray scan performed on the patient during the same session, in the same machine.
Related Links:

Subtle Medical
Latest General/Advanced Imaging News
Other channels