Portable Gamma Ray Camera Speeds Up Cancer Location
By MedImaging International staff writers
Posted on 14 Apr 2021
A hybrid gamma camera (HGC) could improve tumor localization in procedures such as sentinel lymph node biopsy, according to a new study.
Developed at Loughborough University (LBORO; United Kingdom) and the University of Leicester (United Kingdom), the HGC combines a stereoscopic gamma-ray pinhole camera and stereoscopic optical imaging, taking two different images from different angles and then calculating the exact position of whatever is being observed. The device, which is about the size of a hairdryer, can be used to calculate the depth of a radioisotopic source beneath the skin surface, without any external positional tracking, with a mean deviation of less than five mm for imaging distances of 50–250 mm.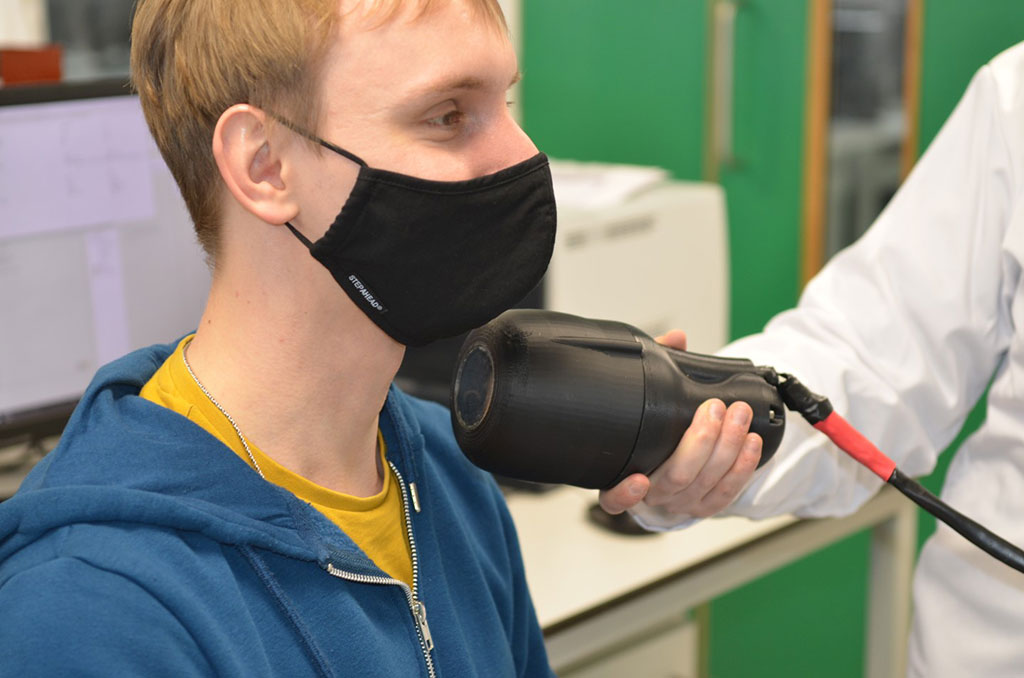 The researchers are planning to work with medical professionals in Uruguay to test the HGC, as currently there are only three 3D nuclear imaging centers--in Montevideo, Durazno, and Salto--that are capable of gamma ray imaging, and patients must travel hundreds of kilometers for initial imaging, and then return to their city of origin for surgery. If patients cannot attend one of these nuclear medicine centers, they risk having all their axillary nodes removed for sentinel lymph node (SLN) biopsy, instead of less invasive surgery. The study was published on February 11, 2021, in
Physics in Medicine & Biology.
"The camera works by using a pinhole which allows an image of the source of gamma radiation to be taken. Doing this twice from two slightly different positions allows the camera to triangulate the exact distance from the source giving an accurate 3D reading," said lead author Sarah Bugby, PhD, of the LBORO School of Science. "By combining gamma and optical imaging, this 3D information will tell the user where and how deep a source of radioactivity is. This has applications in radioguided surgery, and may also find use in other areas in the nuclear industry."
Stereoscopic imaging triangulation is a well-established technique for distance estimation, such as in astronomy to measure the vast distances to stars. As the HGC acquires both gamma and optical images, with a known relationship between the magnification factor of each, source distance can be calculated to the imaging surface. Combining the two measurements therefore allows the calculation of source depth beneath the surface.
Related Links:

Loughborough University
University of Leicester
Other channels