New Study Maps Out the Intracardiac Nervous System
By MedImaging International staff writers
Posted on 18 Jun 2020
Using a new imaging method called knife-edge scanning microscopy, a three-dimensional (3D) model of the rat heart anatomy, including the intracardiac nervous system (ICN), has been created.
Researchers at Thomas Jefferson University (TJU; Philadelphia, PA, USA), Strateos (San Francisco, CA, USA), and other institutions developed and integrated several distinct technologies, including whole-organ imaging and software development, in order to support precise 3D neuroanatomical mapping and molecular phenotyping of the ICN. By precisely integrating anatomical and molecular data in the digitally reconstructed whole heart, the nervous network could be elucidated in 3D with micron scale resolution.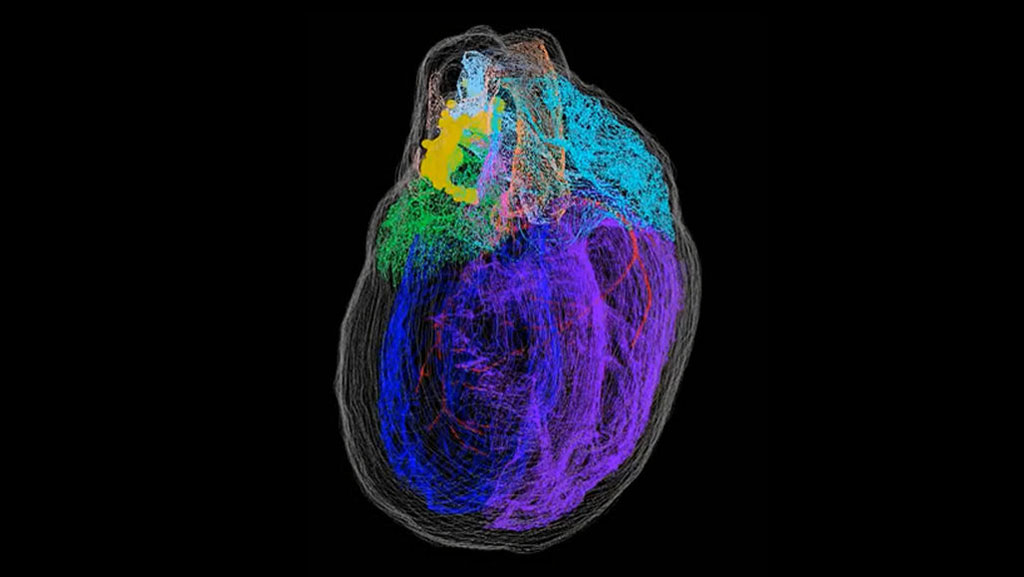 The resulting atlas shows the full extent and position of neuronal clusters on the base and posterior left atrium of the rat heart, and the distribution of molecular phenotypes that are defined along the base-to-apex axis, which had not been previously described. The data also helped sort the heart's neurons into discrete groups, with most of the neuron clusters dotting the area on the coronal aspect of the heart, where blood vessels come in and out. Other clusters spread down the posterior section of the heart, and were particularly abundant on the left side. The study was published on May 26, 2020, in
iScience.
"Our work provides a model to precisely integrate anatomical and molecular data in the 3D digitally reconstructed whole heart with high resolution at the micron scale," said senior author systems biologist James Schwaber, PhD, of TJU. "The comprehensive, 3-D map of the heart's little brain could ultimately lead to targeted therapies that could treat or prevent heart diseases."
The complex ICN system consists of a network of ganglionic plexuses and interconnecting ganglions and axons. Each ganglionic plexus contains numerous intracardiac ganglia that operate as local integration centers, modulating the intricate autonomic interactions between the extrinsic and ICN systems. The current understanding is that the ICN modulates a range of cardiac physiological functions, including chronotropy, dromotropy, inotropy, and lusitropy.
Related Links:

Thomas Jefferson University
Strateos
Other channels