Photoacoustic Imaging Visualizes Donor Kidney Scarring
By MedImaging International staff writers
Posted on 11 May 2020
Photoacoustic (PA) imaging can non-invasively quantify cortical fibrosis in kidneys with outstanding accuracy and speed, according to a new study.
Developed by researchers at St. Michael's Hospital (Toronto, Canada) and Ryerson University (Toronto, Canada), the PA technology combines laser illumination (to create a pressure wave inside the kidney), and ultrasound scanning to record the audible data. The sounds are then run through a proprietary spectral unmixing algorithm to generate visual maps that outline the amount and distribution of collagen, blood, or other tissues, thus allowing physicians to assess the transplantation potential of the donated kidneys.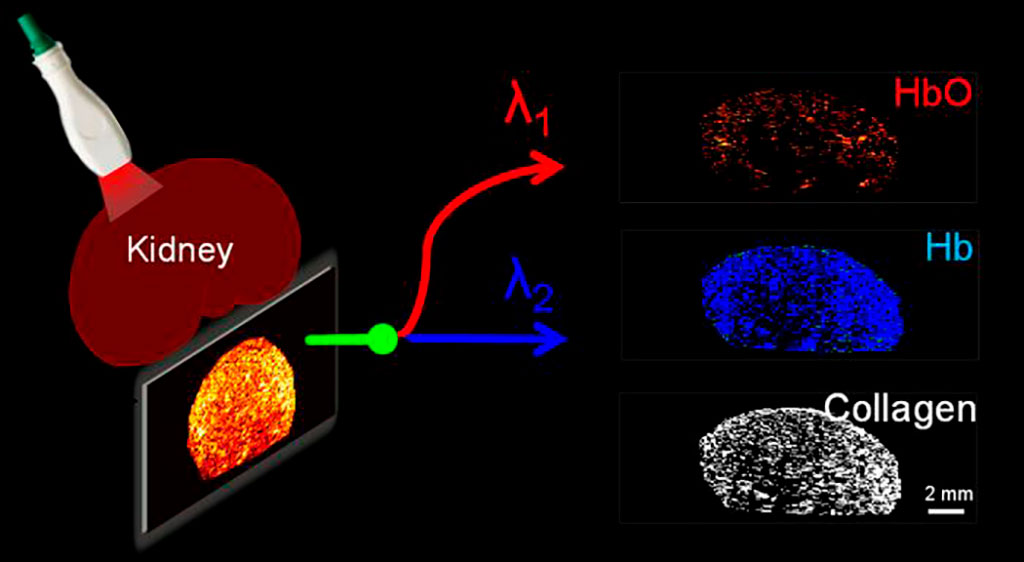 The three-dimensional (3D) PA images exhibited sufficiently high resolution to capture intra-renal variations in collagen content. In less than two minutes, the new technique can generate an image with enough detail to quantify total scarring in a donated kidney. Within 15 minutes, 3D imaging can allow visualization not only of overall kidney scarring, but also show its distribution throughout the kidney. In addition, PA imaging can be performed on-site during transplantation, which could have widespread pre-clinical and clinical impact. The study was published on April 16, 2020, in 
JCI Insight.
"We currently have no way of reliably assessing the quality of a donor kidney. Scarring is a major type of kidney damage that can occur in donor kidneys; this was the impetus behind our project," said senior author nephrologist Darren Yuen, MD, of St. Michael's Hospital. "If we could measure scarring in a kidney before it's transplanted, we could make sure that somebody who's been on a waitlist for a long time doesn't get a kidney that's only going to last a year or two."
Photoacoustic imaging is based on non-ionizing laser pulses fired into biological tissues; some of the energy delivered is converted into heat, leading to transient thermoelastic expansion and subsequent wideband ultrasonic emission, which can be detected by ultrasonic transducers and analyzed to produce images. The magnitude of the PA signal is proportional to local energy deposition, and can be shown by optical absorption contrast on the images of the targeted areas.
Related Links:

St. Michael's Hospital
Ryerson University
Other channels