Multiplexed Imaging Refines Breast Cancer Classification
By MedImaging International staff writers
Posted on 04 Feb 2020
A new study suggests that imaging mass cytometry can simultaneously visualize and analyze multiple biomarkers to generate information-rich digital images of tissue sections.
Researchers at the University of Zurich (UZH; Switzerland), University Hospital Basel (Switzerland), and other institutions analyzed 720 high-dimensional pathology images from 352 breast cancer patients in order to categorize 35 protein biomarkers and how they are organized in cellular communities and form tumor tissues. Long-term survival data were available for 281 of the patients, enabling the cellular architecture of breast cancer tissue to be characterized and associated with distinct clinical outcomes.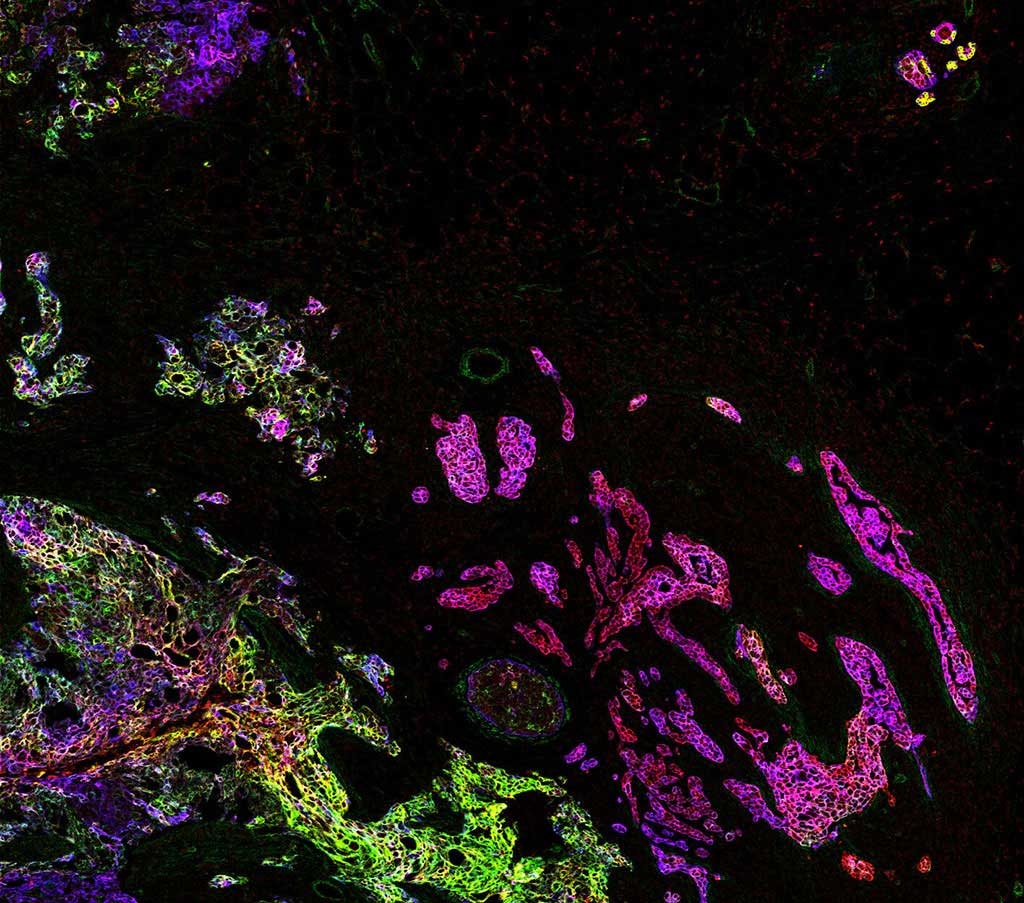 The analysis revealed multicellular features of the tumor microenvironment and novel subgroups of the intra-tumor phenotypic heterogeneity. Spatially resolved, single-cell analysis identified the phenotypes of tumor and stromal single cells and their organization, enabling the cellular architecture and intra-tumor phenotypic heterogeneity of breast cancer tissue to be characterized a disease-relevant manner, with the potential to inform patient-specific diagnosis. The study was published on January 20, 2020,
in Nature.
"Breast cancer progression can vary significantly between patients. Even within the same tumor, different areas may be composed of different types of cells and characterized by different tumor structures," concluded senior author professor of quantitative biology Bernd Bodenmiller, PhD, of UZH, and colleagues. "By improving our ability to describe cellular features and categories as well as our ability to precisely identify patients that have high or low risk breast cancer, we're opening up new possibilities for precision medicine."
Digital pathology is an image-based information environment aided by computer technology that allows for the management of information generated from a digital slide. It is enabled in part by virtual microscopy, the conversion of glass slides into digital slides that can be viewed, managed, shared and analyzed on a computer monitor. With the advent of whole-slide imaging, digital pathology is currently regarded as one of the most promising avenues of diagnostic medicine.
Related Links:

University of Zurich
University Hospital Basel
Other channels