Digital Tomosynthesis Technology Creates Imaging Slices
By MedImaging International staff writers
Posted on 03 Feb 2020
A novel digital tomosynthesis (DT) functionality creates three-dimensional (3D) datasets from digital x-rays that can be scrolled through similar to computed tomography (CT) imaging.
Developed by Carestream (Rochester, NY, USA), DT is a limited sweep imaging technique that generates multiple two-dimensional (2D) coronal slices from a series of low dose x-ray images of the same anatomy taken at the same exposure, but at different angles. Similar to a CT scan, DT can thus produce cross-sectional images of an organ, allowing for increased visibility. Three sweep angle options are provided to acquire the desired slice thickness, the number of images per degree of sweep angle, and the selection of speed of capture versus image resolution.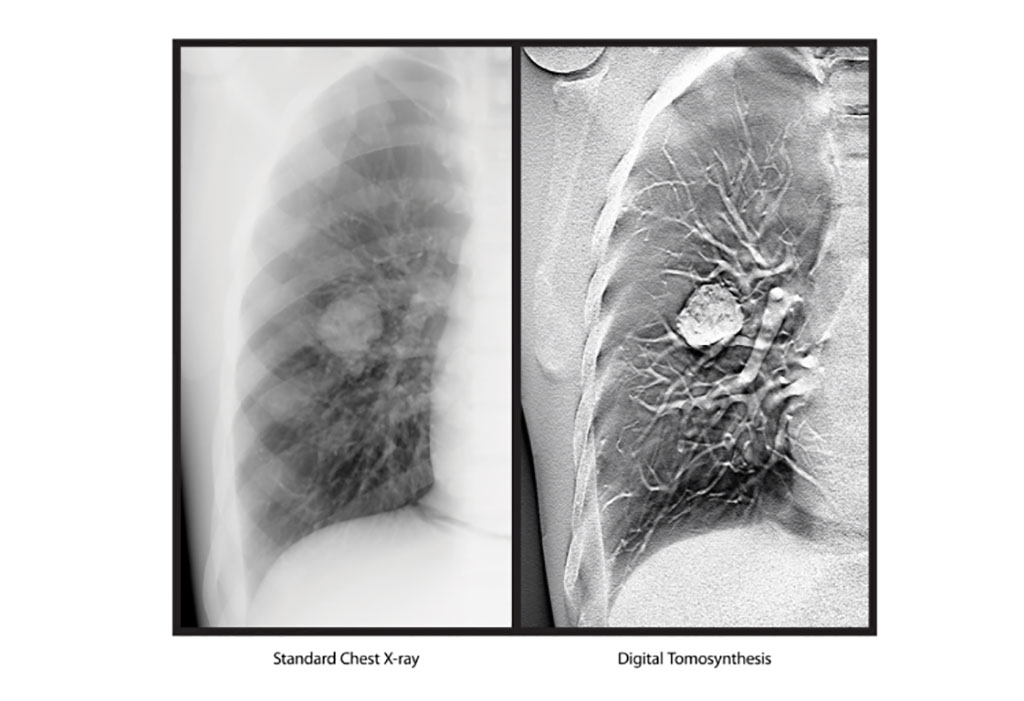 The result is separation of the process of exposure acquisition from that of image volume formation, streamlining operator workflow. Radiologists can scroll through the stacked images in the dataset in order to better define what is being seen and the exact location of areas of interest. A considerable number of image slices can be generated, which helps clinicians sharpen their diagnosis and make medical treatment more efficient when quick answers are needed. DT is an upgradable option on the Carestream DRX-Evolution Plus System, which does not replace CT, but rather works in conjunction with it.
"This DT technique uses a single sweep of X-ray exposures and simplifies the operator's workflow by separating the process of DT exposure acquisition from image volume formation," said Sarah Verna, worldwide marketing manager for Global X-ray Solutions at Carestream. "Multiple projections are acquired during a single DT acquisition sweep in rapid succession, making it just as quick as taking a standard X-ray. It allows doctors to scroll through slices and identify anything of concern or track treatment progress."
DT operates based on the same principle as linear tomography, except that the detector can either be mechanically motorized in synchronization with the x-ray source, or simply be stationary during the exam. By establishing the initial fulcral plane and exposing across the sweep angle, the anatomical details in the fulcral plane are persevered, while anatomical clutter above or below the plane is blurred.
Related Links:

Carestream
Other channels