Artificial Intelligence Improves Brain MRI Resolution
By MedImaging International staff writers
Posted on 27 Jan 2020
Super-resolution (SR) techniques can be applied to magnetic resonance imaging (MRI) scans by training a convolutional neuronal network (CNN), claims a new study.
Researchers at the University of Málaga (UMA; Spain) developed a CNN to which a regularly spaced shifting mechanism over the input image was applied to increase resolution, with the aim of substantially improving the quality of the resulting image; this enables specialists to identify brain-related pathologies such physical injuries, cancer, or language disorders with increased accuracy and definition. The deep learning (DL) process can be formed autonomously, without any supervision, allowing an identification effort that the human eye would not be capable of doing.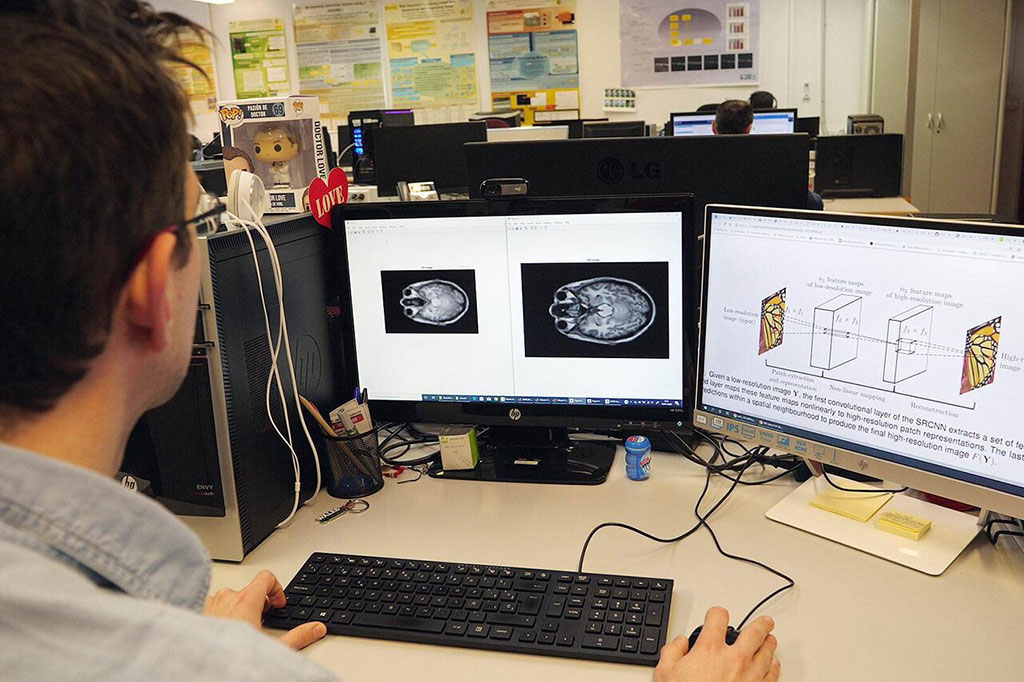 According to the researchers, the results obtained from applying the CNN on different MRI images show a considerable improvement both in the restored image and in the residual image, without an excessive increase in computing time. In addition, the images provide increased resolution without distorting the patients' brain structures, and favorably compared to other SR techniques, such as the peak signal-to-noise (SNR) ratio, the structural similarity index, and Bhattacharyya coefficient metrics. The study was published on October 22, 2019, in
Neurocomputing
.
"Deep learning is based on very large neural networks, and so is its capacity to learn, reaching the complexity and abstraction of a brain," said lead author Karl Thurnhofer, PhD, of the UMA department of computer languages and computer science. "So far, the acquisition of quality brain images has depended on the time the patient remained immobilized in the scanner; with our method, image processing is carried out later on the computer."
Deep learning is part of a broader family of AI machine learning methods that is based on learning data representations, as opposed to task specific algorithms. It involves CNN algorithms that use a cascade of many layers of nonlinear processing units for feature extraction, conversion, and transformation, with each successive layer using the output from the previous layer as input to form a hierarchical representation.
Related Links:

University of Málaga