New Medical Monitor Optimizes Radiological Reviews
By MedImaging International staff writers
Posted on 19 Nov 2019
A novel two megapixel medical monitor offers improved ease of use, space saving features, and excellent image quality so as to view the finest details.
The EIZO (Hakusan, Japan) RadiForce MX216 is a 21.3-inch two megapixel color monitor that boasts compatibility with Hybrid Gamma PXL, an innovative function that allows monochrome and color images to be displayed on the screen, at the same time, and in appropriate grayscale and gamma curves. This creates a hybrid display on which each pixel is displayed with the ideal tone value, providing a greater degree of precision and reliability than conventional planar detection methods. The monitor is part of the RadiForce MX line of cost-performance, medical-grade monitors for clinical review.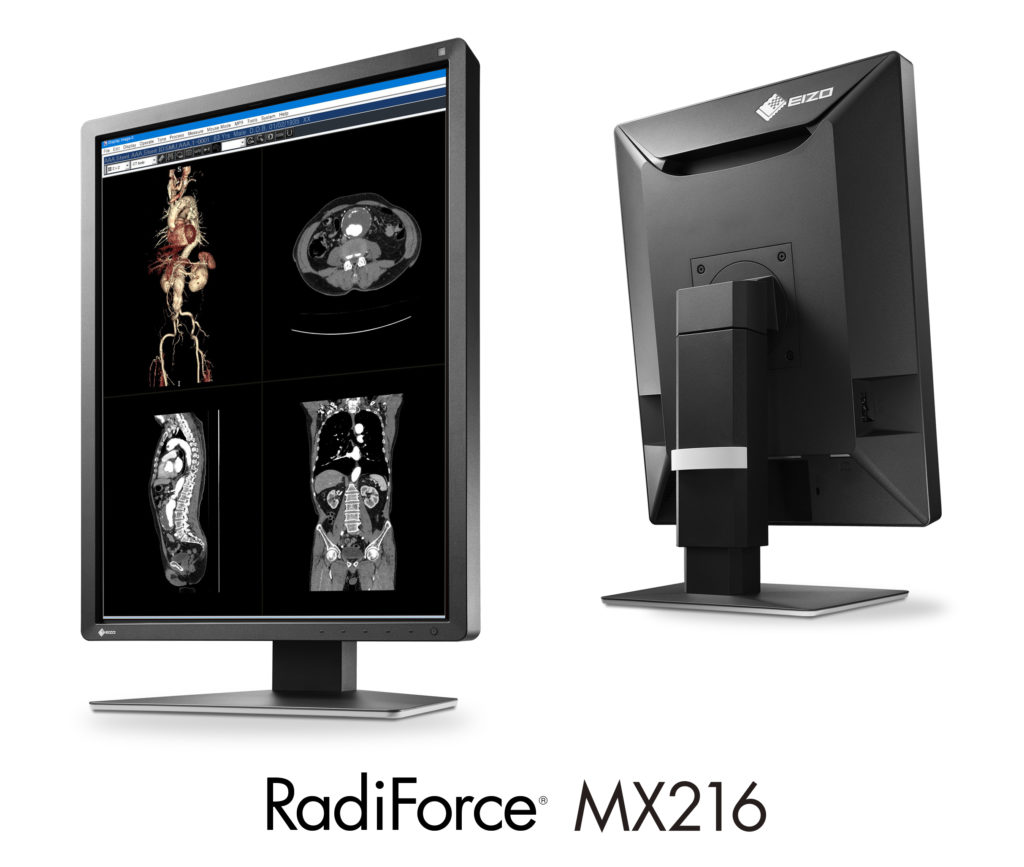 Features include a contrast ratio of 1,500:1, stable brightness of up to 500 cd/m2, and a resolution of a maximum of one billion color tones controlled by a 13 bit look-up table (LUT), up to 10 bits of which are available in the DisplayPort connection. EIZO also measures and adjusts each tone of grey so that it can comply with the digital imaging and communications in medicine (DICOM) standard. A Point-and-Focus function (which comes with bundled RadiCS LE software), which allows specific areas of the screen to be selected and highlighted, changing the brightness and grayscale tone to assist precise focusing.
Other features include blur reduction anchored in monitor hardware, which retrieves details lost in the contours on the screen, rendering the image as clear as possible; a digital uniformity equalizer (DUE), which corrects grey and color tones imbalances automatically, pixel by pixel; autonomous, automatic calibration of white point and tone value characteristic curve via an integrated front sensor (IFS); and an integrated backlight sensor that permanently determines the luminance of the monitor just seconds after it is turned on, and remains constant during the entire period of use.
"The monitor is the first MX-Series monitor to be compatible with the Hybrid Gamma PXL function, where both monochrome and color images can be displayed on the screen at the same time in the appropriate grayscale and gamma curve," said the company in a press release. "Furthermore, it is equipped with EIZO's Point-and-Focus, with which specific areas of the screen can be selected and highlighted, which changes the brightness and grayscale tone to make focusing easier, and improving ease of use."
The MX216-SB can be operated in both portrait and landscape format via the Image Rotation Plus function--provided in the RadiCS LE software--which rotates the displayed image automatically, depending on the position of the monitor. RadiCS LE also allows the calibration of other tone value curves, such as CIE. The monitor also boasts a slim and space saving cabinet design that takes up less space on a desk or on a medical cart in the reading room.
Related Links:

EIZO
Other channels