Hyperspectral Imaging Detects Cancer During Surgery
By MedImaging International staff writers
Posted on 26 Oct 2019
A smart surgical microscope that examines cells at the ultraviolet (UV) and near-infrared (NIR) spectrum could help identify cancer cells in the operating room (OR).
Developed by researchers University of Texas (UT) Southwestern Medical Centre (UTS; Dallas, TX, USA), the University of Texas at Dallas (UTD; Richardson, USA), and other institutions, the reflectance-based hyperspectral Imaging (HSI) and autofluorescence imaging microscope provides a non-ionizing optical imaging modality that can accurately detect and help reduce inadequate surgical margins during squamous cell carcinoma (SCC) within minutes, using deep learning and machine learning tools.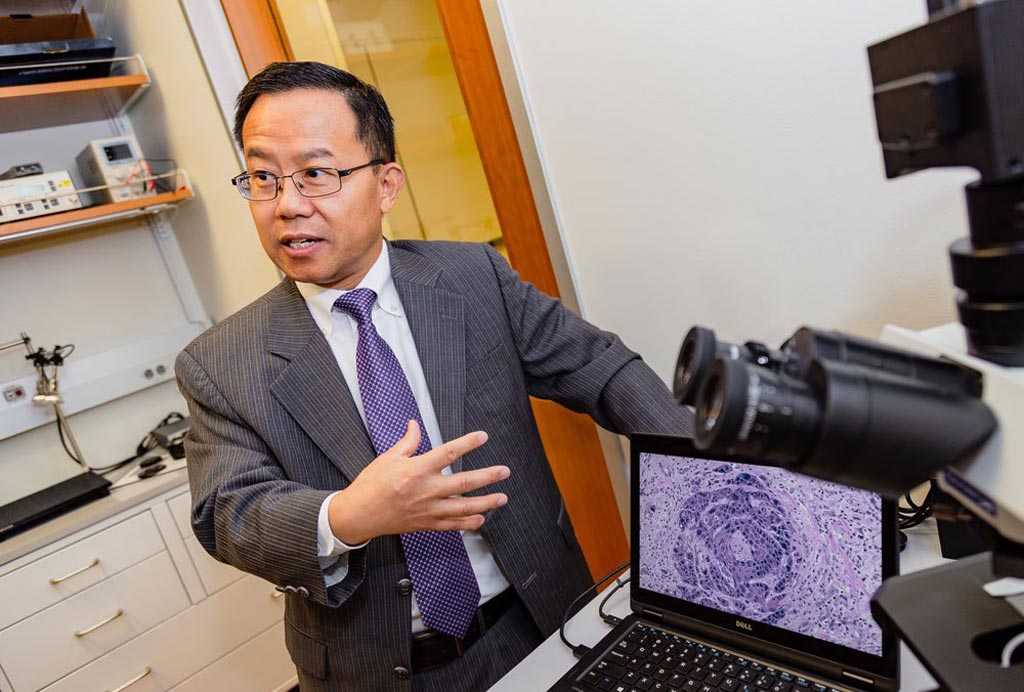 For the study, the researchers examined 102 excised tissue specimens. The tissue specimens were first imaged with reflectance-based HSI and autofluorescence imaging, and afterwards with two fluorescent dyes for comparison. The results showed that reflectance-based HSI and autofluorescence imaging could detect cancer at micrometer resolution, and outperformed both proflavin dye and standard red, green, and blue (RGB) images. Overall, HSU predicted the presence of cancer cells with 80-90% accuracy. The study was published on September 14, 2019, in the journal Cancers.
"We hope that this technology can help surgeons better detect cancer during surgery, reduce operating time, lower medical costs, and save lives. HSI is noninvasive, portable, and does not require radiation or a contrast agent," concluded senior author Baowei Fei, PhD, EngD, of the UTS department of radiology, and colleagues. "If we have a large database that knows what is normal tissue and what is cancerous tissue, then we can train our system to learn the features of the spectra. Once it's trained, the smart device can predict whether a new sample is a cancerous tissue or not."
HSI can help acquire large numbers of spectral bands throughout the electromagnetic spectrum (both within and beyond the visual range) with a very fine spatial resolution. So fine, in fact, that for every image pixel a full spectrum of color can be detected. Using this information and complex classification algorithms, it is possible to determine which material or substance is located in each pixel.
Related Links:
University of Texas (UT) Southwestern Medical Centre
University of Texas at Dallas

Other channels