IR Spectroscopy Improves Rheumatoid Arthritis Diagnosis
By Medimaging International staff writers
Posted on 23 Jul 2019
A rapid, non-invasive technique to detect rheumatoid arthritis (RA) based on infrared (IR) light could help clinicians assess disease progression and monitor treatment effectiveness.
Developed at the University of Birmingham (UB; United Kingdom), the new RA scanner combines three-dimensional (3D) digital imaging with IR spectroscopy to create an image of the blood content inside a patients' hand. The patient first places a hand inside the scanner to create a 3D model by measuring its size and contours. Next, an IR beam is directed through each finger in turn, with the amount of IR light exiting it measured. The results indicate levels of absorbing chromophores such as oxyhaemoglobin, deoxyhaemoglobin, water, and lipids, which cause changes in scattering properties.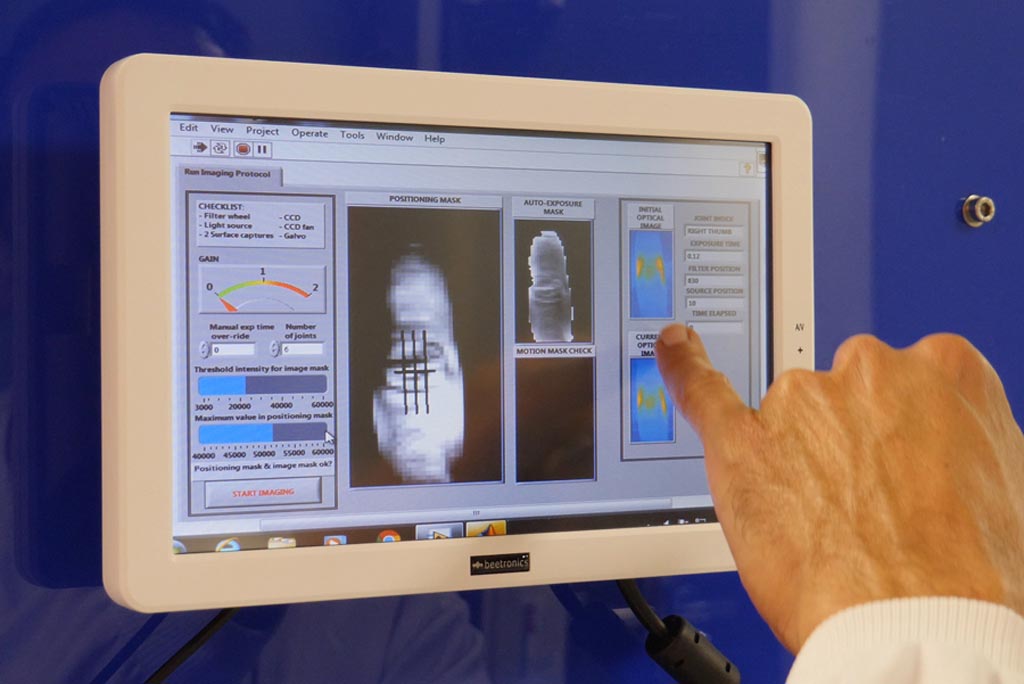 In RA, hyperplasia of stromal cells and infiltration of inflammatory cells into the synovium causes local pathophysiological changes, including lower oxygenation (hypoxia), increased blood vessel formation (synovial angiogenesis), and an increase in leukocyte and protein concentration, consequently altering the optical properties of an inflamed joint compared to a healthy one. In a pilot study involving 144 joints from 21 rheumatology patients, the researchers were able to accurately detect inflamed joints, with results closely matching diagnoses made using ultrasound and clinical examination. The study was published on June 20, 2019, in the Journal of Biomedical Optics.
"We know that diagnosing patients with RA early is really important, because early treatment leads to better long-term outcomes," said senior author Professor Hamid Dehghani, PhD, a specialist in medical imaging at the UB School of Computer Science. "The system we have developed offers a low-cost, objective way of detecting the disease and potentially grading how advanced it is. We hope in time it will enable clinicians diagnose the disease earlier and offer personalized treatment plans for patients."
In the modern rheumatology clinic, diagnosis is carried out through a combination of patient history, clinical examination, blood tests, questionnaires and medical imaging. But most imaging modalities are subject to specific disadvantages for detecting joint inflammation. Radiography suffers from low sensitivity to soft tissue changes, limiting its use for quantification of damage; and ultrasound and magnetic resonance imaging (MRI) require highly trained staff, leading to high cost and limited availability.
Related Links:
University of Birmingham

Latest General/Advanced Imaging News
Other channels