AI-Powered Software Solution Denoises CT Images
By Medimaging International staff writers
Posted on 15 Jul 2019
An innovative vendor-neutral platform based on deep learning algorithms clears CT noise selectively, using only DICOM standard.
The ClariPI (Seoul, Korea) ClariCT.AI noise reduction solution features a unique artificial intelligence (AI)-based graphics processing unit (GPU) called Recon Engine, which selectively removes noise while preserving the characteristics of anatomical structures and lesions, all without distortion and loss. Compatible with all CT devices on the market, ClariCT.AI also reconstructs the high quality images at high speeds, since it does not need to use existing iterative reconstruction (IR) processes.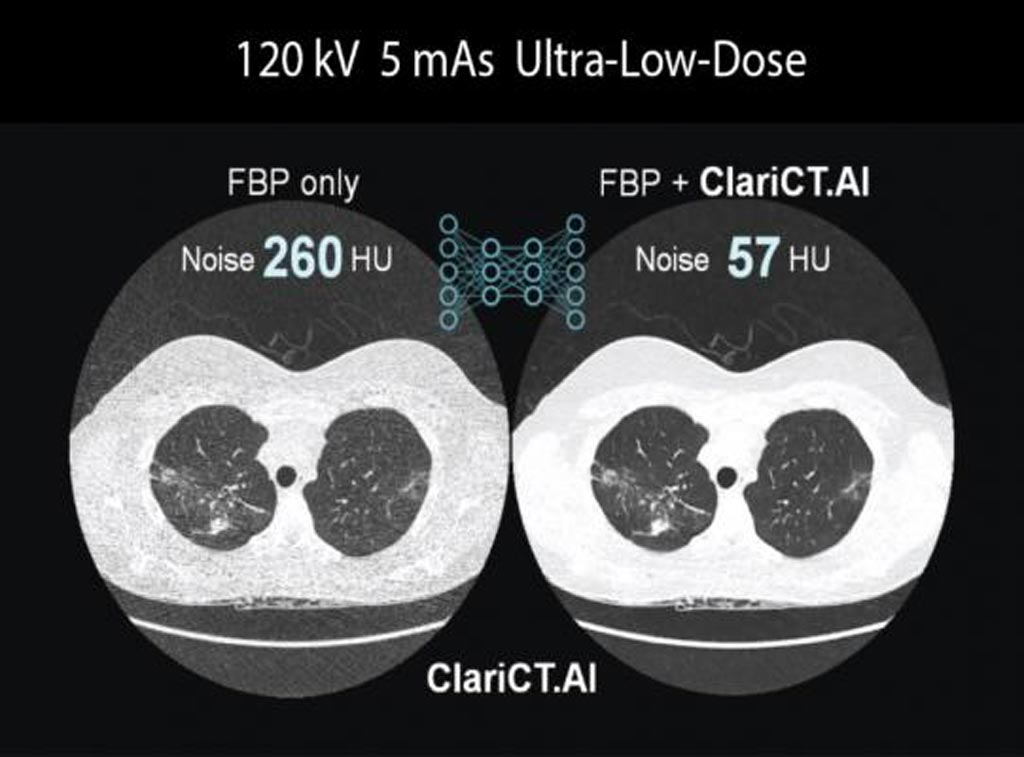 ClariCT.AI also helps to reduce the radiation dose patients are exposed to by up to one-twentieth when compared with conventional CT, enabling ultra-low dose scans. The software can distinguish anatomical structures from thousands of different noise patterns and reconstruct clean high-quality images without time-consuming IR repetitions. Lesion details and anatomical structures at ultralow-dose scans--as low as 5 mAs--can be clearly uncovered from strong noise and artifacts, without distortion.
"Trained with more than one million patient images containing varying degrees of noise for different body parts, Clarity Engine separates image noise selectively while enhancing underlying structures, thus providing clarity-restored images," said the company in a news release. "ClariPi believes that the clarity-restored images have the potential to improve reading confidence of radiologists, as well as to enable accurate analysis by computer-aided solutions for various imaging applications, especially for low-dose lung cancer screening CT."
Deep learning is part of a broader family of AI machine learning methods based on learning data representations, as opposed to task specific algorithms. It involves artificial neural network (ANN) algorithms that use a cascade of many layers of nonlinear processing units for feature extraction and transformation, with each successive layer using the output from the previous layer as input to form a hierarchical representation.
Related Links:
ClariPI

Latest General/Advanced Imaging News
Other channels