Portable OCT Scanner Increases Access to Retinal Imaging
By Medimaging International staff writers
Posted on 11 Jul 2019
A lightweight optical coherence tomography (OCT) scanner offers clinically accurate eye scans at a fraction of the cost.
Developed at Duke University (Durham NC, USA), the spectral-domain OCT system was designed using various cost-reduction techniques, including parts that cost less than a tenth of the retail price of commercial systems, and a housing made mostly from three dimensional (3D)-printed plastic sections. In addition, the spectrometer light path is designed to be circular, thus reducing expansions or contractions due to temperature changes, which occur symmetrically; as a result, the optical elements remain aligned. The device also uses a larger detector to make misalignments less likely.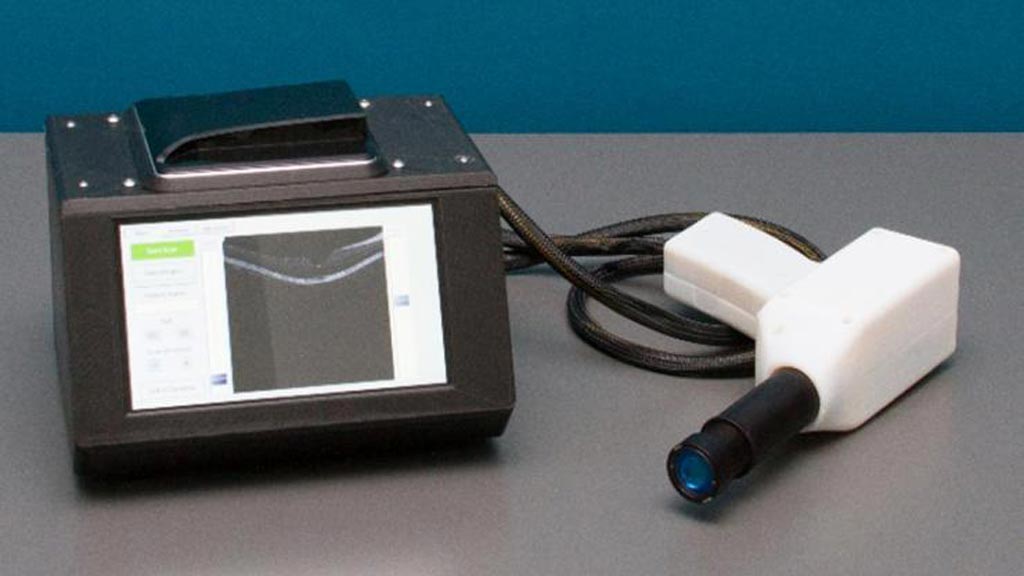 The low-cost OCT system offers an axial resolution of 8.0 μm, a lateral resolution of 19.6 μm, and an imaging depth of 2.7 mm, for a total 6.6-mm field of view in the X and Y directions. In a proof of concept study, clinical imaging was performed on 120 eyes of 60 patients (60 eyes of normal volunteers and 60 eyes with retinal disease) using both the low-cost OCT and a Heidelberg Engineering Spectralis OCT system. Contrast-to-noise ratio (CNR) was measured from resulting images to determine system performance.
The results showed that the new OCT scanner produced images that were 95% as sharp as those taken by the Heidelberg Spectralis, with mean CNR value of low-cost OCT images only 5.6% lower than those of the Spectralis. The new OCT scanner also weighs 15 times less than the commercial system and is much smaller. The total fabrication costs were just USD 5,037, a tenth of the cost of the Spectralis. The results of the study were published on June 28, 2019, in Translational Vision Science & Technology.
"Right now OCT devices sit in their own room and require a PhD scientist to tweak them to get everything working just right. Ours can just sit on a shelf in the office and be taken down, used and put back without problems. We've scanned people in a Starbucks with it," said senior author biomedical engineer Adam Wax, PhD. "With the growing number of cases of diabetic retinopathy in places like the United States, India and China, we hope we can save a lot of people's sight by drastically increasing access to this technology."
OCT is the optical analogue of ultrasound; but because light is so much faster than sound, measuring time is more difficult. To time the light waves bouncing back from the tissue being scanned, OCT devices use a spectrometer to determine how much their phase has shifted compared to identical light waves that have traveled the same distance, but have not interacted with tissue. In use since the 1990s, OCT has become the standard of care for the diagnosis of retinal diseases, including macular degeneration, diabetic retinopathy and glaucoma.
Related Links:
Duke University

Latest General/Advanced Imaging News
Other channels