Imaging Solution Improves Stroke Image Interpretation
By Medimaging International staff writers
Posted on 02 Jul 2019
A novel CT angiography (CTA) imaging solution improves inter-rater consistency and reliability, helping the selection of patients that can benefit the most from mechanical thrombectomy.
The Brainomix (Oxford, United Kingdom) e-CTA software is designed to provide fast, consistent, and fully automated calculation of the CTA collateral score (CTA-CS), using artificial intelligence (AI) and deep learning algorithms to analyze the images. In a clinical validation study, researchers at the University of Oxford (United Kingdom) categorized the degree of collateral flow in 98 patients, generating a CTA-CS score for each one. The results of the e-CTA software were then compared to a reference standard consensus opinion by from three expert neuroradiologists.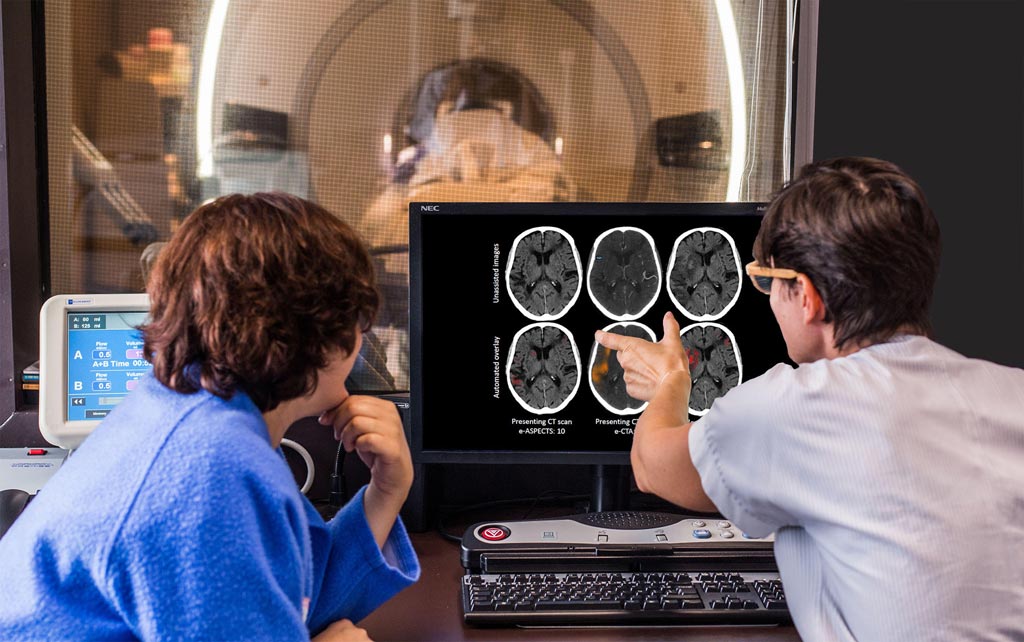 The agreement between individual neuroradiologists, both with and without the automated e-CTA reference was then quantified, and the effect of e-CTA on inter-rater reliability was assessed. The results demonstrated a high degree of agreement between the fully automated and objective e-CTA score and the consensus expert CTA-CS. The addition of an e-CTA assisted neuroradiological grading of collateral scores further reduced expert variability. CTA-CS and e-CTA scores correlated with the demonstrated deleterious effect of poor collateral blood flow on tissue survival. The study was published on June 19, 2019, in Cerebrovascular Disease.
"The importance of good collateral blood flow for patient outcome in acute stroke treatment is well recognized. However, even expert collateral scores commonly suffer from inter-rater error. e-CTA improved consistency between neuroradiologists when used as a decision support tool," said George Harston, chief medical and innovation officer at Brainomix. "Even when used as a standalone tool, e-CTA produced similar scores compared to experts, opening up the opportunity for reliable collateral assessment for all patients, regardless of which hospital they attend."
Timely restoration of cerebral blood flow using reperfusion therapy is the most effective maneuver for salvaging ischemic brain tissue that is not already infracted. Intravenous alteplase is first-line therapy, provided that treatment is initiated within 4.5 hours of clearly defined symptom onset. Mechanical thrombectomy is indicated for patients with acute ischemic stroke, due to a large artery occlusion in the anterior circulation, who can be treated within 24 hours of the time last known to be well, regardless of whether they receive intravenous alteplase for the same ischemic stroke event.
Related Links:
Brainomix
University of Oxford

Latest General/Advanced Imaging News
Other channels