Advanced Scanner Produces Whole-Body PET Images in Seconds
By Medimaging International staff writers
Posted on 24 Jun 2019
A modified positron emission tomography (PET) scanner can create three dimensional (3D) renderings of the entire human body in as little as 20 seconds, and with less radioactive exposure.
Developed by researchers at the University of California Davis (UCD; USA), the University of Pennsylvania (Philadelphia, PA, USA), United Imaging Healthcare (UIH; Shanghai, China), and other institutions, the two-meter long device is made of eight PET scanner rings, each 25 centimeters thick, that can image the entire body at once. By combining eight scans into one, total body rendering can be accomplished in 1/40 of the time of a conventional PET scanner, as well as using 1/40 of the radiation dose.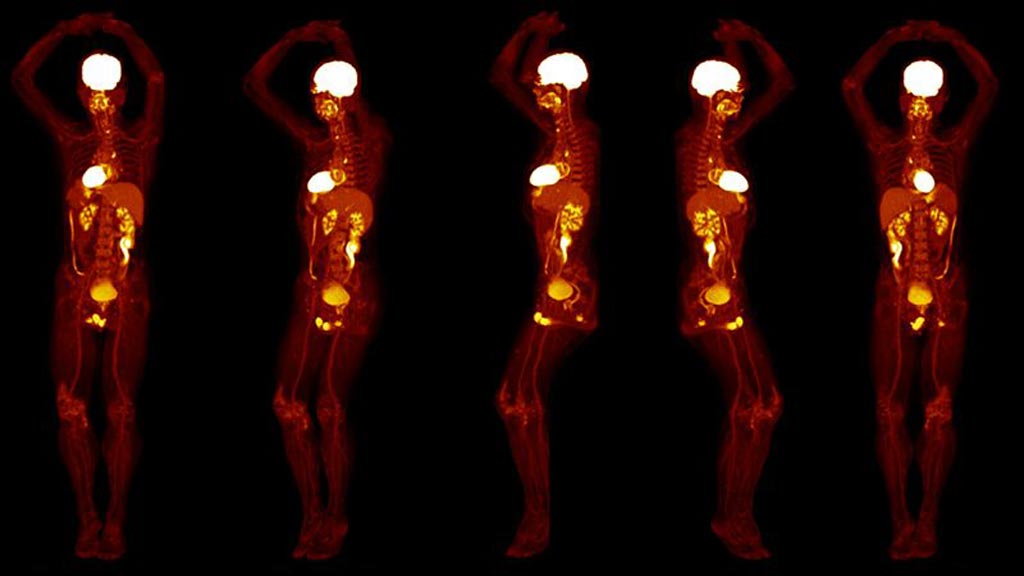 The modified PET scanner, which is called Explorer, could be especially helpful for imaging children, who tend to move around inside a scanner and ruin the measurements, as well as in pharmacological studies that examine how a radioactive tracer spreads through the body. For example, the device could be used with a radioactive sugar tracer that is ingested by bacterial, but not mammalian cells. Other types of tracers could be used to distinguish between different bacteria. The capabilities of Explorer were shown at the US National Institutes of Health (NIH) High-Risk, High-Reward research symposium, held during June 2019 in Bethesda (MD, USA).
"The level of detail was astonishing, especially once we got the reconstruction method a bit more optimized. We could see features that you just don't see on regular PET scans," said Explorer presenter Ramsey Badawi, MD, chief of nuclear medicine at UCD and vice-chair for research in the department of radiology. "The dynamic sequence showing the radiotracer moving around the body in three dimensions over time was, frankly, mind-blowing. There is no other device that can obtain data like this in humans, so this is truly novel."
PET scans are widely used to diagnose and track a variety of diseases, including cancer, because they show how organs and tissues function in the body, in contrast to MRI or CT scans, which mostly show anatomy. Using radioactive tracers that produce a signal from within the body, PET scanners produce a 3D image that is constructed by computers using sophisticated mathematical techniques. The Explorer project was designed to address the shortcomings of current scanning technology, which requires more time and exposes the patient to more radiation because scans are done in small segments.
Related Links:
University of California Davis
University of Pennsylvania
United Imaging Healthcare

Latest General/Advanced Imaging News
Other channels