Whole-Body MRI Can Boost Metastases Detection
By Medimaging International staff writers
Posted on 29 May 2019
Two new studies suggest that whole-body magnetic resonance imaging (MRI) may be a quicker and cheaper way to detect the spread of colorectal and non-small cell lung cancers.
For the colon trial, researchers at University College London (UCL, United Kingdom), Frimley Park Hospital, (Frimley, UK) recruited 370 patients, of whom 299 completed it. For the lung trial, they recruited 353 patients, of whom 187 completed the trial. Study participants were followed up for 12 months to better evaluate the accuracy of whole-body MRI compared with standard tests, by comparing pathway sensitivity and specificity, and to retrospectively evaluate what the optimal treatment decision should have been.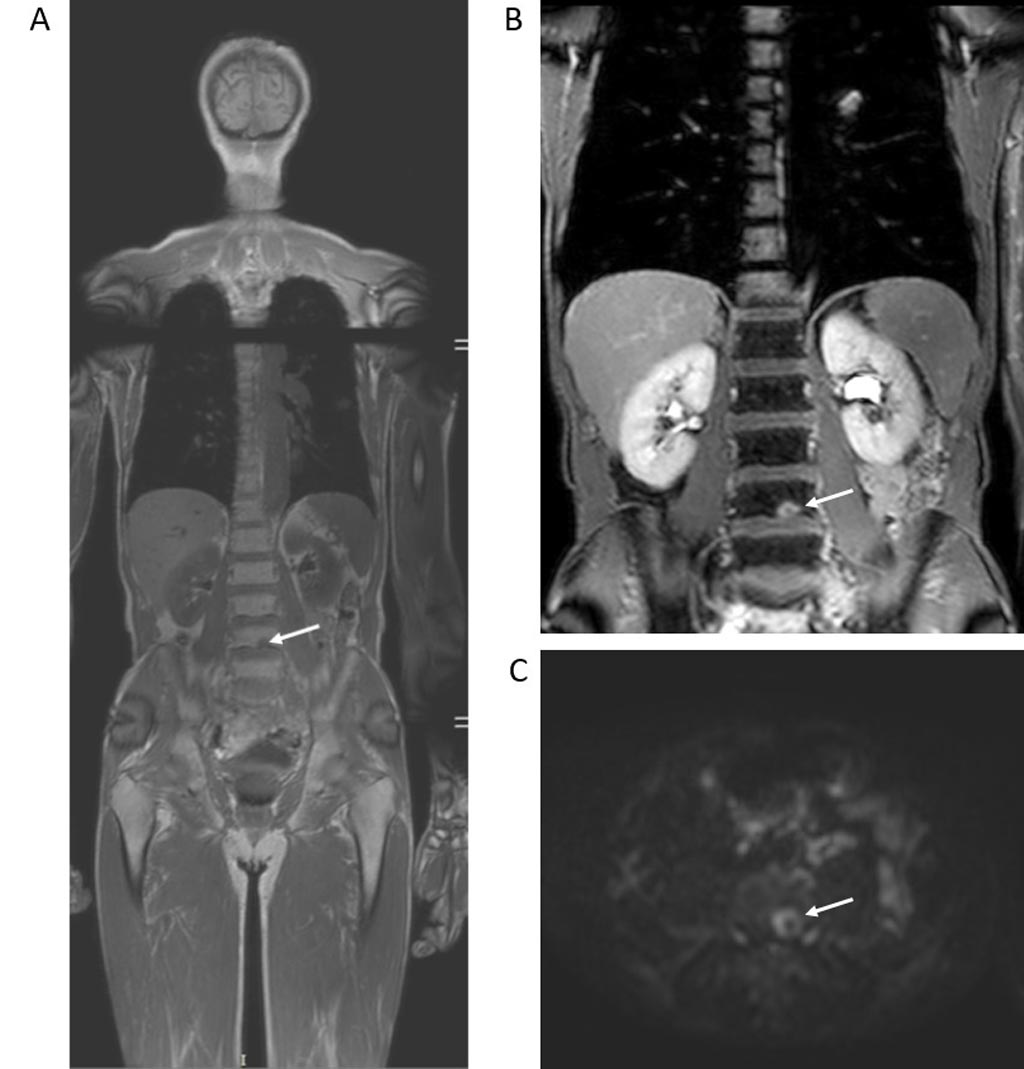 The results revealed that in the colon trial, pathway sensitivity was 67% for whole-body MRI and 63% for standard pathways, a difference in sensitivity of 4%. Specificity did not differ between whole-body MRI (95%) and standard pathways (93%); no imaging-related adverse events were reported. In the lung trial, pathway sensitivity was 50% for whole-body MRI and 54% for standard pathways, a difference of 4%. Specificity, again, did not differ between whole-body MRI (93%) and standard pathways (95%). Similarly, no adverse events related to imaging were reported. The two studies were simultaneously published on May 9, 2019, in Lancet Respiratory Medicine and Lancet Gastroenterology and Hepatology.
"Our results, obtained in a real-world NHS setting, suggest that whole-body MRI could be more suitable for routine clinical practice than the multiple imaging techniques recommended under current guidelines," said lead author Professor Stuart Taylor, of UCL. "While demands on NHS MRI scanners are currently high, MRI can image the whole body in one hour or less. Adopting whole-body MRI more widely could save rather than increase costs, as well as reducing the time before a patient's treatment can begin."
Whole-body MRI is increasingly being used as an all-in-one diagnostic tool for of a variety of malignant diseases, including multiple myeloma, systemic musculoskeletal diseases, bronchial carcinoma, hepatic malignancies, renal carcinoma, colon cancer, lymphoma, and also rare malignancies such as bone or soft tissue tumors. It can also aid in the early diagnosis of some systemic diseases, such as diabetes and atherosclerosis. Lack of major side effects is a major consideration for MRI screening, with the only potentially consequent sources related to intravenous (IV) contrast agents.
Related Links:
University College London
Frimley Park Hospital

Latest General/Advanced Imaging News
Other channels